Introduction

Noctua is a company known in the enthusiast market for making premium performance air-cooling solutions and almost everyone who has build their own computer has heard of them. Over the past few years we have covered almost all of Noctua's products and today we are looking at the NH-D15S. The NH-D15S uses an asymmetrical layout and a single fan that allows the NH-D15S to provide greater RAM and PCIe compatibility than the regular NH-D15. Noctua's products are always top notch when it comes to build quality and the NH-D15S is no exception. The NH-D15S provides 65mm clearance for tall memory heatsinks so you can install RAM with tall heatsinks without much issue.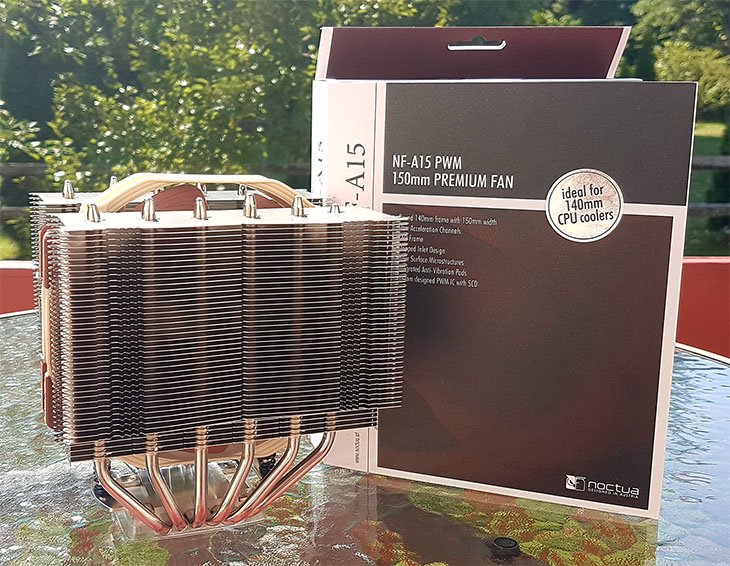 Noctua's distinguishable color scheme is what makes them stand out from the crowd and their ultimate quiet cooling performance solutions is what makes them the best at what they do. Noctua has gained a lot of respect in the enthusiasts market for making some of the most advanced and well engineered CPU coolers on the market. Noctua offers a six year warranty on their products and has possibly the best customer service out there and I can certainly vouch for that.
The NH-D15S comes with one 140mm NF-A15 PWM fan but Noctua has sent us an extra NF-A15 PWM fan to test the NH-D15S with both one and two fan configuration. The NH-D15S retains the same six 6mm dual heatpipe design as the NH-D15 so overclocking with this beast won't be a problem. Noctua ships the NH-D15S with SecuFirm 2 mounting kit that makes the installation process a breeze.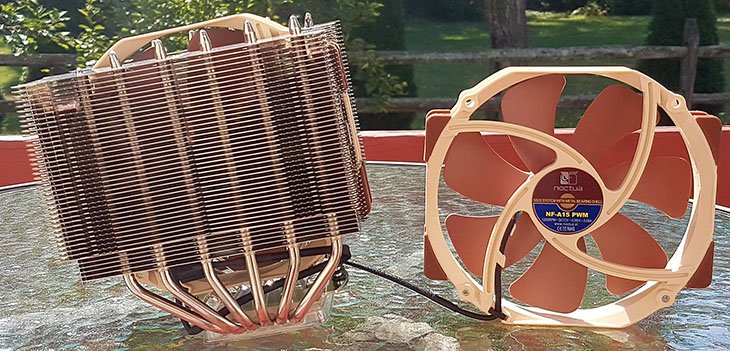 The NH-D15S is constructed with a copper base, heatpipes, aluminum fins, soldered joints and nickel plating and weighs 980 g without the fan and 1150 g with one fan installed. Similarly like the NH-D15, the copper base plate on the NH-D15S has a nickel-plated finish which measures 4.5 mm thick and is 40 x 38 mm in size. The NH-D15S has 45 aluminum fins and each fin measures 0.42 mm thick and are approximately spaced 2.0 mm from the next. The dimensions come in at 160 mm x 150 mm x 135 mm (H x W x L).
When the NH-D15 came out, many people complained about the PCIe slot being blocked by the NH-D15 so Noctua changed the structure design of the NH-D15S to fix that issue. Noctua has off-set the fin-stack of the NH-D15S towards the upper edge of the motherboard because many current motherboards have the top PCIe x16 slot sitting close to the CPU socket and big heatsinks tend to block it. So the asymmetrical layout of the NH-D15S is better for PCIe compatibility because it allows the NH-D15S to clear the top PCIe x16 slot.
Technical Specifications
Heatsink Specifications
Manufacture:
Noctua
Model:
NH-D15S
Socket Support:
Intel LGA2011 (Square ILM), LGA1156
LGA1155, LGA1150 & AMD AM2, AM2+
AM3, AM3+, FM1, FM2, FM2+ (backplate required)
Material:
Copper (base and heat-pipes)
Aluminium (cooling fins)
Soldered joints & nickel plating
Fan Compatibility:
140x150x25 (with 120mm mounting holes)
140x140x25 (with 120mm mounting holes)
120x120x25
Heatsink:
Dimensions: 160 mm x 150 mm x 135 mm (w/o Fan)
Heatpipes: 6pcs
Weight: 980 g (w/o Fan) 1150 g (w/ Fan)
Scope of Delivery:
1x NF-A15 PWM premium fan
Low-Noise Adaptor (L.N.A.)
Fan clips for second fan
NT-H1 high-grade thermal compound
SecuFirm2™ Mounting Kit
Noctua Metal Case-Badge
Warranty:
6 Years
Fan Specifications
Model:
1x Noctua NF-A15 PWM
Bearing:
SSO2
Max. Rotational Speed (+/- 10%):
1500 RPM
Max. Rotational Speed with L.N.A. (+/- 10%):
1200 RPM
Max. Airflow:
140,2 m³/h
Max. Airflow with L.N.A:
115,5 m³/h
Max. Acoustical Noise:
24,6 dB(A)
Max. Acoustical Noise with L.N.A:
19,2 dB(A)
Input Power:
1,56 W
Voltage Range:
12 V
MTBF:
> 150.000 h
Packaging & Accessories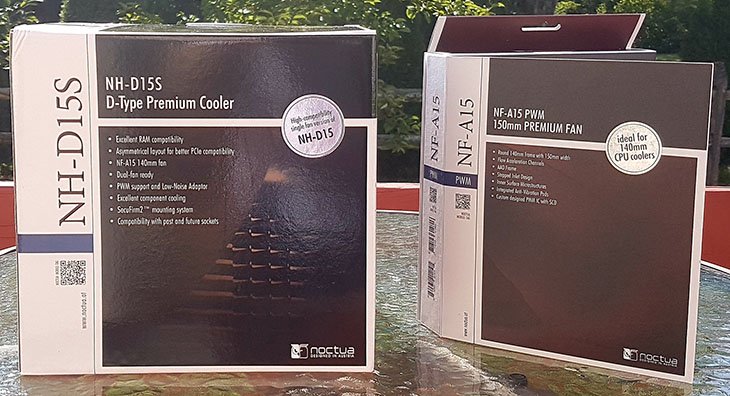 Noctua ships the NH-D15S in a huge elegant box that utilizes Noctua's traditional color design. Noctua's packaging is very hard to beat and Noctua does an excellent job at securing their products so they don't get damanged during shipment. The packaging feels premium just as you would expect with any Noctua product.

The front of the box lists some of the features such as Excellent Ram Compatibility, Asymmetrical Layout for better PCIe Compatibility, NF-A15 140mm fan, Dual-Fan Ready, PWM support and Low-Noise Adapter, Excellent component cooling, SecuFirm 2 mounting system and Compatibility with past and future sockets On the left side you will find a short paragraph with details of the cooler and some of its features in multiple languages.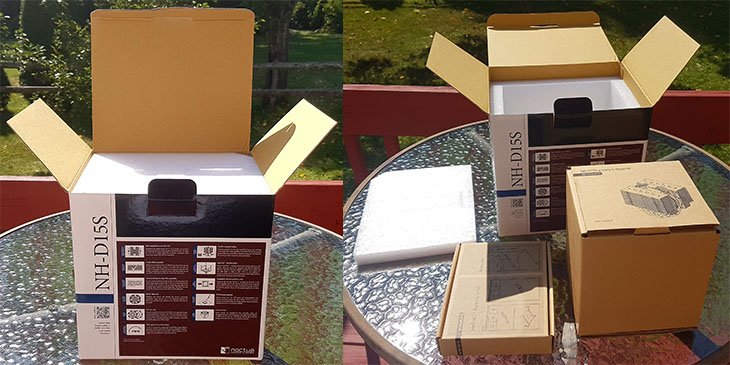 When opening up the package, you are presented with sturdy cardboard boxes that securely hold the cooler in place and all included accessories that come with the cooler. The components inside are well packaged and everything feels well secured inside the box.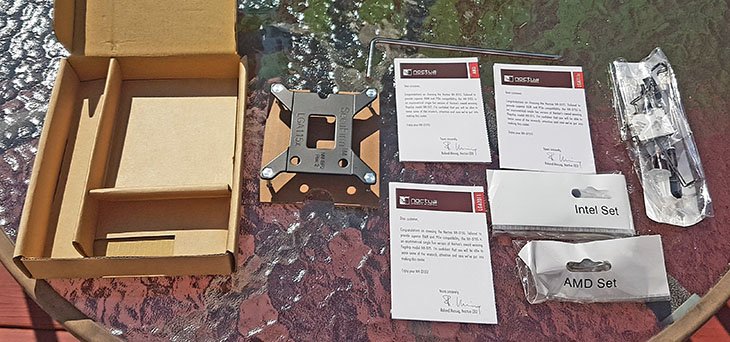 Inside you will find Noctua's NT-H1 thermal compound, one Low-Noise-Adapters (L.N.A) which can be used to reduce the fan speed, one 140mm NF-A15 PWM fan, brackets that hold the fans onto the cooler, fan clips for second fan, a Phillips screw driver that you can use during the installation, AMD and Intel SecuFirm2 mounting hardware, Noctua metal case badge and a manual.
Test Setup & Methodology
Test Setup
Processor:
Intel i7 3770K @ 4.6GHz 1.30v
Motherboard:
Asus Sabertooth Z77
RAM:
Kingston HyperX 8GB @ 1866 MHz
Graphics Card:
EVGA GTX 680
Storage:
Samsung 840 Pro 256GB
Power Supply:
Antec Earth Watts 650W
Case:
Antec Nine Hundred
OS:
Windows 7 64Bit
Thermal Compound:
Noctua NT-H1
Heatsinks:
Noctua NH-D15S
Noctua NH-D15
Noctua NH-D14
Noctua NH-U14S
Noctua NH-U12S
Noctua NH-C14
Noctua NH-C12P SE14
Noctua NH-U9B SE2
Corsair H100i
Corsair H80i
Corsair H60
Corsair H55
Cooler Master Hyper 212+
Cooler Master Hyper 212 EVO
Scythe Mugen 3B
Phanteks PH-TC14PE
Phanteks PH-TC12DX
NZXT Respire T20
NZXT Respire T40
BeQuiet! Dark Rock Pro 3
Thermalright Silver Arrow SB-E Extreme
We will be testing the NH-D15S with our regular system setup and that is with the 3770K overclocked to 4.6Ghz with using around 1.30 volts. This will be a good way to test this cooler because we all know that Ivy Bridge runs super hot once overclocked and it really puts a lot of stress into any modern CPU cooler that's out there.
All of the testing is done with an ambient temperature of ~19C. RealTemp will be used to monitor the temperature of the CPU and Prime95 (Large FFTs) will be used to deliver the full load to the CPU for 20 minutes. After each testing, we let the temperature inside the case to stabilize for 10 minutes to ensure that the temperature inside the case is back to normal. This is something that many reviewers take for granted when testing CPU coolers and believe it or not, it makes a world of difference.
Idle temperatures will be measured after leaving the computer idle for 20 minutes. CPU-Z will be used to verify the CPU speed and the voltage being used in Windows 7. Also, the coolers are tested with the default settings (Turbo, C1E etc) enabled in the BIOS.
We will measure the noise levels for both in idle and load using a dBA meter and point it at the computer at a distance of ~50 CM. It's always difficult to measure noise levels because there are always noises in the background which can affect it so the results may not be 100% precise but it should give you a clear indication of the noise levels for the cooler.
We will rank each CPU cooler that we have in our lab from highest to lowest by the amount of fin count they have, number of heatpipes and their fin thickness. Fin count is very important because it determines thermal conductivity, fin thickness determines thermal capacitance and the number of heatpipes determines efficiency of heat transfer. We will also rank them by fan speed, fan size and Airflow. Fan speed and fan size help determine the thermal transfer and noise level of the fan. The Airflow of the fan is measured in CFM (Cubic Feet per Minute) and the higher the CFM value, the more air the fan is moving but also the higher the dB.
One thing that I have to say before the test is that I'm using 1.30 volts for the overclock but you clearly don't need 1.30 volts to get the 3770K stable at 4.6Ghz but I'm doing this to stress test the cooler to its limits. You can easily get it stable with using ~1.25 volts and you will probably get much better temperatures than I did so keep that in mind.
Physical Attributes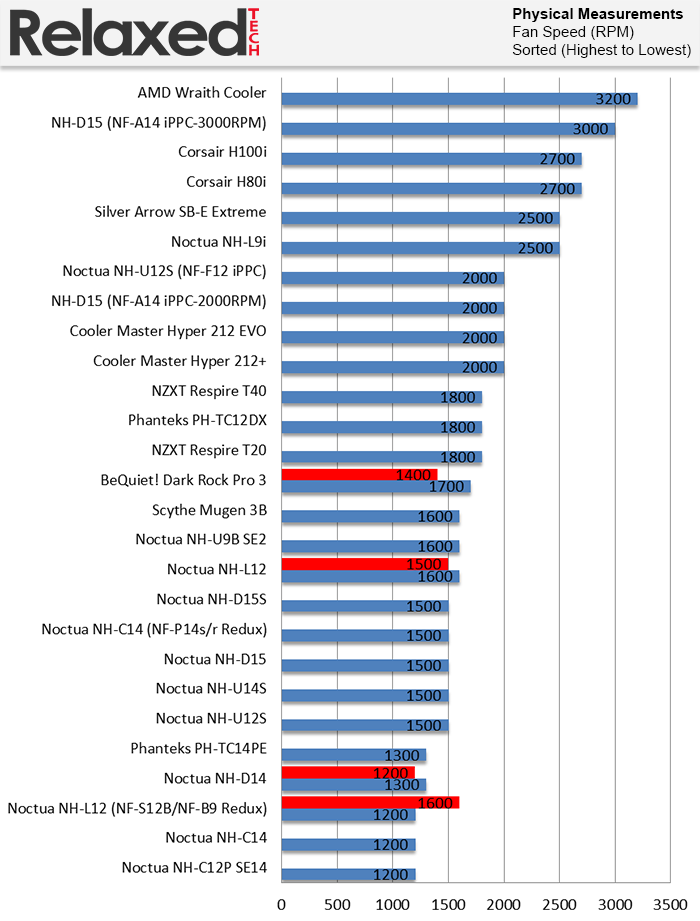 In the chart above we have sorted all the CPU coolers from highest to lowest by their fan speed. The AMD Wraith Cooler sits at the top with the highest fan speed at 3200RPM. Noctua has equipped the NH-D15S with one NF-A15 PWM fan that spin at a maximum of 1500 RPM. This chart should give you an idea of the different fan speeds that come with each cpu cooler.

In the chart below we have sorted each CPU cooler from highest to lowest by the fan size in millimeters.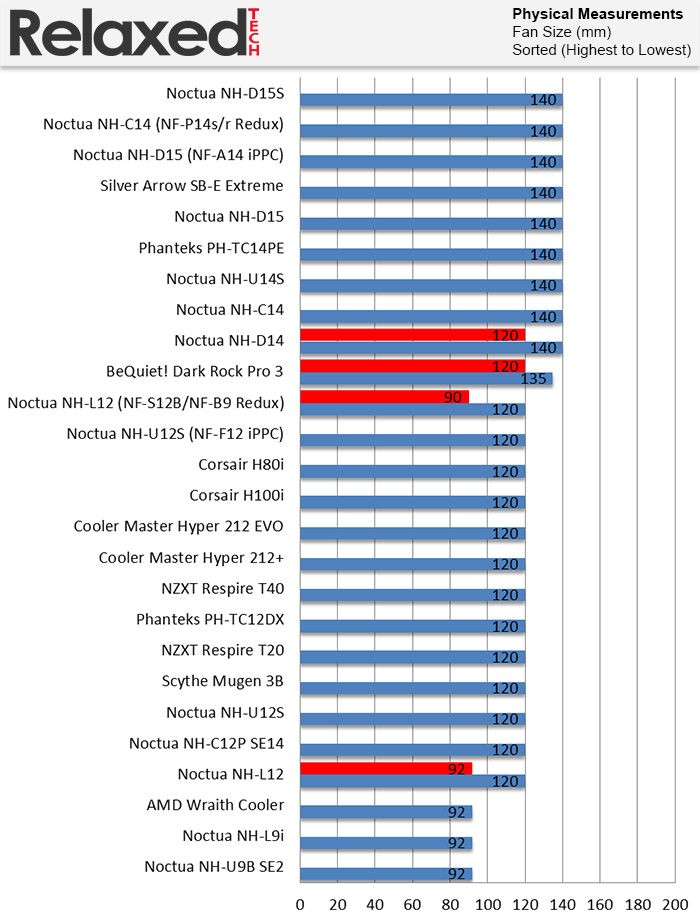 This chart is pretty self-explanatory but it should give you an idea of the different fan sizes that come with each cooler. The NH-D15S comes with one 140mm fan while the regular NH-D15 comes with two 140mm fans.

In the chart below we have sorted each CPU cooler from highest to lowest by the maximum amount of airflow they move in CFM.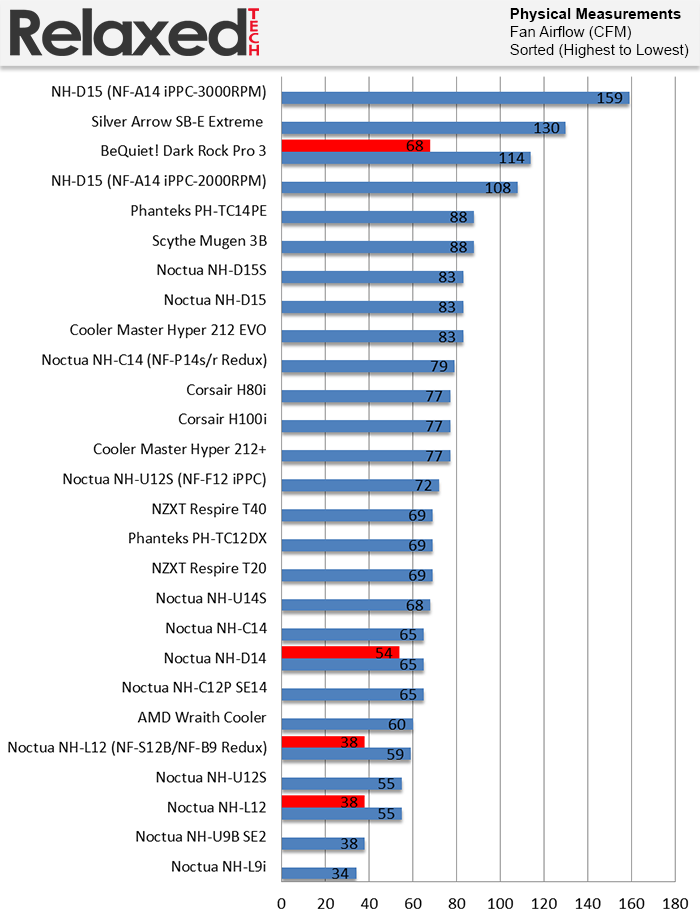 Noctua's NF-A14 iPPC-3000RPM fan move 159 CFM airflow which is more than any fan that we have in our lab. The fan on the NH-D15S moves approximately 83 CFM airflow.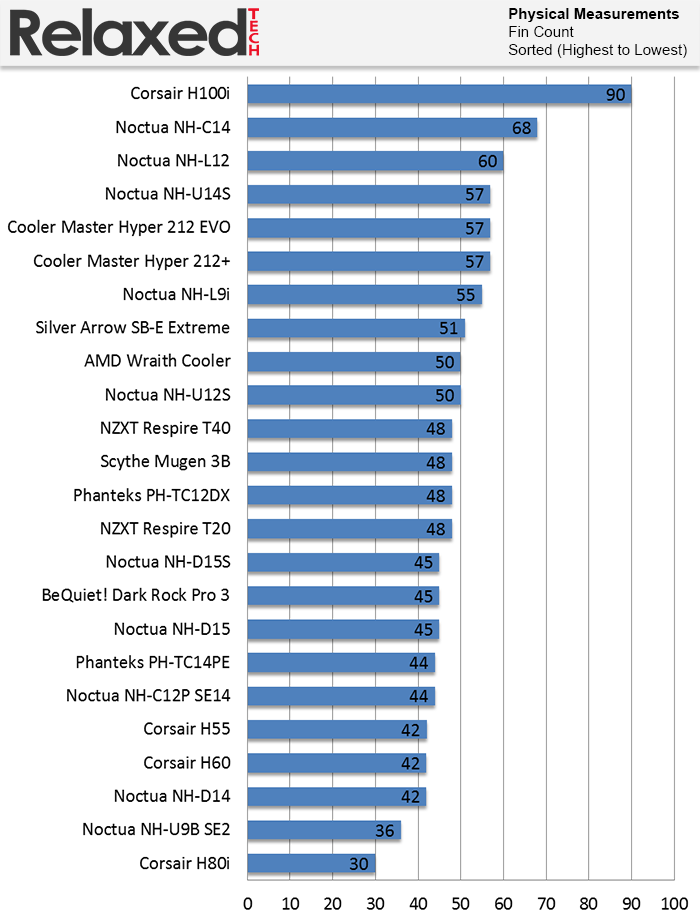 The above chart shows all the CPU coolers that we have in our lab sorted from highest to lowest by the amount of fin count each cooler has. As you can see from the chart, the fin stack of the NH-D15S is the same as the NH-D15's fin stack and both have 45 fins.

In the chart below we have sorted each CPU cooler from highest to lowest by the fin thickness in millimeters.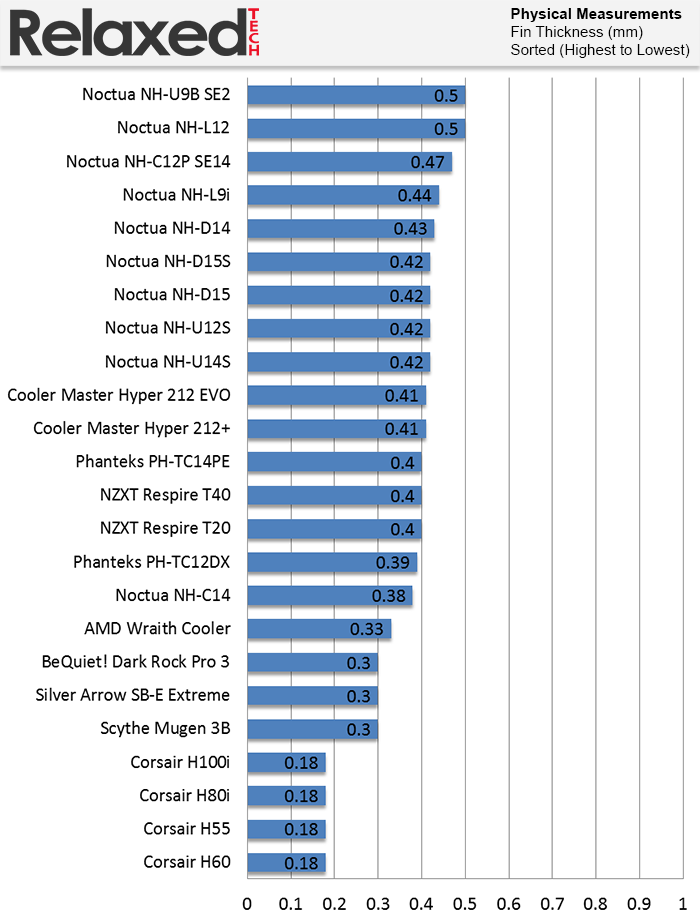 The fins on NH-D15S are approximately 0.42 mm thick while the NH-L12 and NH-U9B SE2 have the thickest fins out of all and that's because these CPU coolers have to compensate for being small with having thicker fins so they don't overheat. All the Corsair AIO coolers from the H55 to the H100i come in last place with the least fin thickness.

In our next chart we have sorted each CPU cooler from highest to lowest by the number of heatpipes they have.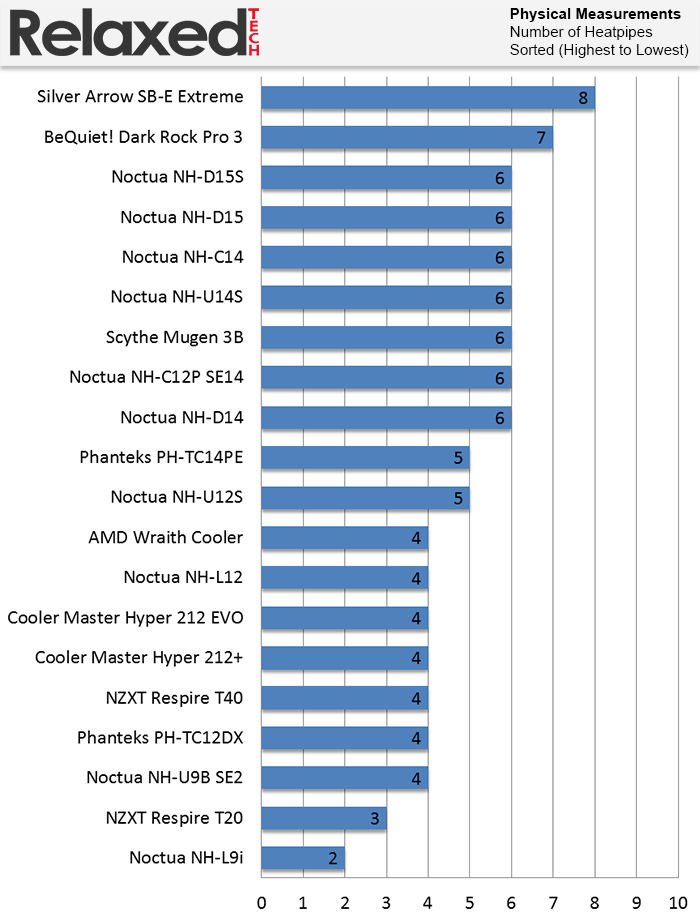 As you can see from the chart above, Noctua has kept the same six heatpipe design with the NH-D15S. Most CPU coolers have 6 heatpipes but the Silver Arrow SB-E Extreme is the only cooler that we have in our lab that has eight heatpipes.
Thermal & Noise Level Results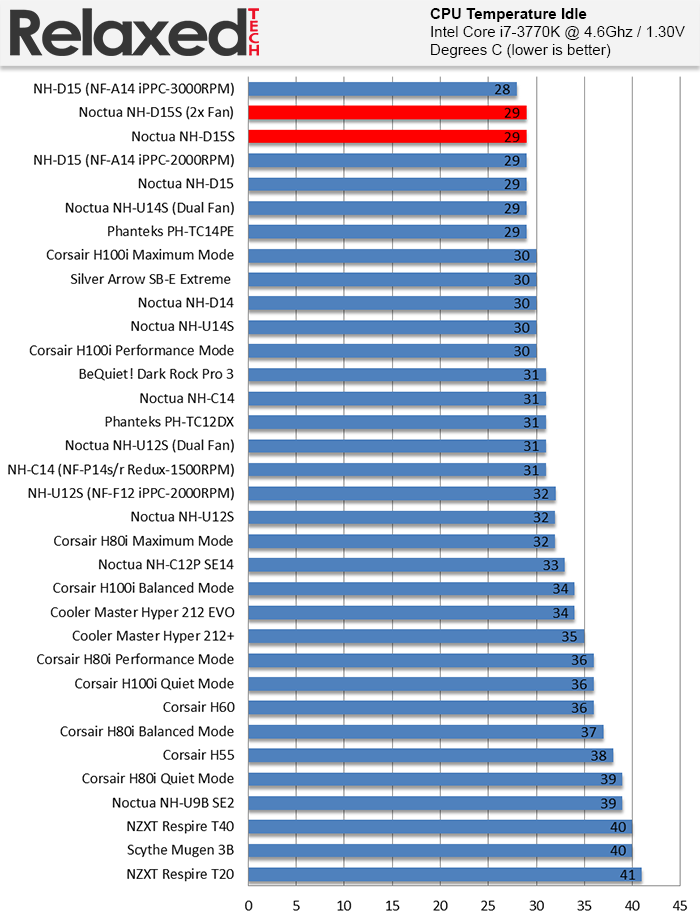 Looking at the chart above, we can see that the NH-D15S with one and two fans perform similarly the same and provide excellent idle temperatures. There is zero difference in idle temperature between the NH-D15S and the regular NH-D15.

Let's now move on to the load temperature to see how the NH-D15S does against the regular NH-D15.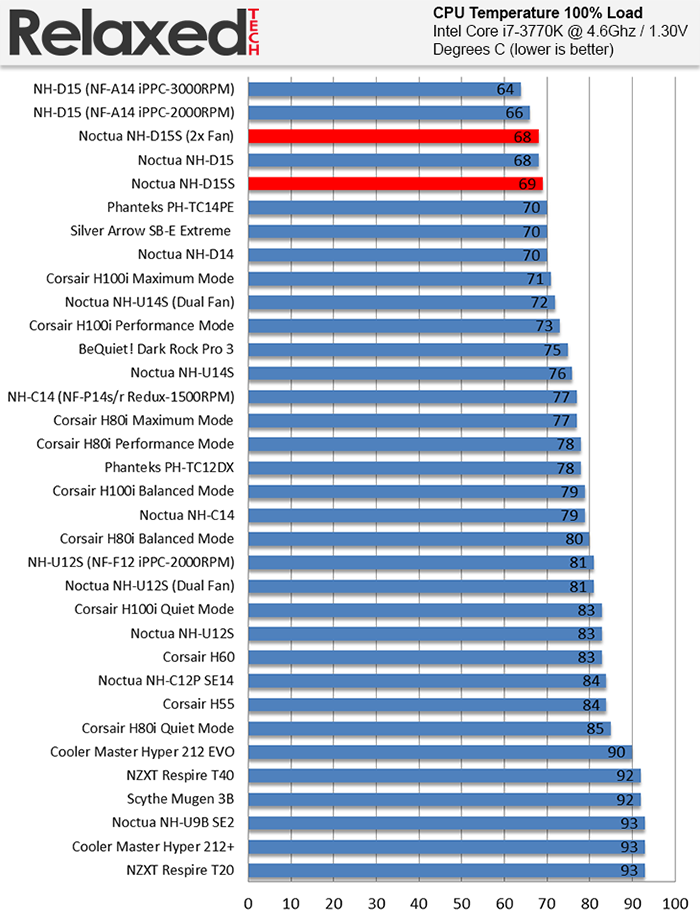 Looking at the full load temperature, the NH-D15S with one fan was about 1 degree Celsius warmer than the regular NH-D15. Once I put the second fan on the NH-D15S, it performed the same as the regular NH-D15 so basically there's little to zero difference in cooling performance between the NH-D15S with one fan and regular NH-D15.

Now let's look at the noise levels for both idle and load.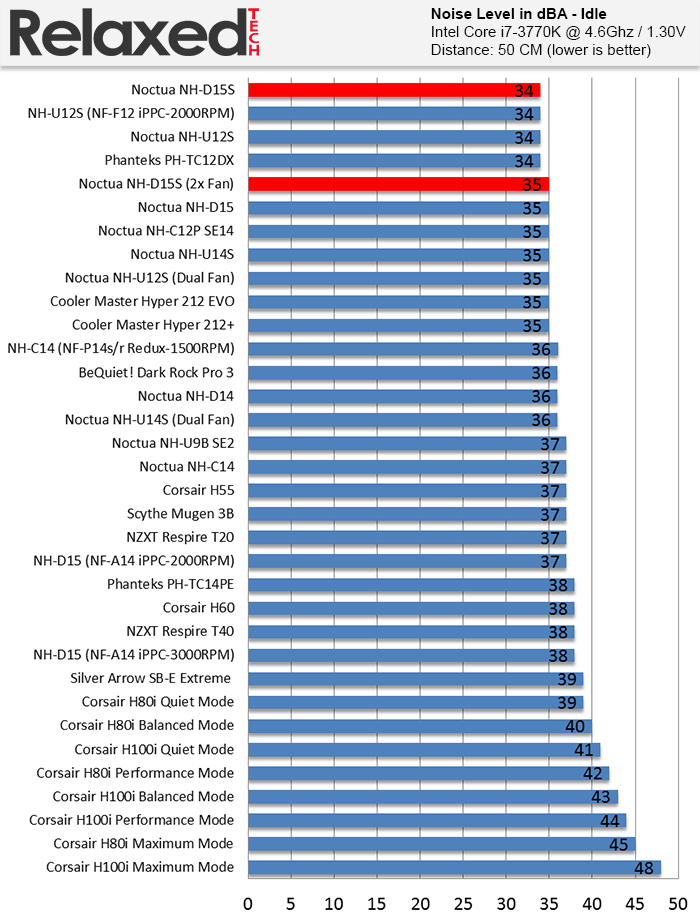 The NH-D15S is silent in idle mode just what you would expect from a Noctua product. There's always a 1-2 dBA margin of error in acoustic performance and with that being said, according to my measurements, the NH-D15S is about 1 dBA quieter compared to the regular NH-D15. With two fans on, the NH-D15S and NH-D15 are identical in noise level in idle mode.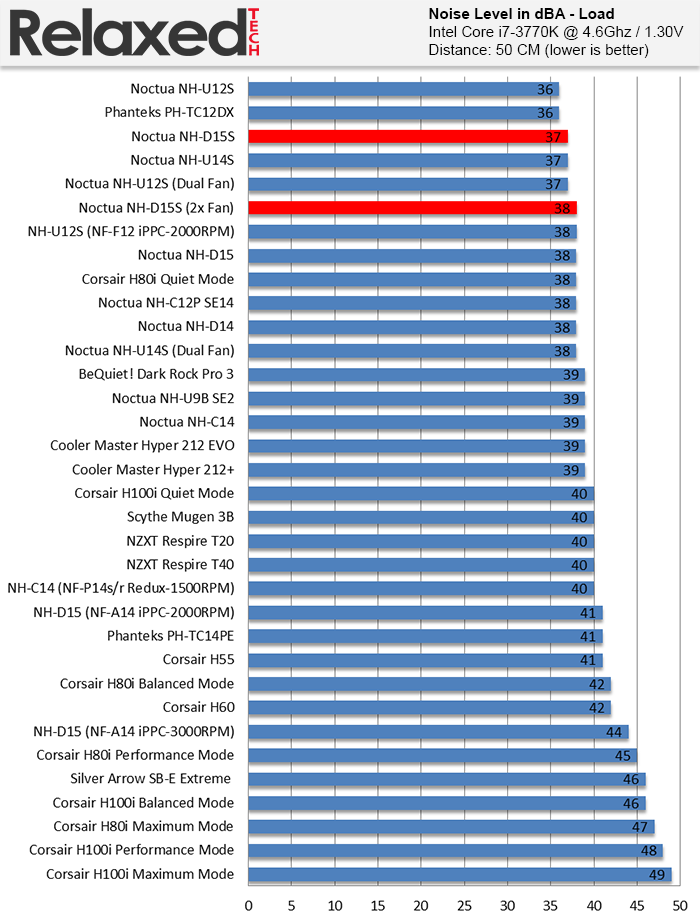 I recorded similar results under full load. The NH-D15S with one fan is 1 dBa quieter and with two fans it performs similar like the NH-D15. It's safe to say that Noctua has another winner in their hands with the NH-D15S.

With all those being said, let's now go to the next page where we will wrap this review up.
Conclusion
The NH-D15S offers perfect compatibility with the memory and video cards and it performs just as good as the regular NH-D15 with only one fan. If you decide to buy a second fan, you might drop the temperature 1-2 Celsius at most but it won't be worth it since the NF-A15 PWM is an expensive fan that retails for $23 on Amazon. It performs great with just one fan and is whisper quiet. The NH-D15S is the second best CPU cooler that we have tested and does a fantastic job at beating pretty much all the AIO coolers that we have in our lab.
Noctua is slowly dominating the cooling market with their perfect products. Noctua has an outstanding customer service so if the fan ever stops working, they will send you a new one for free. The only negative that some people might have with Noctua's products in general is the color scheme which might not be a problem for some of you but for modders it could be a deal breaker. The color scheme is what sets Noctua apart from all the other brands and what makes their products easily recognizable.
The NH-D15S has no problems handling high overclocks at high voltages. As we saw on the previous page, the NH-D15S was one of the only CPU coolers to offer the lowest load temperatures with our Core i7-3770K at 4.6Ghz. The NH-D15S also beat all the AIO water coolers with little effort. Some people choose to go with an AIO water cooler because they take up less space but most of the time, they perform worse than a high end air cooler.
Pros:
+ Outstanding Performance
+ High Build Quality
+ Whisper Quiet Fan
+ Easy Installation
+ Fantastic Packaging and Accessories
+ 6 Year Warranty/MTBF 150,000 Hours
+ High PCIe and RAM Compatibility
+ Amazing thermal compound (NT-H1)

Cons:
- May Not Fit Into Smaller Cases
- Pricey
Overall, the price of the NH-D15S might be a little bit steep for some people but it's worth every penny considering that this is one of the best air cooler that you can buy. It comes packed with a whisper quiet fan and Noctua's SecuFirm2 mounting kit makes the installation process very easy and straightforward. Noctua has also included in the package their NT-H1 thermal compound that is top notch. We strongly recommend the NH-D15S to anyone who's looking for a high quality cooler that will give you the best cooling performance available on the market. The NH-D15S is another high quality product from Noctua that performs just as you would expect.

With all that being said, we are proud to give the Noctua NH-D15S our Editor's Choice Award.
Final Score 9.8