Introduction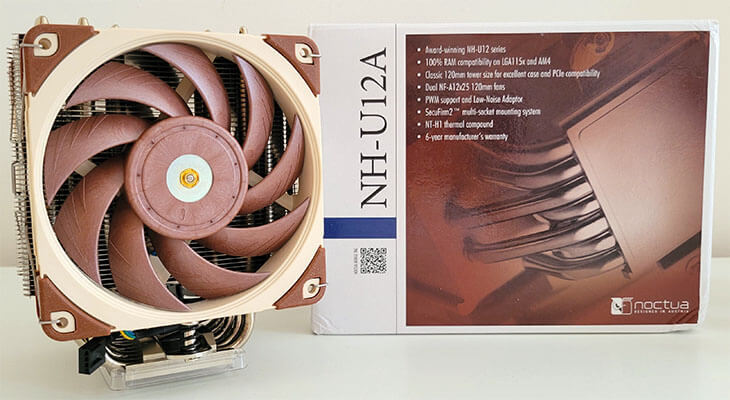 A few years ago I wrote an article comparing the Noctua NH-D15 against five high end closed loop coolers and surprisingly the NH-D15 performed very well while offering the best noise-to-performance ratio. Many years have gone by since the release of the NH-D15 and Noctua has come out with the NH-U12A which is said to offer 140mm class performance in 120mm size. We know that the NH-D15 can hold its own against many closed loop coolers but what about the NH-U12A? Well, you are in luck because today we will be comparing the NH-U12A against five high end liquid coolers to see how well it performs in both cooling and noise performance.
As a general rule of thumb, the bigger a CPU cooler is, the better its cooling performance will be. As great as the NH-D15 is, it does cause compatibility issues such as not being able to fit in many cases or blocking the top PCIe slot or restricting you to use standard height RAM modules. This is where the NH-U12A comes in. Noctua has equipped the NH-U12A with two NF-A12x25 PWM fans and a heatsink with 7 heatpipes and has even managed to significantly increase the fin surface area. All of these features allow the NH-U12A to rival the performance of many 140mm size coolers while offering great RAM and PCIe compatibility.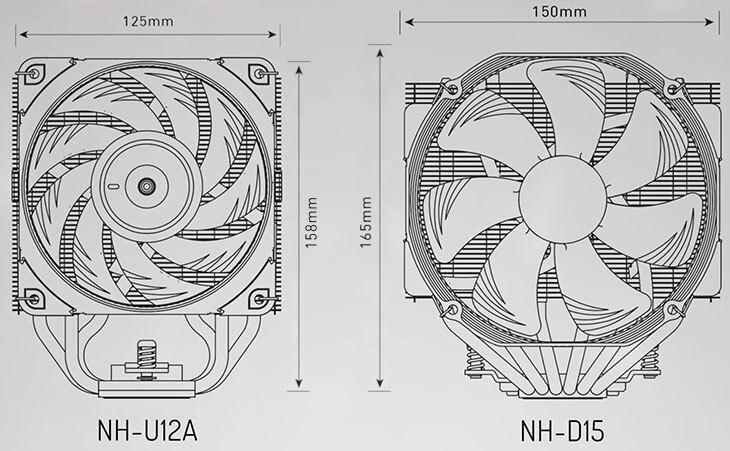 There are pros and cons whether you go with an air cooler or water cooler and you have to decide which one makes the most sense for you. Some people prefer of using an air cooler just because it is foolproof and always reliable. With an air cooler you never have to worry about the pump failing and water leaking and damaging all your components. Even though it might rarely happen these days, it is still a possibility.

I did a simple search on google for "corsair aio leak" and there are plenty of people from the last 2-3 years reporting that their AIO started leaking or the pump stopped working. Also, in 2019 Corsair issued a recall of some of their Hydro H100i RGB coolers which were found to leak so there is always the risk that something will go wrong.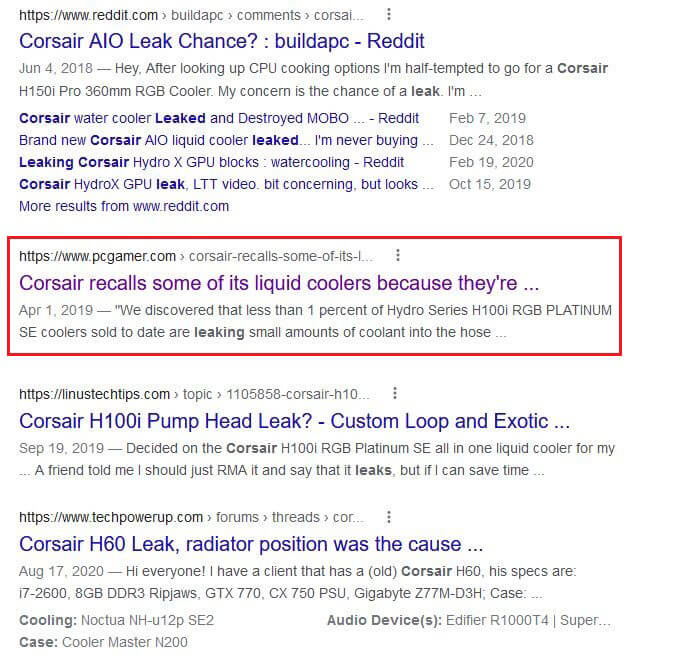 Generally speaking, a high end air cooler will perform on par with a 240mm AIO cooler and a few degrees warmer than a 280mm AIO while being much quieter. AIO coolers typically dissipate more heat at higher frequencies and you don't have to worry about RAM interference. Many people prefer having an easy access to their RAM modules and a big air cooler occupies a large chunk of the case making it impossible to use tall RAM modules. Also, AIO coolers are great when it comes to shipping a system and they make it easy to work inside your computer. If you ship your system with a heavy air cooler installed then there is a high chance that the air cooler will damage the motherboard.
Moving on, the NH-U12A is going head-to-head against the Corsair H100i Pro, Corsair H150i Pro, NZXT Kraken X63, Cooler Master ML240 V2, and Thermaltake TH240. These are some of the popular AIO coolers on the market that offer great cooling performance so it will be a good way to test them against the NH-U12A. I have purposely chosen AIO coolers that vary in radiator size from 240mm to 280mm and all the way up to 360mm. We kind of expect a 360mm or even a 280mm AIO to outperform a 120mm air cooler but we want to get an idea of the noise levels of the AIOs compared to the NH-U12A.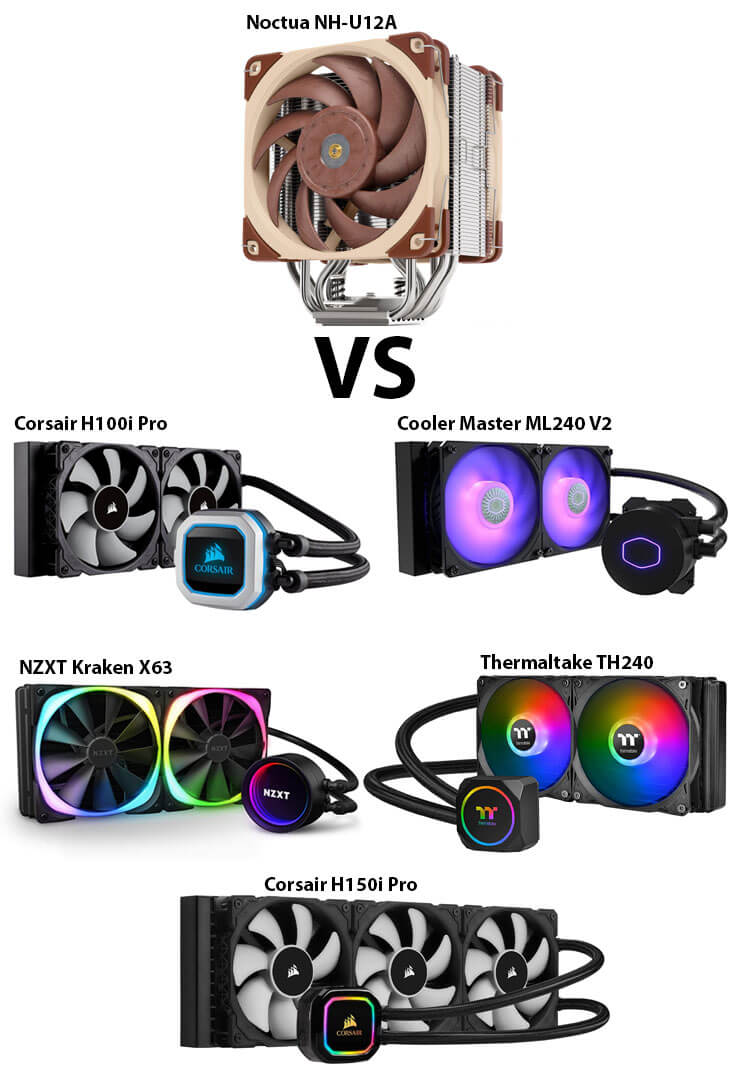 Let's talk a little bit about each liquid cooler and see what they offer. The Corsair H100i Pro is a really popular 240mm AIO cooler that is aesthetically pleasing and comes with an endless RGB customization options. We are also going to be using the H150i Pro which is a 360mm AIO cooler that comes with three Corsair 120mm ML fans. You can use Corsair's iCue software to fully customize the LEDs in the pump base and also control the pump speed to maximize performance or minimize noise.
The NZXT Kraken X63 is a 280mm liquid cooler that also is very visually appealing. Similar to Corsair's iCue software, the Kraken also comes with CAM's software which can be used to customize the RGB effects and the speed of the fans. You will need a case that supports dual 140mm fans for this beast. There are hundreds of AIO coolers out there and the design of the Kraken X63 looks really good compared to the other AIOs.
Next we have the Cooler Master ML240 V2 and Thermaltake TH240 which are some of the lesser popular 240mm AIO coolers. Both come with two 120mm PWM RGB fans and feature a software that allows you to change the RGB in the fans and pump head. You can find the Cooler Master ML240 V2 for around $80 which is much cheaper than the other coolers in this test.
Comparison
CPU Coolers
Model
Noctua NH-U12A
Corsair H100i Pro
Corsair H150i Pro
NZXT Kraken X63
Cooler Master ML240 V2
Thermaltake TH240
Price
$100
$110
$145
$150
$80
$105
Weight
2.7 lbs
4.5 lbs
5.4 lbs
4.3 lbs
4.45 lbs
3.3 lbs
Dimensions (HxWxD)
158 x 125 x 112 mm
276 x 120 x 27 mm
369 x 120 x 27 mm
315 x 143 x 30 mm
277 x 120 x 27 mm
273 x 120 x 27 mm
Fan airflow
102.1 CFM
75 CFM
47.3 CFM
98 CFM
62 CFM
60 CFM
Fan speed
2000 RPM
2400 RPM
1600 RPM
1800 RPM
1800 RPM
1500 RPM
Fan Static Pressure
2.34 mmH2O
4.2 mmH2O
1.78 mmH2O
2.71 mmH2O
2.5 mmH2O
1.31 mmH2O
Fan Noise Level
22.6 dBA
37 dBA
25 dBA
38 dBA
27 dBA
28.2 dBA
Radiator Size
N/A
240mm
360mm
280mm
240mm
240mm
Cooling Fans
2x 120mm
2x 120mm
3x 120mm
2x 140mm
2x 120mm
2x 120mm
Warranty
6 years
5 years
5 years
6 years
2 years
1 year
Looking at the table above, we can see that most of the coolers come with a 5-6 year warranty except for the Thermaltake TH240 and Cooler Master ML240 V2. It's quite disappointing to see Thermaltake and Cooler Master have a 1-2 year warranty on their AIO coolers while the majority come with a 5-6 year warranty. Considering that most AIO coolers are prone to pump failure and leakage, having a 1 or 2 year warranty might be a deal breaker for some which is perfectly understandable. Personally, I would stay away from an AIO cooler that has less than 4 years of warranty.
Test Methodology
Test Setup
Processor
AMD Ryzen 7 5800X all-core oc'd 4.8Ghz (1.35v)
Motherboard
ASUS ROG STRIX X570-F
RAM
Ballistix Elite 16GB (2x8GB) DDR4 3800 MHz
Graphics Card
Nvidia GeForce RTX 3070 FE
Storage
Samsung 970 Evo Plus 1TB
Power Supply
Seasonic Focus Plus 750W Gold
Heatsink
Noctua NH-U12A
Corsair H100i Pro
Corsair H150i Pro
NZXT Kraken X63
Cooler Master ML240 V2
Thermaltake TH240
OS
Windows 10 Pro 64-Bit (20H2)
Thermal Compound
Noctua NT-H1
Case
Open bench
Ambient Temp
21°C / 70°F
Software
CPU-Z, HWiNFO64, Blender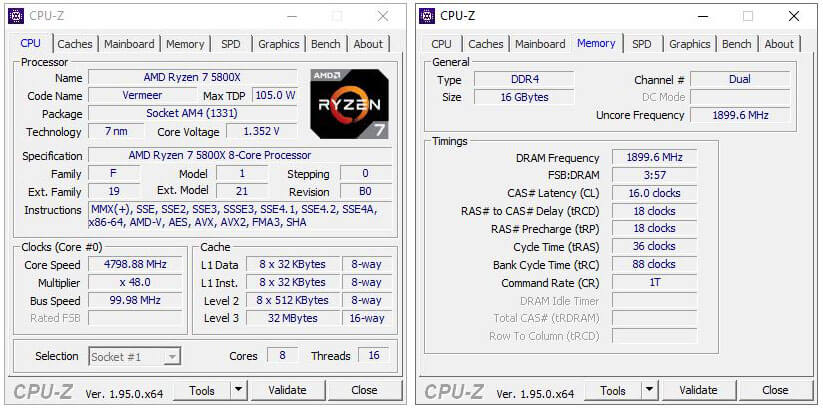 The coolers listed above were tested with our regular system setup and that is with the Ryzen 5800X all-core overclocked to 4.8Ghz at 1.35 volts. The testing is done with an ambient temperature of ~21°C / 70°F and the coolers are run with their fan speeds at default. HWiNFO64 will be used to monitor the temperature of the CPU and Blender will be used to benchmark the CPU. Keep in mind that there's always a 1-2°C margin of error when measuring the temperature.
Noise Levels In dBA
Lawn Mower
90 dBA
Vacuum Cleaner
80 dBA
City Traffic
75 dBA
Conversation
65 dBA
Air Conditioning
60 dBA
Floor Fan
50 dBA
Electric Hum
45 dBA
Refrigerator Hum
40 dBA
Rustling Leaves
30 dBA
Pin Falling
15 dBA
Idle temperatures will be measured after leaving the computer idle at the desktop for 15 minutes and peak temperature will be measured after looping in Blender for 15 minutes. CPU-Z will be used to verify the CPU speed and the voltage being used in Windows 10. Also, the coolers are tested with the default settings enabled in the BIOS (Global C-States, Cool'n'Quiet, etc). We will measure the noise levels in idle and load by using a dBA meter which we will point at the computer at a distance of ~50 cm / 20 inch.
Thermal Performance Results
CPU Cooler Idle Temperature
Coolers
Idle
NZXT Kraken X63
31°C
Corsair H150i Pro
31°C
Corsair H100i Pro
31°C
Noctua NH-U12A
32°C
Cooler Master ML240 V2
32°C
Thermaltake TH240
32°C
In idle mode, we can see that all the coolers offer roughly the same cooling performance given a 1-2°C margin of error.
CPU Cooler Load Temperature
Coolers
Load
NZXT Kraken X63
71°C
Corsair H150i Pro
73°C
Noctua NH-U12A
76°C
Corsair H100i Pro
77°C
Cooler Master ML240 V2
77°C
Thermaltake TH240
79°C
The Kraken X63 delivered the best thermal performance under load while also being the loudest cooler which you will see below. I recorded a 5°C difference between the NH-U12A and the Kraken X63. The NH-U12A did manage to outperform the rest of the AIO coolers which is quite impressive. Thermaltake's TH240 AIO cooler came in last place with 79°C.
Noise Level Results
CPU Cooler Idle Noise Level
Coolers
Idle
Noctua NH-U12A
31 dBA
Thermaltake TH240
32 dBA
Cooler Master ML240 V2
32 dBA
Corsair H150i Pro
33 dBA
Corsair H100i Pro
33 dBA
NZXT Kraken X63
34 dBA
The NH-U12A offered the lowest noise levels in idle mode and is about 3 dBA quieter compared to the Kraken X63.
CPU Cooler Load Noise Level
Coolers
Load
Noctua NH-U12A
42 dBA
Thermaltake TH240
45 dBA
Cooler Master ML240 V2
45 dBA
Corsair H150i Pro
46 dBA
Corsair H100i Pro
51 dBA
NZXT Kraken X63
54 dBA
Under load, the NH-U12A is significantly quieter than any of the AIO coolers used in this test. The Thermaltake TH240 and Corsair H150i Pro were much louder than the NH-U12A but bearable if inside of a case. The NZXT Kraken X63 is by far the loudest AIO cooler and once the fans ramp up to maximum speed, the Kraken X63 sounds like a jet engine.
Conclusion
A good CPU cooler is one that offers a nice balance between cooling and noise performance. While the NZXT Kraken X63 is capable of delivering the best cooling performance, it is also significantly louder than the other coolers. The Kraken X63 is about 5°C cooler than the NH-U12A but the fans become unbearable when they ramp up and it's very hard to ignore the noise. If you game with headphones on, then it might not be as much of a problem and you can always replace the stock fans with two Noctua fans but that will add to the cost of the cooler.
In my opinion, the NH-U12A offers the perfect balance between cooling and noise performance. The NH-U12A certainly cannot compete with big 280mm and 360mm AIOs but it more than makes up for it with its amazing noise performance. Having a silent PC is very important for me because I have my PC sitting on the desk next to me so I want a cooler that is as quiet as possible.
An issue that people have with NH-U12A is the color scheme and let's face it, the NH-U12A is not as visually appealing as an AIO. If Noctua releases a chromax.black version of the NH-U12A then that would make the NH-U12A more attractive. AIOs are much more aesthetically pleasing than air coolers so if you are looking to build an aesthetic PC, then consider checking out one of Corsair's AIOs or NZXT's Kraken coolers.
From a price point perspective, a high end air cooler will cost roughly the same as a 240mm AIO but will cost significantly less than a 280mm or 360mm AIO. At $100, the NH-U12A is about $50 cheaper than the Kraken X63 which retails for $150 and is $45 cheaper than the Corsair H150i Pro. The Cooler Master ML240 V2 is an affordable AIO that retails for $80 and delivers acceptable cooling performance for its price. Thermaltake's TH240 AIO offers good noise performance but its cooling performance leaves a lot to be desired.
In the end, if you are willing to sacrifice noise for performance then the NZXT Kraken X63 is the cooler for you. The Kraken X63 is one the best AIO coolers that you can buy but it comes with a high price-tag. Unlike the NH-D15, the NH-U12A offers great RAM and PCIe compatibility and can fit in cases that the NH-D15 cannot which makes the NH-U12A a great all-around product. The NH-U12A has the best noise-to-performance ratio and is $50 cheaper than the Kraken X63 which makes it my new favorite air cooler.
Noctua NH-U12A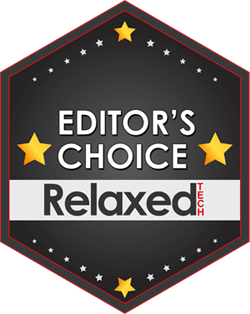 NZXT Kraken X63