Introduction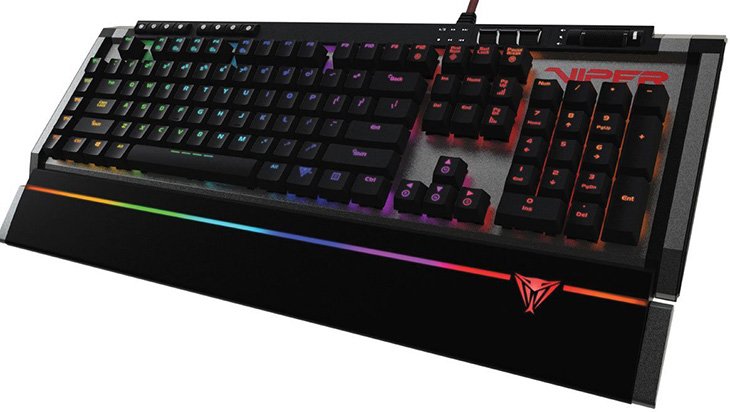 Patriot is very well known in the memory and storage industry for making great products and they have more than three decades of experience in the PC DIY (Do-It-Yourself) sector. The PC gaming peripherals market is getting bigger every year and there's plenty of opportunities to make money in this market. In January of 2017, Patriot announced the Viper V770 mechanical keyboard which is their flagship keyboard that comes with plenty of attractive features such as aircraft Grade aluminum chassis, LED illuminated and removable magnetic palm rest, 5 dedicated additional macro keys, USB pass through port and Audio pass through port.
The gaming keyboard market is saturated with poor quality mechanical keyboards and it is hard to find a good gaming keyboard that has all the bells and whistles that gamers want. The Patriot Viper V770 is not your typical mechanical gaming keyboard. Patriot's V770 keyboard is a well-crafted full-size mechanical gaming keyboard that incorporates many modern features and there's also even RGB lighting for the palm rest too which I have never seen before. It comes with Kailh RGB Red switches designed to deliver much faster gameplay with low force and a linear actuation point.
The Kailh red switches are very similar to the Cherry-MX red switches so that means there won't be any tactile feedback but the keystrokes are silky smooth and each key can be customized to 16.8 million colors using the Viper software. As far as the specs go, the Kailh red come with a 4mm travel distance, 2mm actuation point and a 50g actuation force and it is guaranteed for 50 million key presses.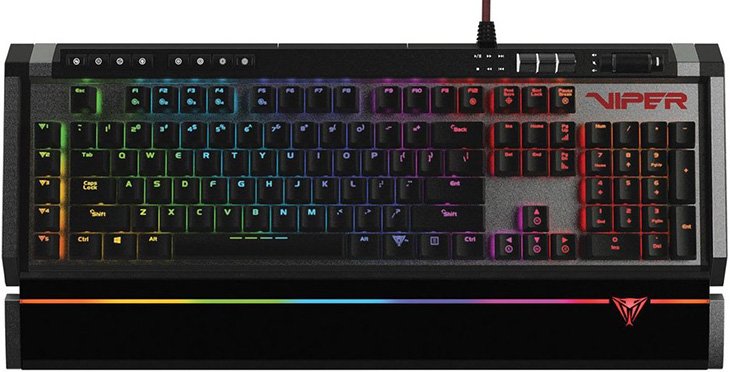 The key-board features a 109 key layout with N-key rollover and anti-ghosting functions, and has 108 programmable macro keys with 5 dedicated macro keys on the side. Patriot has also included dedicated controls that give you access to light effects, multi-media controls, lighting pro-files and a dedicated volume/mute wheel.
Price-wise, the Patriot Viper V770 retails for $119.99 on Amazon and comes with 2-years of warranty. It weighs about 3.1 lbs including the cable and it measures 229 mm x 459 mm x 39 mm inches (L x W x H). The cable itself is 6.0 ft long and it is nicely braided. Braided cables offer extra durability and are very much preferred by gamers.
The Viper V770 is built with an aluminum chassis which means it is very lightweight compared to most mechanical keyboards and it feels quite sturdy when holding it. The finish on the keyboard is fingerprint resistant which is also very nice. To help elevate the keyboard, there are two feet that have thick, long rubber pads on the bottom.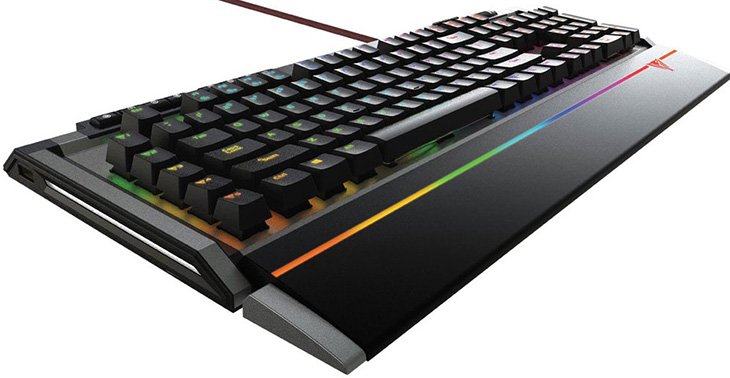 It comes with dedicated media keys, and there's also even a detachable RGB palm rest which most mechanical keyboards lack. The palm rest is attached via the pins on the bottom and it is fairly easy to detach as well. It comes with four lighting options, but one thing I want to mention is that it occasionally pops off during heavy gaming if you are moving your wrists a lot. But like I already mentioned, it only takes a few seconds to attach right back into position so it's not a big deal.
The key caps in the Viper V770 are exposed so you will see the RGB lighting flowing through the case. Each key has its own RGB LED and you can customize the lighting effects via the Patriot Software. The Patriot Software makes it really easy to customization and create complicated lighting effects in just a few seconds.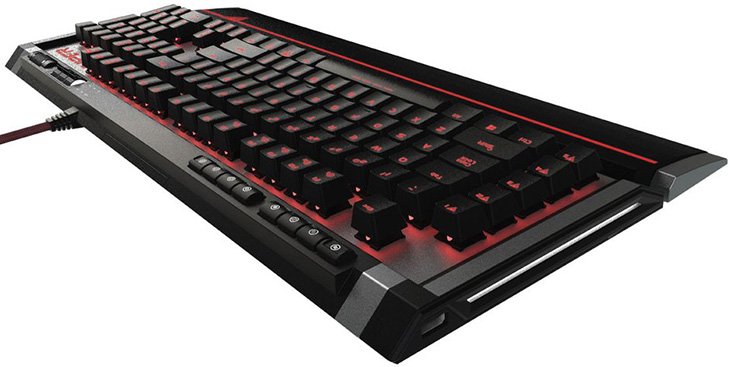 The Patriot software basically gives you access to customize anything you can think of such as assign specific functions to each key, assign macro scripts you have created, and also assign various Windows functions to various keys making them hot keys, including opening multi-media functions, Internet browser, file access. The Profiles function allows you to set up and save custom settings for different games, keyboard appearance, or performance, and access them easily.
Since the key caps are exposed, this makes it easy to remove the keys and exchange them and also clean them. You can expect a lot of light leakage with the Viper V770 due to having exposed keycaps which might bother some people. I also understand that some people might not like the look of exposed keycaps but I think you get used to it very quickly. Another feature the Viper V770 has that most keyboards lack is a place where you can hold your phone. On the back of the board, you will notice a slide out for the phone holder which be very handy when you want to charge your smartphone.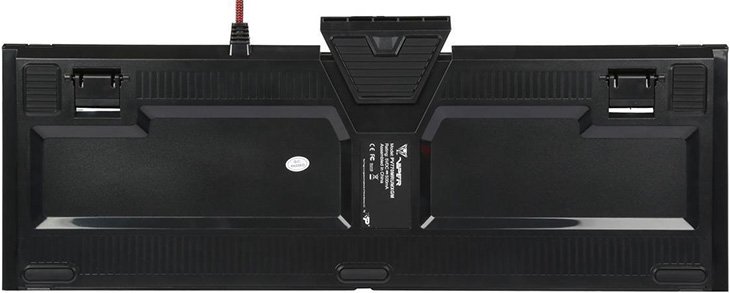 The Viper V770 also features a dedicated USB 2.0 passthrough and an audio passthrough. For those that don't know what a USB passthrough is, it's simply a USB port on the keyboard that you can use to connect a USB device to so you don't have to connect it from behind the computer case. This can be very useful if you want to charge your smartphone while playing a game or when browsing the web.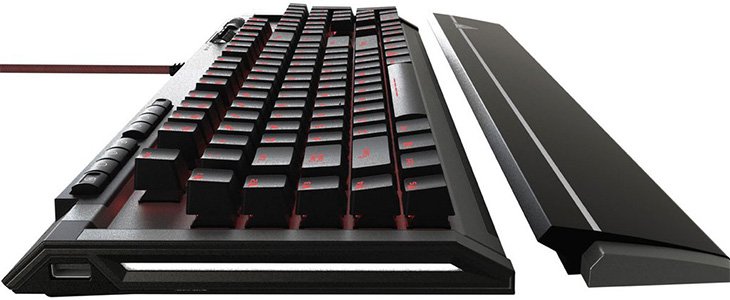 One thing I want to mention about the Kailh red switch is that they are not necessarily designed for typing, and while it is a decent step up compared to the regular membrane switches, you should probably look elsewhere if you are an avid typist. The Kailh red switches are great for gaming but the short travel distances and fast actuation makes it difficult to use this keyboard for everyday tasks.
Specifications
Technical Specifications
Company:
Patriot Memory
Model:
V770
Anti-Ghosting:
N-Key roll over via USB
Height:
39 mm
Width:
459 mm
Length:
229 mm
Macro Keys:
5
Weight:
3.1 lbs
Media Keys:
Dedicated
Wrist Rest:
Yes
Cable Length:
1.8 m, 6 ft
Switches:
Kailh RGB Red
OS Support:
Windows 10, Mac OS X, or higher
LED color:
Per-Key Full 16.8m RGB
Interface:
2x USB, Audio input, Mic input
Material:
Aircraft grade aluminum chassis
Box Content:
Viper V770 Gaming Keyboard
Detachable Magnetic Palm Rest
Keycap Remover
3.5mm Y-Splitter
Quick Start Guide
Viper Sticker
Announced:
January 2017
Performance
I tested the gaming performance of the Viper V770 by playing Battlefield 1 and I absolutely love the performance that the Viper V770 offers. The Viper V770 is comfortable to use and its sturdy design can withstand forceful tapping with no problems. I did compare the Viper V770 keyboard to the Logitech G610 keyboard which uses Cherry-MX red switches and I could not tell the difference between the two keyboards. The Kailh Red switches feel very similar to the Cherry-MX Red switches and both are very responsive. Patriot has done a fantastic job designing the Viper V770 and it definitely shows when you are using the keyboard.
Software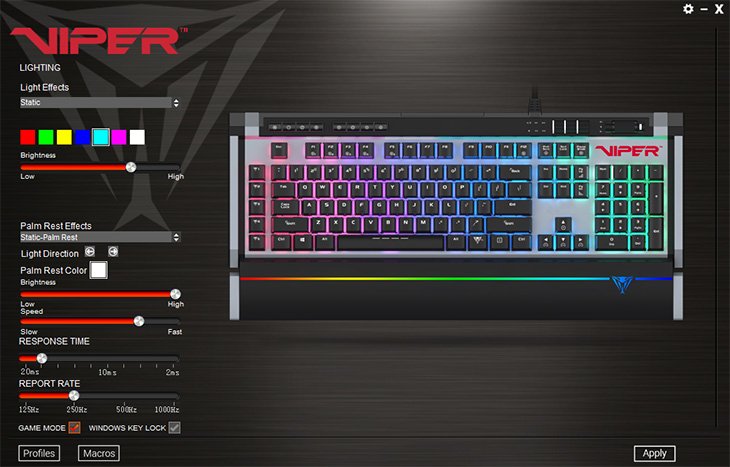 The Viper Software can be used to create and manage macros, create lighting profiles, adjust latency, response time, and more. Setting up the Viper V770 for customization and personalization with the Viper Software is pretty straight forward. Setting the light effects is as easy as selecting the effect from the drop down menu and hitting apply. After you pick the lighting effect from the drop down menu, you can then experiment with the color selection, brightness, speed and pattern direction. Everything can be set with only just a few clicks which makes it really easy to tweak the settings.
The lighting effects for the palm rest can be set up in the same way you set up the keyboard lighting. You may also adjust the response time and report rate for the keyboard from the main menu. A lower response time will decrease reaction time, while a higher report rate will increase the frequency the keyboard communicates with the computer, decreasing reaction time. The Patriot software also allows you to create custom lighting profiles by selecting one of the five Lighting Profiles from the drop down menu in Light Effects.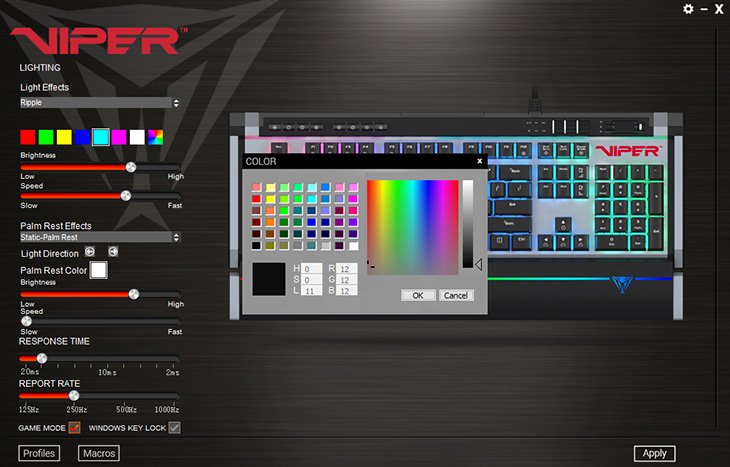 You may create and save 32 different macro scripts, of 47 characters in length that can be assigned to any key (except the Windows key) of the keyboard and not only that but the Viper V770 also has five additional dedicated macro keys for convenience. Key bindings can be extremely useful to gamers because you can remap every key on the keyboard for more convenient access so you can basically create an unlimited amount of customizations which is really awesome. The UI of the Patriot software is easy to use and I really like how much customizations it offers.
Conclusion
Patriot has created a fantastic keyboard with the Viper V770 and it has everything that you can want in a high-end gaming keyboard. At $120, the V770 keyboard is affordable considering all the features that it comes with. There are plenty of mechanical keyboards out there that cost more than the V770 but also lack a detachable wrist rest, USB passthrough and dedicated media keys. The only thing that I don't like about the V770 is that it requires two USB slots. Other than that, the Viper V770 is a perfect keyboard for gamers who are looking for a truly high-end gaming keyboard with a sturdy build quality and a sleek design.

Pros:
+ Detachable Palm Rest
+ USB Passthrough
+ Phone Holder
+ Attractive Design
+ Great Performance
+ Dedicated Media Keys
+ Great Packaging

Cons:
- Requires Two USB Slots

The RGB LEDs look very nice and the Patriot Software software offers a ton customization options. I had a blast testing the Viper V770 in gaming and the caps themselves are very durable and not prone to fading or losing their texture. If you are in the market for a high quality gaming keyboard, the Viper V770 is definitely the keyboard to get. You simply can't go wrong with the Patriot Viper V770 because it offers everything you could want in a high end gaming keyboard. Overall, I believe the Patriot Viper V770 keyboard deserves our gold award.
Final Score 9.5