Introduction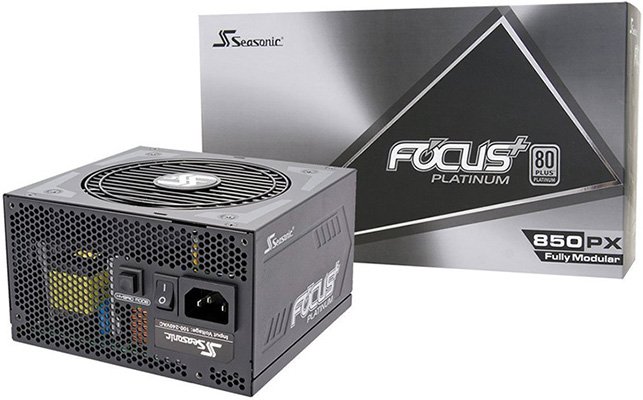 Seasonic was founded in 1975 and they are the first manufacture to make power supplies for the PC industry. Since its inception, Seasonic has consistently released quality products and not only do they make their own PSUs, but they also make PSUs for companies like Corsair and EVGA. In the PC community, Seasonic is known as the best PSU brand and they are one of the few that makes and brands their own PSUs.
Seasonic's Focus Plus series consists of the Gold and Platinum product line, with the Platinum line offering four power supplies ranging in capacity from 550W up to 850W while the Gold line goes all the way up to 1000W. Earlier this year we reviewed the Focus Plus 750W Gold and Focus FM 650W Gold which seriously impressed us with their amazing internal build quality and exceptional performance. Today we will be taking a detailed look at the Focus Plus 850W Platinum power supply. If you are looking to build a new system and don't know what power supply to buy, we strongly recommend you to look at the Seasonic's Focus Plus series or the Focus line if you want to save some money.
Pricing & Warranty
The Focus Plus 850W Platinum power supply retails for $140 on Amazon and comes with a 10 year warranty. This is an 80+ Platinum certified PSU which means that it is 92% efficient at 50% load. Seasonic's Focus Plus series feature an aggressive pricing which pushes its competitors to lower the price on their products. At $140, the SSR-850PX is about $20 to $40 cheaper compared to other 850W Platinum PSUs from other reputable manufactures such as Thermaltake, Enermax, Corsair and Antec. Before the Focus Plus series, Seasonic's products were known to have a high price-tag but we're happy to see Seasonic lower the price and make their products affordable for everyone.
Seasonic is one of the few companies that provides a 10 year warranty on their power supplies. The majority of the manufactures offer 5 year warranties so this shows Seasonic's commitment to their PSU quality and longevity. The SSR-850PX features a single +12V rail that can deliver up to 70A (840W) on the +12V output which is enough power to feed two high-end graphics cards and still have plenty of room for overclocking your CPU.
Features
The Focus Plus 850W Platinum sports a fully modular design which allows you to use only the cables you need thus helping improve case airflow and eliminating unnecessary wires and reducing clutter. Seasonic is using high-quality Japanese brand capacitors that ensure long-term reliability. Another good thing about the Focus Plus 850W Platinum power supply is that it comes in a small 140mm footprint which can help in cases where space is premium.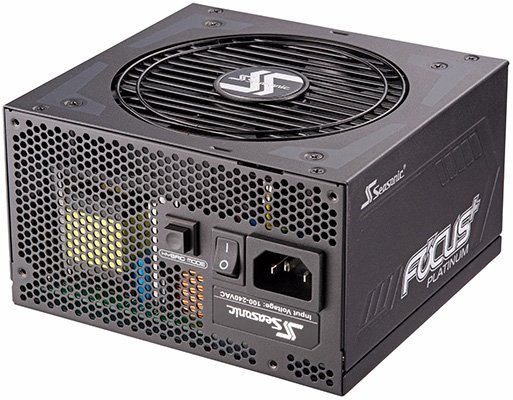 Seasonic has equipped the Focus Plus 850W Platinum with a 120mm Fluid Dynamic Bearing (FDB) fan with the ability to run in three operational stages: Fanless Mode, Silent Mode, and Cooling Mode. There is a switch at the back of the power supply which allows users to customize their cooling needs by selecting between the S2FC (fan control without Fanless Mode) and the S3FC (fan control including Fanless Mode). The fan in the power supply turns off for silent operation during idle or low powered activities if the loading condition is below 30%. The Fluid Dynamic Bearing (FDB) fan is a high quality fan that is extremely reliable and generates considerably less operating noise and heat than ball bearing fans.
The Focus Plus 850W Platinum includes ±3% tight voltage regulation which helps significantly with stability. In other words, think of voltage regulation this way. When your computer is running, the current power draw can suddenly change for your CPU or GPU load. When this happens, the less change in voltage, the better thus resulting in better stability for your computer. Cheap power supplies don't do this very well, and can often damage the components of your computer so be very careful when purchasing some random power supply you find on websites such as Amazon and Newegg.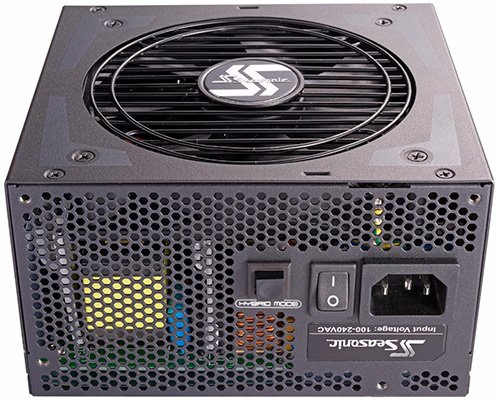 Most of the really good PSUs out there are rated for 50°C operating temperature but the majority of them are generally rated for 40°C. This is a pretty difficult standard to meet and Seasonic has achieved that with the Focus Plus series and the SSR-850PX comes with a 50°C operating temperature. Seasonic has also implemented a cable-free connection design solution where instead of cables, the back panel and the PCB are connected by a copper plate. This lowers the chance of production errors during manual insertion and also improves power efficiency.
Specifications
Seasonic SSR-850PX Specifications
Manufacture:
Seasonic
Model:
SSR-850PX
Max. DC Output:
850W
80PLUS:
Platinum
Over Voltage Protection:
Yes
Weight:
6.80 lbs
Efficiency Level:
ETA-A
Form Factor:
Intel ATX 12 V
Dimensions:
140 mm (W) x 150 mm (L) x 86 mm (H)
Fan Size:
120 mm
Fan Control:
Premium Hybrid Fan Control
Fan Bearing:
Fluid Dynamic Bearing
Life Expectancy:
50,000 hours at 40 °C, 15 % - 65 % RH
Modularity:
Fully Modular
Cable type:
Flat black cables
Operating Temperature:
0 - 50 °C (derating from 100 % to 80 % from 40 °C to 50 °C)
MTBF @ 25 °C, excl. fan:
100,000 hours
AC Input:
Full Range
Protection:
OPP, OVP, UVP, OCP, OTP, SCP
Safety and EMC:
cTUVus, TUV, CB, CCC, BSMI, EAC, CE
Environmental Compliance:
Energy Star, RoHS, WEEE, ErP Lot 6, REACH
Warranty:
10 Years
Voltage:
100 V - 240 V
Current:
11 - 5.5 A
Frequency:
50 Hz - 60 Hz
Load Range
Rail
+3.3V
+5V
+12V
-12 V
+5 VSB
Max.(Amps):
20 A
20 A
70 A
0.3 A
3 A
Max.(Power):
100 W
840 W
3.6 W
15 W
Total Continuous Power:
850 W
Main Connector
20+4Pin
+12V Rails:
Single
PCI-Express Connector:
4 x 6+2-Pin
SATA Power Connector:
8
Connectors:
1 x ATX connector 20+4 pin (610mm)
2 x 4/8 Pin CPU (650mm)
6 x 6+2 pin PCIe (675mm+75mm)
10 x SATA (450mm+120mm+120mm+120mm)
5 x Peripheral (450mm+120mm+120mm) / (350mm+120mm)
1 x FDD (101mm)
Packaging

The SSR-850PX comes in an attractive box that stands out when you first see it due to the silver white color. Looking at the front of the box, we see the Seasonic logo on the top left corner followed by the 'Focus+ Platinum' text in the center and '850PX' model number in the bottom right corner.
On the back, you will see a list of the SSR-850PX's features such as the 80Plus Platinum rating, DC to DC converter design, +12V output, tight voltage regulation, APFC (Active Power Factor Correction) which helps with reducing line loss and power distortion, highly reliable aluminum solid capacitors, 120mm FDB fan, compact design, fully modular cabling, and a 10-year warranty.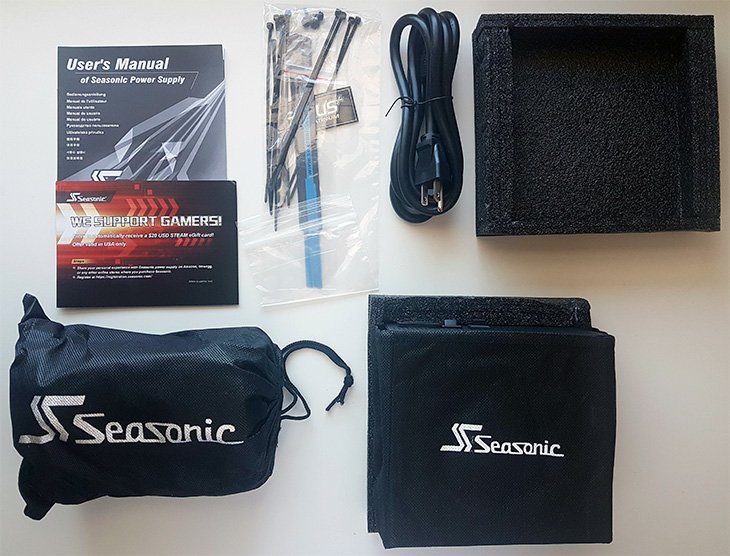 Seasonic's packaging is fantastic and I've never seen a company take packaging this seriously. We can see that the SSR-850PX is protected by two high density foams as shock absorbent to prevent any accidental damages during shipping. The power supply is enclosed inside a cloth bag that definitely gives it a premium feel to it. Most manufactures package their power supplies in plastic bags so it's nice to see Seasonic go the extra mile with their packaging. There's a void sticker on one of the corners of the PSU and tampering with the PSU of course voids the warranty.
Inside the box you will find a set of Velcro straps, four mounting screws, several zip ties, Focus case badge, an AC power cord, a user's manual and a bundle of modular cables in a separate cloth bag. The manual has all the information you need to know about the power supply such as how to set up your power supply and basic troubleshooting. Size-wise, the SSR-850PX is 140mm wide, 86mm tall and 150mm long and weighs 6.80 lbs.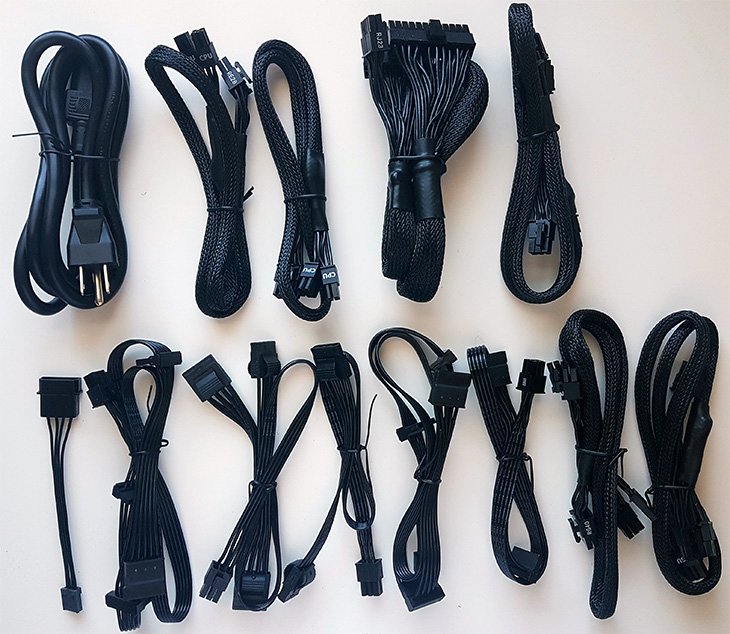 The cables are made of high quality materials and are of ample length. You can look at the table above for connector count and for cable lengths. There is nothing to complain about the length of the cables, as they are sufficiently long for all towers but the only thing that I don't like about them is that Seasonic has added capacitors to some of the cables (ATX, EPS, PCIe) for extra ripple filtering. Adding capacitors to these cables has made them quite bulky which makes the cables difficult to fold and route around the case but the peripheral cables don't have capacitors in them so they are flat. Flat cables have much greater flexibility to allow for tighter folding and management of cables.
Build Quality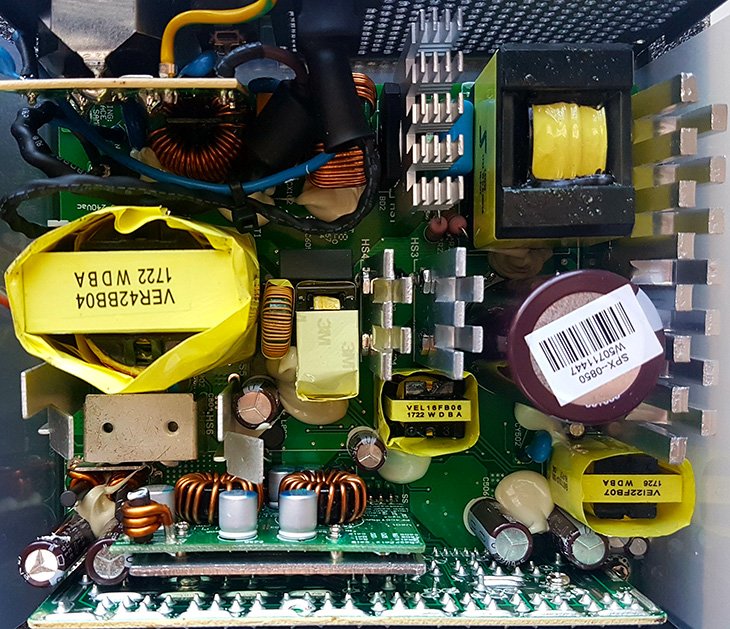 The top cover can be removed by unscrewing the four screws but keep in mind that removing the top cover voids the warranty so you lose the 10 years guaranteed warranty by the manufacturer. The first thing you will notice once the top cover is removed is the clean layout and the cable-free connection design of the power supply. All connections travel through the PCB which helps with improving output power quality. The integration and soldering quality of the SSR-850PX is excellent just as you would expect from Seasonic.
The SSR-850PX uses all high quality Japanese capacitors throughout the build. Japanese manufacturers such as Nippon Chemi-Con are known for making excellent capacitors and have a reputation for excellent quality control and are also said to use a refined electrolyte with better sealing capacity that are more resilient to higher temperatures. The primary bulk capacitor is provided by Nippon Chemi-Con and is rated at 400v 650uF 105°C.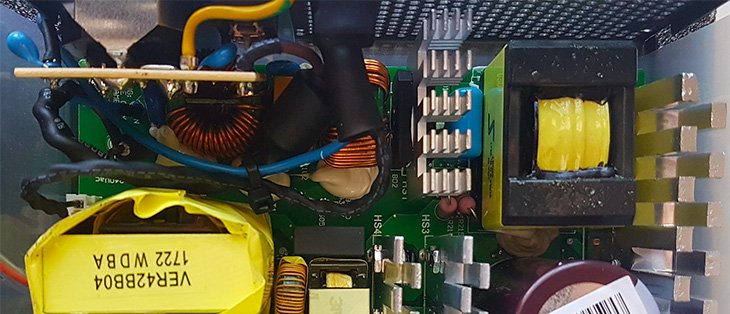 You will notice that the SSR-850PX is using four heatsinks that help with dissipating the heat from the primary and secondary side which is very good. There's a small PCB where the AC receptacle and power switch are installed which also holds the first part of the EMI suppression filter. So the input filtering begins on this small PCB that has some X and Y capacitors attached to it and then trails onto the main PCB for completion. The EMI filter capacitor is directly soldered to the rear of the socket with a small circuit board containing a Champion Microelectronic CM02X chip.
The unit includes Total Power Protection (OPP), Over Voltage Protection (OVP), Under Voltage protection (UVP), Over Current Protection (OCP), Short Circuit Protection (SCP), and Over Temperature Protection (OTP).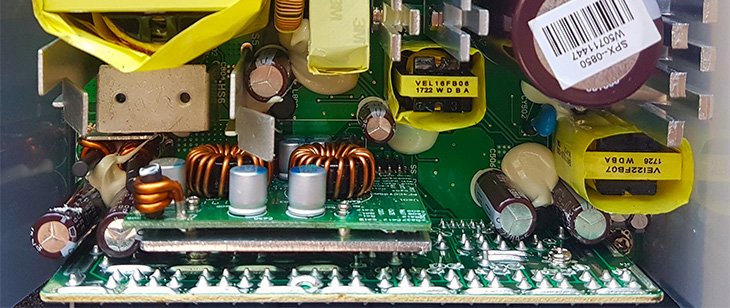 The SSR-850PX is featuring a full bridge LLC topology and LLC resonant converter on the primary side while the secondary side uses synchronous rectification and DC-to-DC converters which provides a superior dynamic response, greater stability and maximizes the output of the 12V rail. The wires are color-coded so it is easy to take everything apart and re-house if needed.
All of the filtering is handled by several Nippon Chemi-Con capacitors which is great. Seasonic has replaced the use of cables with a copper plate to connect the modular panel to the PCB, drastically reducing the possibility of production errors during manual insertion, as well as improving the quality of the output power in general.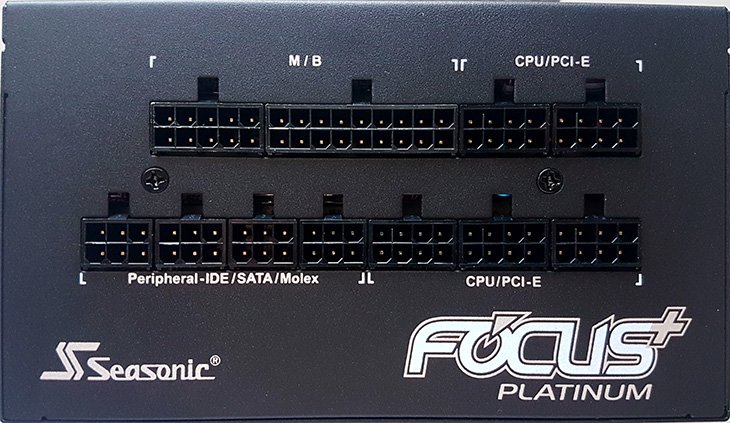 Looking at the back of the power supply, we can see that the connectivity is fairly standard. The modular panel includes 11 sockets and the panel is nicely labeled to let you know what each socket is used for.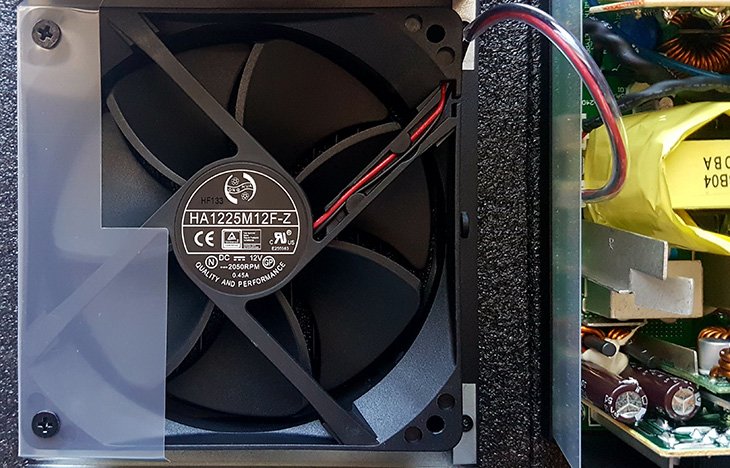 The SSR-850PX comes with a 120mm Fluid Dynamic Bearing (FDB) fan with a max 2050 RPM and is rated for 0.45A at 12V. Fluid dynamic bearings fans have a much longer lifespan compared to ball bearing fans and generate less operational noise and heat. Also, fluid dynamic bearings use lubrication on the surface to reduce friction and vibration.
The fan is made by Hong Hua and the model number is HA1225M12F-Z and it is connected to the PCB using a 2-pin connector. Life expectancy of the fan is estimated to be up to 50,000 hours working at an average temperature of 40° C. The fan does a good job of dissipating the heat and Seasonic includes a metal grid which is designed to protect the fan from objects that may obstruct its operation.
Test Methodology
Our goal here is to simulate realistic loading conditions to see how well the PSU can maintain the various output voltages while operating under different loads. All of the testing is conducted at an ambient temperature of 22°C. These tests will be performed at several load levels, from low (100W) to high (800W) or higher depending on the PSU. We are looking for results as close to 12V, 5V and 3.3V as possible. We are also measuring the PSU noise levels during our load testing. Sound pressure level readings were measured from about 100cm away from the PSU.
Below is a table listing the tolerances for each power supply voltage rail based on the ATX specification version 2.2. We have also included a table with various dBa ratings to help describe the various noise levels based on real world situations.
Power Supply Voltage Tolerances
Rail
Tolerance
Min. Voltage
Max. Voltage
+3.3V
± 5% (±0.165V)
+3.135V
+3.465V
+5V
± 5% (±0.25V)
+4.75V
+5.25V
-5V
± 10% (±0.50V)
-4.50V
-5.50V
+12V
± 5% (±0.60V)
+11.40V
+12.60V
-12V
± 10% (±1.20V)
-10.80V
-13.20V
Noise Levels (dBA)
Lawn Mower:
90 dBA
Vacuum Cleaner:
80 dBA
City Traffic:
75 dBA
Conversation:
65 dBA
Air Conditioning:
60 dBA
Floor Fan:
50 dBA
Electric Hum:
45 dBA
Refrigerator Hum:
40 dBA
Rustling Leaves:
30 dBA
Pin Falling:
15 dBA
Just Audible:
10 dBA
Threshold of Hearing:
0 dBA
Results
Seasonic Focus Plus 850W Platinum Load Tests
DC Load
+3.3V
+5V
+12V
Efficiency
Fan Speed
PSU Noise
100W
3.31V
5.01V
12.02V
89.9%
0 RPM
<10 dBA
200W
3.31V
5.00V
12.02V
91.7%
0 RPM
<10 dBA
300W
3.30V
5.02V
11.99V
91.3%
565 RPM
16 dBA
400W
3.30V
5.01V
11.98V
92.4%
730 RPM
19 dBA
500W
3.29V
4.99V
12.00V
92.1%
985 RPM
22 dBA
600W
3.28V
5.00V
12.01V
91.6%
1370 RPM
33 dBA
700W
3.29V
5.01V
12.02V
89.7%
1865 RPM
38 dBA
800W
3.30V
5.00V
12.00V
89.4%
1980 RPM
41 dBA
The SSR-850PX performed excellent in our tests just as we expected. All three main rails ran flawlessly during our tests and the minimal variations were all within the strict 5% tolerance limit. Thanks to the Hybrid fan mode, the SSR-850PX is very quiet in low loads due to the fan not spinning and even during medium loads it is still very quiet. The fan does become noticeable during high loads but that will pretty much never happen in your daily usage even under the most demanding conditions.
Conclusion
Seasonic has managed to shake up the PSU market with the Focus Plus series power supplies and these PSUs will without a doubt have a significant impact on the PSU community. The Focus Plus 850W Platinum that we reviewed today offers users a highly efficient PSU in a fully modular design for a very attractive price. Noise output is kept low thanks to the hybrid fan mode (S3FC) and this makes the SSR-850PX super quiet during daily operations. The majority of the PSUs out there use a ball bearing fan instead of a fluid dynamic one but the FDB fan is the one preferred because it is quieter.
The overall test results for the Focus Plus 850W Platinum power supply were excellent. Voltage regulation was also amazing. My favorite thing about the SSR-850PX is its small compact design. This is very important for those looking to build highly efficient systems in small footprints. The build quality is modern and the integration quality is top-notch as we have come to expect from Seasonic. Thanks to its powerful 12V rail (70 Amps), the SSR-850PX has ample power to drive a high end multi-gpu gaming system with no problem.
The SSR-850PX features a silent 120mm FDB fan with intelligent semi-fanless operation which makes it great for quiet home or office use. If the loading condition is below 30%, the fan will remain off for silent operation. The trend for small form factor computers has been increasing over the years due to the hardware components becoming more efficient and Seasonic is helping to drive the efficiency movement by releasing the Focus Plus series of power supplies in compact designs.
As good as the SSR-850PX is, it isn't perfect. The main problem with the SSR-850PX is that the ATX, EPS, and PCIe cables have capacitors at the component end. Having inline capacitors in the cables has allowed Seasonic to make the PSU smaller but it has also made the cables much harder to route and fold. Having inline cable capacitors also eliminates the ability to sleeve the cables which could be an issue to users who are into modding.

Pros:
+ Attractive Price
+ Platinum Certified
+ High Build Quality
+ Quiet FDB Fan
+ Fully Modular
+ Plenty of Cables/Connectors
+ Fantastic Packaging
+ 10 Year Warranty
+ High Efficiency
+ Compact Design

Cons:
- Inline Cable Capacitors

Seasonic has done a fantastic job with the SSR-850PX and the compact design, long warranty coverage, high efficiency and high build quality makes it a fantastic PSU. The 10 year warranty shows how confident in the quality and reliability of their product Seasonic is. Overall, the Seasonic SSR-850PX deserves our elite award.
Final Score 9.8