Introduction

Silicon-Power was founded in 2003 by a group of enthusiastic data storage industry experts in Taipei, Taiwan. Now Silicon Power has offices not just in Taiwan, but also in Japan, Netherlands, Balkan, Russia, China, India, and the United States. Silicon-Power is known for releasing flash memory cards, USB flash drives, portable hard drives, solid state drives, and DRAM modules. They have created many award wining products in the past few years and they continue to offer great data storage solution for all requirements of modern digitalized life.
Recently Silicon-Power released their Armor A62 portable external hard drive series that is available in two models (S and L) and comes with five capacities ranging from 1TB to 5TB. The Armor series is the company's rugged portable hard drive lineup that is designed for those who need to carry data on the go. Today we are going to review the Armor A62S 1TB portable hard-drive that retails for $61.99 on Amazon and comes with 3 years of warranty. Most manufactures generally provide a 1-year warranty with their portable devices so having 3-years of warranty is very nice.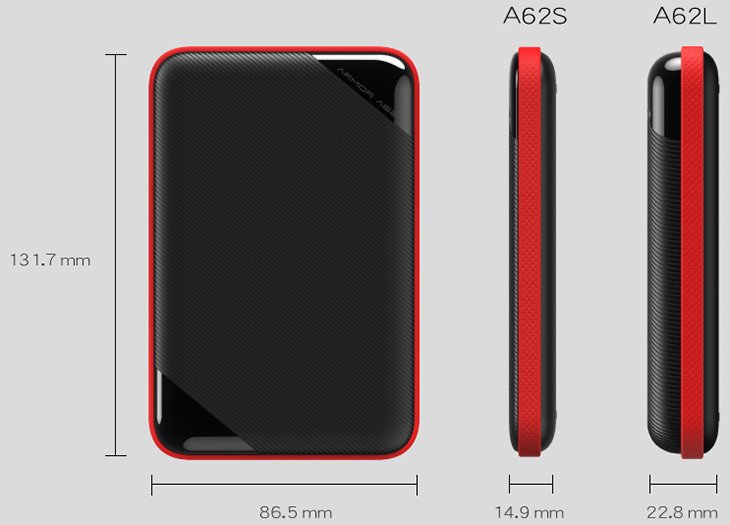 Silicon-Power has made the Armor A62's housing with a ribbed surface structure that makes it resistant to scratches and smudges. On top of that, the Armor A62 was tested in a military-standard free test and is shock-resistant and is also IPX4 water-resistant to prevent damage caused by spillages. Silicon-Power's Armor A62S comes in a slim 15mm design and is available only in 1TB and 2TB capacities while the A62L comes in a 23mm design and is available with capacities ranging from 2TB up to 5TB. Both models provide enough capacity for the average person to store all of their data.
What stands out visually from the A62S is this single piece rubber bumper that surrounds the hard drive and covers the USB 3.1 Gen 1 port. The rubber bumper can come in handy if the hard drive is accidental dropped by protecting surrounding sides and the rear of the hard drive. Also, the rubber bumper can be used to hold your USB cable in one place so you don't accidentally misplace it. With that being said, it is easy to lose the cable because it is not attached to the drive.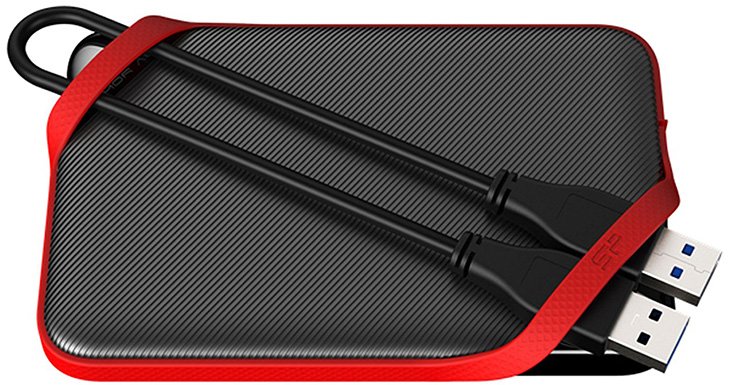 Silicon-Power has equipped its A62 series drive with a USB 3.1 Gen 1 interface and it is backwards compatible with USB 2.0. Keep in mind that USB 3.1 Gen 1 is rated for 5 Gbps which means that it is the identical speed of regular USB 3.0. So when you see USB 3.1 Gen 1, it basically means USB 3.0 while USB 3.1 Gen 2 is the true USB 3.1 and is rated for 10 Gbps. Your system must support USB 3.1 Gen 2 capability in order to use USB 3.1 Gen 2 devices.
Moving on, the Armor A62 series use a type A-to-A USB cable which means you don't have to remember which end is which when you plug it in because it is the same. The only downside to this is that it makes it difficult to find a replacement if you accidentally lose the cable because most devices use the standard A-to-B cable.
The A62S measures 131.7 x 86.5 x 14.9 mm and weighs in at 180-282 grams, depending on capacity. Like I already mentioned, the A62S has a nice slim profile that is easy to hold onto, and it does not feel cheap when holding it. Since it's using a soft rubber and textured plastic on the front and back, it does not slide off easily on any surface.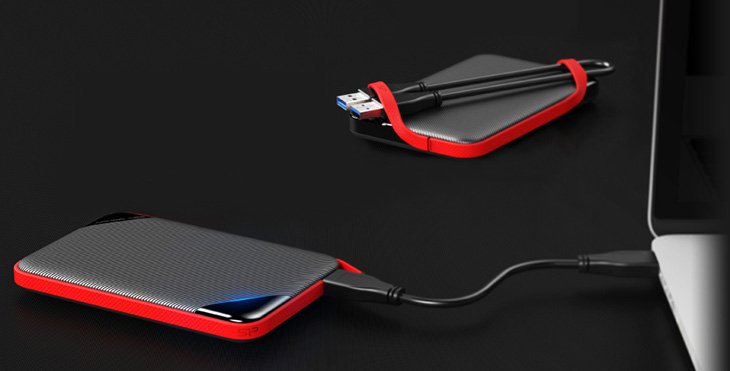 You will notice on the front of the drive a single blue LED light lighting up when the drive is active. The USB 3.1 Gen 1 port is covered by the rubber bumper which can protect the port if you accidentally spill something onto it. Something that I dislike about the A62S is the included USB cable because it is way too short at 30 cm. I really think that a retractable cable would have been much better since the cable would have been attached to the device and you wouldn't have to worry about losing the cable.
Specifications
Technical Specifications
Brand:
Silicon-Power
Series:
Armor A62
Cable:
Type-A to Type-A (A62S, A62L)
Capacity:
(A62S) 1TB/2TB, (A62L) 2TB/3TB/4TB/5TB
Dimensions:
(A62S) 131.7 x 86.5 x 14.9 mm
(A62L) 131.7 x 86.5 x 22.8 mm
Weight:
180-282 g (by capacity)
Material:
Plastic
Color:
Black
Interface:
USB 3.1 Gen1 / USB 3.0, USB 2.0 compatible
Supported OS:
Windows 10/8.1/8/7/Vista/XP
Mac OS 10.5.x, Linux 2.6.31
Operating Temperature:
5C~ 55C
Storage Temperature:
-40C~ 70C
Certification:
CE/FCC/BSMI/Green dot/WEEE/RoHS/EAC/KCC/RCM
Warranty:
3 Years
Features:
- IPX4 waterproof and 122cm military-grade shockproof
(MIL-STD 810G 516.7 Procedure IV transit drop test).
- Protection without the typical rugged military look.
- Fast data transfer with USB 3.1 Gen 1 interface.
- Special surface texture for protection against scratches and fingerprints.
- Two sizes to cater for different storage capacity needs (A62S, A62L).
- Large storage capacity of up to 5TB with A62L.
- Free download of SP Widget* software for data backup & restore,
AES 256-bit encryption, and cloud storage.
Packaging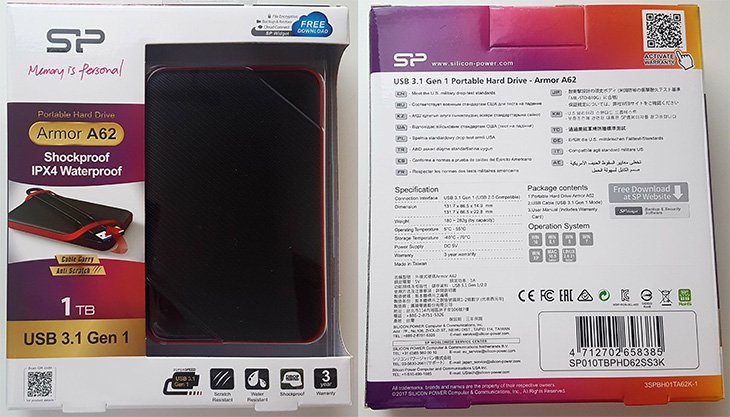 The Armor A62S comes in a simple cardboard box and the the Armor A62S external drive, USB cable, and the user manual is inside a clamshell packaging which can be seen from outside the package. On the back, you will see a description of all the features and the specifications of the Armor A62 portable hard drive.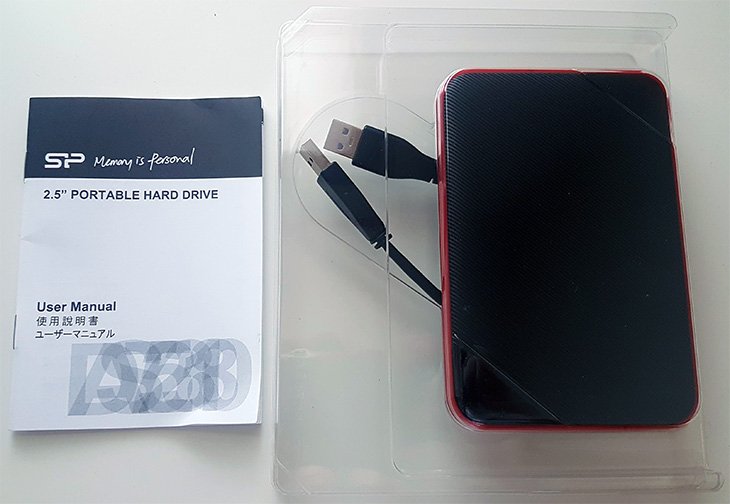 Most manufactures don't even bother including a manual guide these days but Silicon-Power includes one which is nice to see. Overall, the packaging is solid and the product arrived in perfect condition.
Software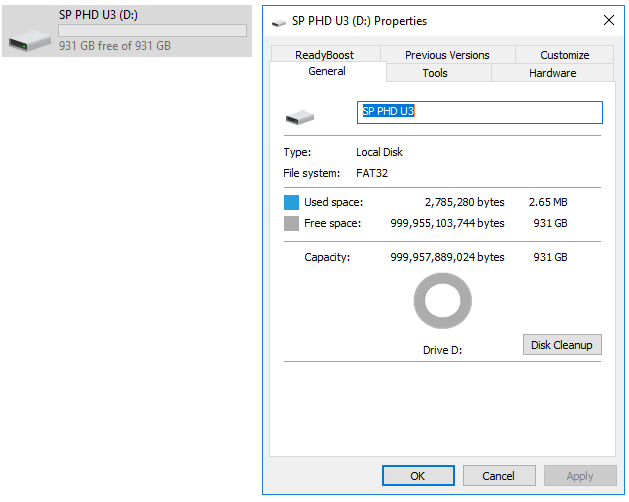 The drive comes pre-formatted in FAT32 which means it cannot store files larger than 4GB so I went ahead and formatted it in NTFS because I normally work with large files and I plan to use it with Windows only. The drive is compatible with any version of Windows, from XP and all the way up to Windows 10 in both 32bit and 64bit. It is also compatible with Mac OS 10.5 or later and supports Linux 2.6.31 or later.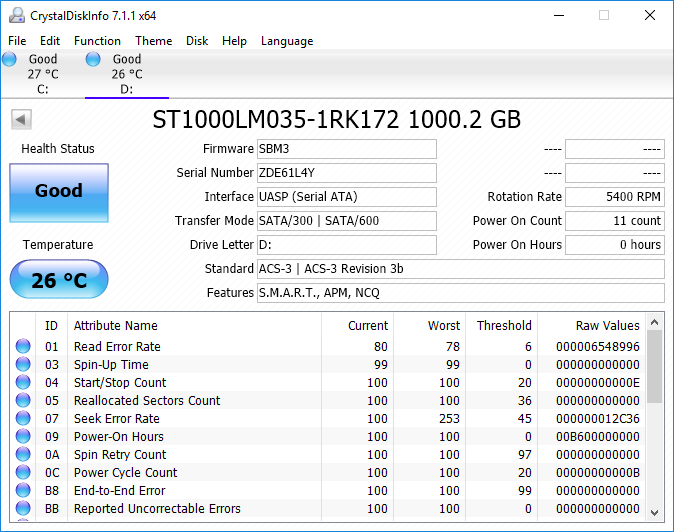 The internal hard drive is a Seagate ST1000LM035 which is a 2.5" SATA III (6Gbps) drive with 128 MB of cache and spins at 5400RPM and has an average of 13ms seek time. It would have been better if they had gone with a 7200RPM drive but to keep the cost down, they went with a cheaper 5400RPM drive instead. The Seagate ST1000LM035 is rated for active power consumption of 1.6W and 0.45W at idle. A lower RPM drive consumes less power which is very important for a portable drive because you don't want to drain the laptop's battery too quickly when you are transferring files.

The Silicon Power Armor A62S can be used with the SP Widget software which provides backup and security functions and you can download it directly from Silicon Power's site. The SP Widget is an executable file that runs as a standalone app without the need to be installed. When you first open up the SP Widget utility, you will be presented with five different options; Project Backup, Data Encryption, My Favorite Backup, Data in the Cloud and Setup.
The user interface is fairly basic and the navigation process is pretty straight forward. Design-wise, the utility sports an outdated look which I think could be improved to make it more modern.

When it comes to backup, most people either use a third party software or use the built-in of the operating systems but it never hurts to have a standalone backup utility that offers additional features. The data encryption option allows you to encrypt your data. All you have to do is select the files you want to encrypt and then enter the password to encrypt them. Overall, the SP Widget tool is easy to use but I'd like to see an updated version with an improved look and feel and maybe some additional functionalities.
Test Methodology
Test Setup
Processor:
AMD Ryzen 7 1700X
Motherboard:
MSI X370 Gaming xPower Titanium (BIOS v1.9)
RAM:
Ballistix Elite DDR4 16GB (2x8GB) 3466 MHz
Graphics Card:
nVidia GTX 1070
Storage:
Crucial MX300 1TB
Power Supply:
SilverStone ST80F-TI
Heatsink:
Noctua NH-D15
OS:
Windows 10 Pro 64-Bit
Thermal Compound:
Noctua NT-H1
Case:
Corsair 400C
Portable Drives:
Silicon-Power Armor A62S 1TB
WD Passport Ultra 500GB
Seagate Slim Portable 500GB
Corsair Voyage Air 500GB
The testing was done on a fresh install of Windows 10 64-bit. We made sure there were as few processes running as possible during the testing. We'll be using the AMD Ryzen 7 1700X CPU that will run on stock settings and we are also using the MSI X370 Gaming xPower Titanium motherboard with the latest BIOS installed. We will be connecting these drivers to the USB 3.1 Gen 1 port on the back of the motherboard to ensure they are tested equally the same.
Results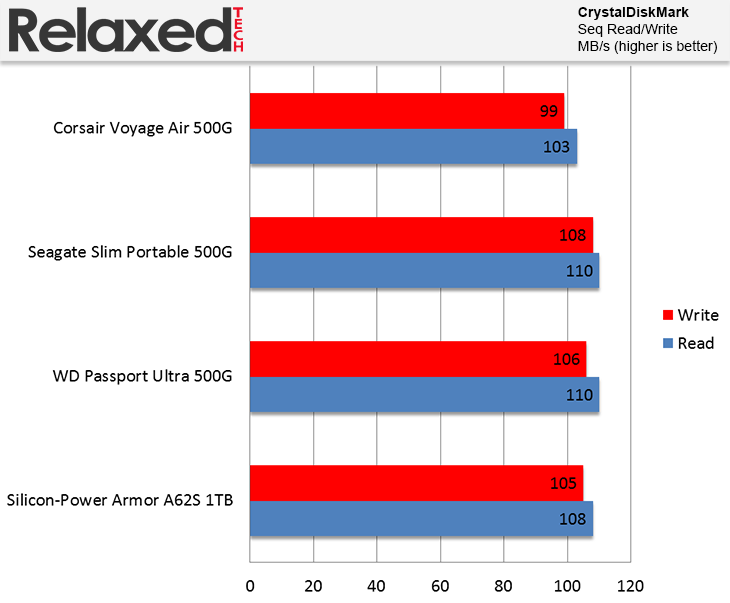 Looking at the Read/Write performance above, we can see the Armor A62S performed relatively well compared to the other portable drives.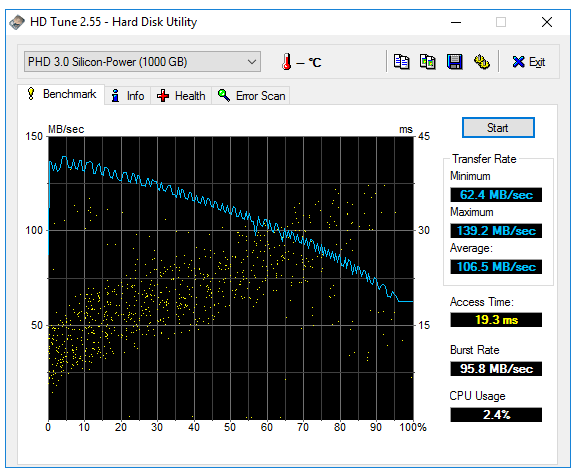 In the HD Tune Pro benchmark, the Armor A62S displayed decent results for a 5400RPM drive.

I also tested the Armor A62S with USB 2.0 and got 28Mbps for writing and 33MBps for reading, which is as fast as most USB 2.0 drives. As far as durability goes, I did some drop testing from the waist-level a couple of times and it survived with no problems. I also tested its water-resistant claim by dropping it in a kitchen sink full of water with the USB port's lid closed, and the drive worked fine after I pulled it out.
Conclusion
The Silicon Power Armor A62S 1TB is a nice, slim portable external drive that offers plenty of storage space at an affordable price. It sports a sturdy build quality and the rubber flap helps to protect the drive against drops and spills. The Armor A62S comes with a 5400RPM drive which offers acceptable performance but it would have been nicer if Silicon-Power had used a 720RPM drive.
My biggest issue with the Armor A62S is the USB A-to-A cable and its length. Since the USB cable is not attached to the drive, this will increase the chances of losing the cable so finding a replacement will make it harder. I also find the USB cable too short at 30cm. Another thing that could use an improvement is the SP Widget utility which I think needs a more modern UI with additional features to make it more appealing.
Pros:
+ Rugged Thin Design
+ IPX4 Water-Resistant
+ Solid Performance
+ Affordable
+ 3 Year Warranty

Cons:
- SP Widget Needs Improvements
- Short Cable (30cm)
- USB A-To-A cable

There are plenty of portable external hard drives out there but most of them are bulky and not shock-resistant and water-resistant. For around $60, you get a rugged thin design portable drive that comes with 3 years of warranty and offers solid performance. If you are in the market for a durable portable hard drive, consider the Armor A62S because it offers good performance with a strong build quality for its price. Overall, I believe the Silicon-Power Armor A62S 1TB deserves our recommended award.
Final Score 8.5