Introduction

The SilverStone PS11 is a high quality entry-level case that incorporates a wide range of features such as flexible storage options, two front USB 3.0 ports, space for high performance graphics cards, and support for various cooling configurations. SilverStone's PS11 comes in two versions, one with side window and a mesh front panel for high cooling performance (PS11B-W) which is the one that I will be reviewing and another one that has sound absorbing foam and indirect front-side intake vents for quiet operation (PS11B-Q).
The PS11B-W model costs $53.99 and has a mesh front panel and a steel body while the PS11B-Q model costs $54.99 and has a plastic front panel with steel body and both are painted black. The PS11B-W model is aesthetically pleasing with its side window and mesh panel but if you are looking to build a silent computer then the PS11B-Q model might be what you are looking for. The PS11 case comes with plenty of room for installing graphics cards up to 16.2 inches, a full size ATX PSU and an ATX motherboard up to 12" x 11".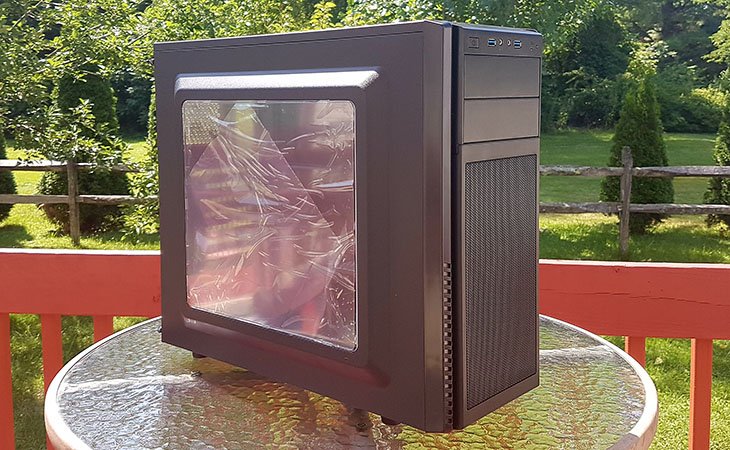 The Precision PS11 offers plenty of cool features such as quick access filters for easy cleaning, motherboard back plate opening for quick CPU cooler assembly, mesh front panel intake maximizes airflow with side window for viewing system innards and supports graphics cards up to 16.2 inches. The PS11 is designed for both air and water cooling. If you are going the air cooling route, it supports up to six fans total. You can install two 120mm/140mm fans on the front, one 120mm at the back, two 120mm on the top and one 120mm at the bottom. If air cooling isn't your thing, you can install an AIO cooler at the top or remove the HDD bay completely and install an AIO 120mm/140mm cooler at the front. The team at SilverStone has designed the PS11 with all the possible options that you would think.
Specifications
SilverStone PS11 Specifications
Manufacture:
SilverStone
Model:
SST-PS11B-W
SST-PS11B-Q
Material:
Mesh front panel, steel body (SST-PS11B-W)
Plastic front panel, steel body (SST-PS11B-Q)
Motherboard:
ATX (up to 12" x 11"), Micro-ATX
Drive Bay:
External - 5.25" x 2
Internal - 3.5" x 3, 2.5" x 2
Cooling System:
Front - 2 x 120mm/140mm fan slot (1 x 120mm intake fan included)
Rear - 1 x 120mm fan slot
Top - 2 x 120mm fan slot (SST-PS11B-W)
Bottom - 1 x 120mm fan slot
Expansion Slot:
7
Front I/O Port:
USB 3.0 x 2
Audio x 1
MIC x 1
Material:
Plastic and Steel
Power Supply:
Standard PS2(ATX)
Expansion Card:
Compatible with expansion cards up to 16.2" , width restriction - 6.1"
Limitation of CPU cooler:
161mm
Limitation of PSU:
225mm
Net Weight:
4.825kg
Dimension:
215.3mm (W) x 426.5mm (H) x 481.5mm (D), 44 liters
Packaging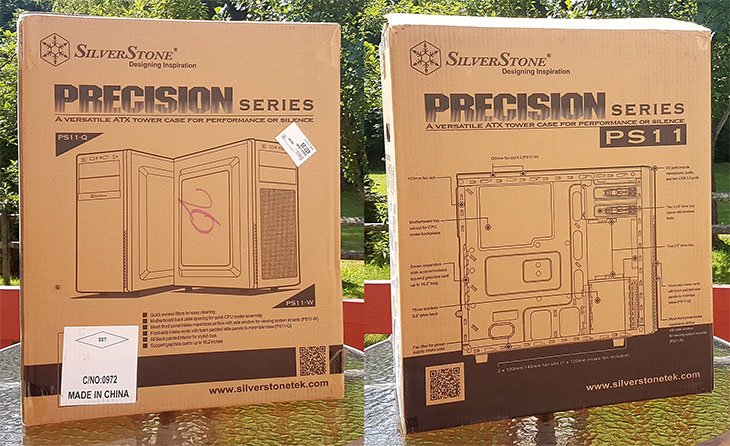 The case comes in a cardboard box and on the front of the box you see the name 'Precision series PS11' in huge bold text and on the back you have the basic technical specifications of the case. The case is 215mm in width, 426mm tall and 481mm deep and weighs 4.825 kg.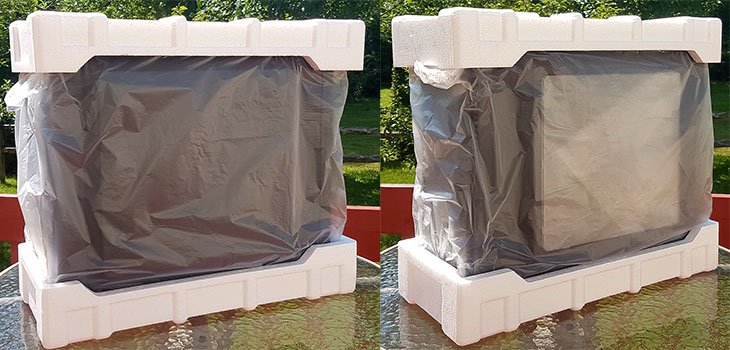 When opening up the package, you are presented with a high density foam that securely holds the case in place and it is wrapped up in plastic to prevent any accidental scratches during shipping.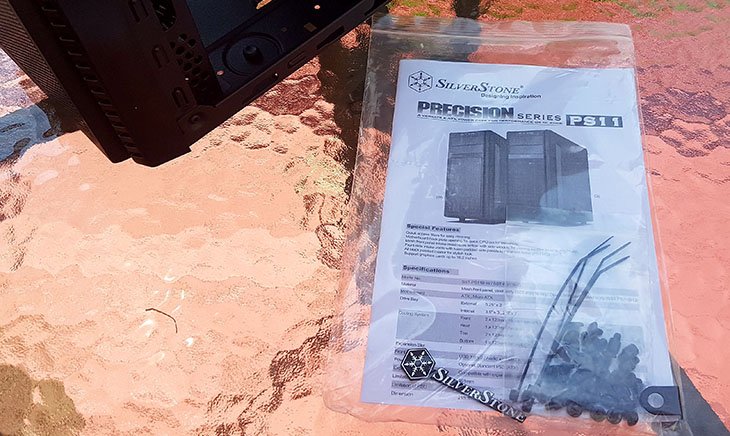 Along with the case, you will get a quick start guide that has all the information that you need to know about the case.
Design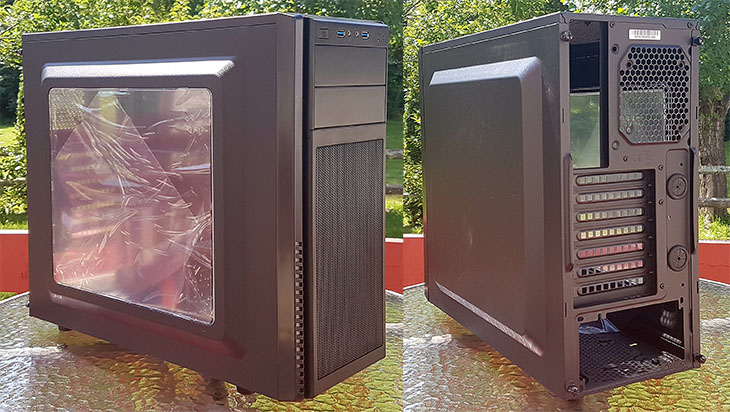 At $53.99, the Precision PS11 is obviously not targeted at the enthusiast crowd but nevertheless, it is well made and feels durable. It can fully handle a high end gaming system with no problem. The PS11 is mostly made out of steel except for its front panel which is a plastic mesh. Looking at the front, we can see that there are two USB 3.0 ports, headphone and microphone jack, power and reset buttons and also two power LEDs. I just want to mention that the reset button is tiny and hard to press. The case has seven expansion slots and a bottom mounted power supply and supports a 120mm fan on the back. The side panels are secured with thumbscrews at the rear of the case.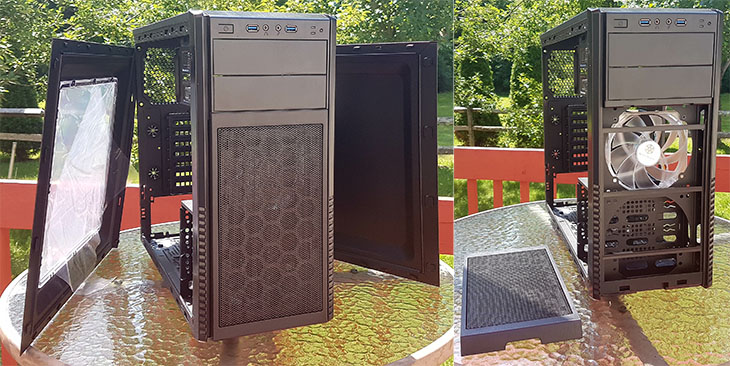 The interior is simple but feels solid for a standard tower that's designed primarily for front to back airflow. The tooless drive cage can hold three 3.5" drives and two 2.5" brackets for SSDs. When you remove the front panel, you will see that the PS11 comes with a dust filter that is removable. You can install CPU coolers with a maximum height of 161mm. The Precision PS11 is surrounded by cutouts for easy cable management.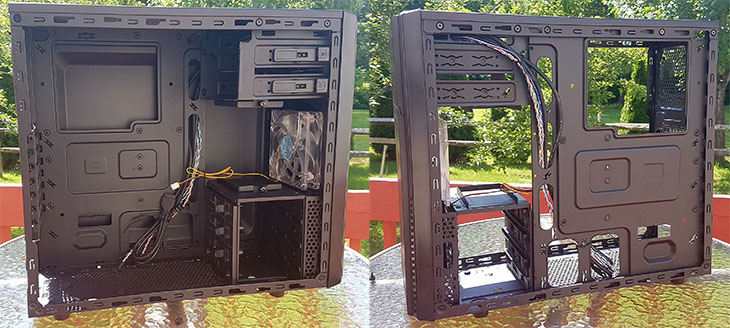 When removing the side panel, we see a big cut out which helps when installing the CPU cooler, plenty of holes for routing the cables and SilverStone's pre-installed 120mm fan. The motherboard tray is outfitted with multiple large cable routing holes.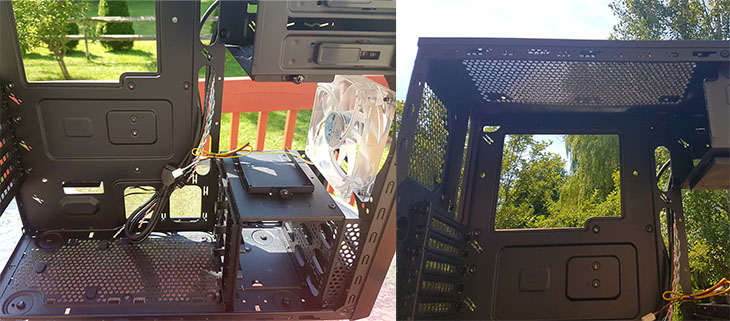 You have an optional 120mm fan mount on the case floor and there's also a removable thin sheet of mesh that filters dust coming the power supply fan. The hard drive cage below is attached to the case at the front, bottom and the motherboard tray. I noticed that there's very little room at the top between the motherboard and the mounting holes so there might be an issue when installing an AIO cooler at the top.
Comparison
Cases Tested In This Review
Model:
SilverStone PS11
SilverStone PS13
Corsair SPEC-01
Price:
$53.99
$39.99
$49.99
Warranty:
1 Year
1 Year
2 Years
Weight:
4.825kg
3.36kg
4.8kg
Form Factor:
Mid-Tower
Mid-Tower
Mid-Tower
Dimensions:
215mm x 426mm x 481mm
182mm x 426mm x 400mm
447mm x 200mm x 428mm
Motherboard Support:
ATX (up to 12" x 11"), Micro-ATX
ATX (up to 12" x 11"), Micro-ATX
Mini-ITX, MicroATX, ATX
Fans Included:
Front: (x1) 120mm
Front: (x1) 120mm
Front: (x1) 120mm
Power Supply:
ATX (not included)
ATX (not included)
ATX (not included)
Material:
Mesh Panel, Steel Body
Plastic Panel, Steel Body
Steel
Maximum GPU Length:
412mm
348mm
414mm
Expansion Slots:
7
7
7
External Connections:
(x2) USB 3.0
(x1) Audio
(x1) Mic
(x2) USB 3.0
(x1) Audio
(x1) Mic
(x1) USB 2.0
(x1) USB 3.0
(x1) Headphone Port
(x1) Microphone Port
We'll be comparing the Precision PS11 against the Precision PS13 and Corsair SPEC-01. All three cases are targeted at the budget user and retail for around the same except for the PS13 being ~$10 cheaper. The SPEC-01 weighs 4.8kg while the PS13 weighs 3.36kg and the PS11 coming in at 4.825kg. Maximum GPU length is 414mm with the SPEC-01, 412mm for the PS11 and 348mm with the PS13.
Test Methodology
Test Setup
Processor:
Intel i7 3770K @ 4.4GHz 1.24v
Motherboard:
Asus Maximus V Gene
RAM:
Kingston HyperX 8GB
Graphics Card:
MSI R9 380
Storage:
Samsung 840 Pro 256GB
Power Supply:
Antec HCP 850W
Heatsink:
Noctua NH-U12S
OS:
Windows 8.1 64Bit
Thermal Compound:
Noctua NT-H1
Case:
SilverStone PS11
SilverStone PS13
Corsair SPEC-01

To test the airflow performance of these cases, we will be testing the temperature of both the CPU and GPU during idle and load phases. We will also be testing the cooling performance of the case with an Intel Core i7-3770K overclocked to 4.4Ghz at 1.24 volts. This will be a good way to test the airflow performance of these cases because we all know that Ivy Bridge runs hot once overclocked and it outputs lot of heat.
All of the testing is done with an ambient temperature of ~19C. RealTemp will be used to monitor the temperature of the CPU and Prime95 (Large FFTs) will be used to deliver the full load to the CPU for 20 minutes. We'll run FurMark for also 20 minutes to put as much load into the GPU as possible.
Idle temperatures will be measured after leaving the computer idle for 20 minutes. CPU-Z will be used to verify the CPU speed and the voltage being used in Windows 8.1 and GPU-Z will be used to monitor the temperature of the video card.
Results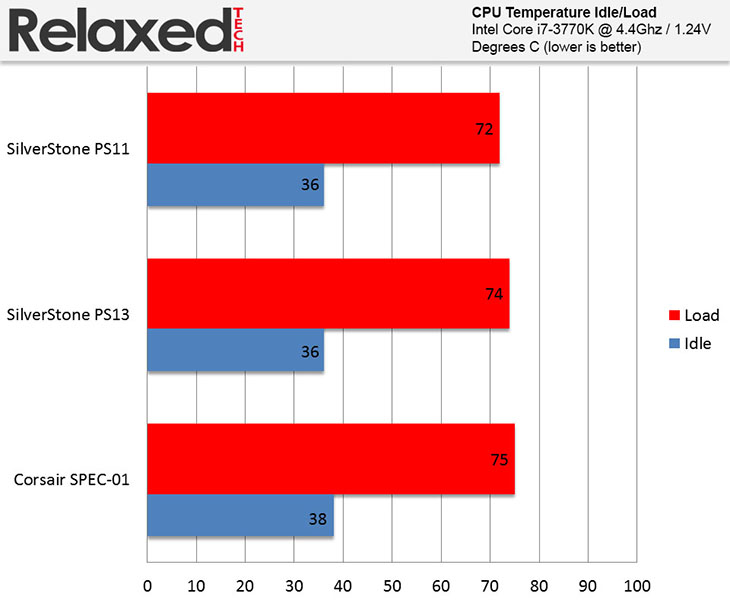 When measuring the temperature, you have to account for the margin of error which is less than 3 degree Celsius. All three cases come pre-installed with just one fan and with that being said, the cooling performance is great with the PS11 case. In idle, the CPU temperature was 36 degree Celsius while under load it was 72 degree Celsius which is 2 degrees cooler than the PS13 and 3 degree cooler than the SPEC-01.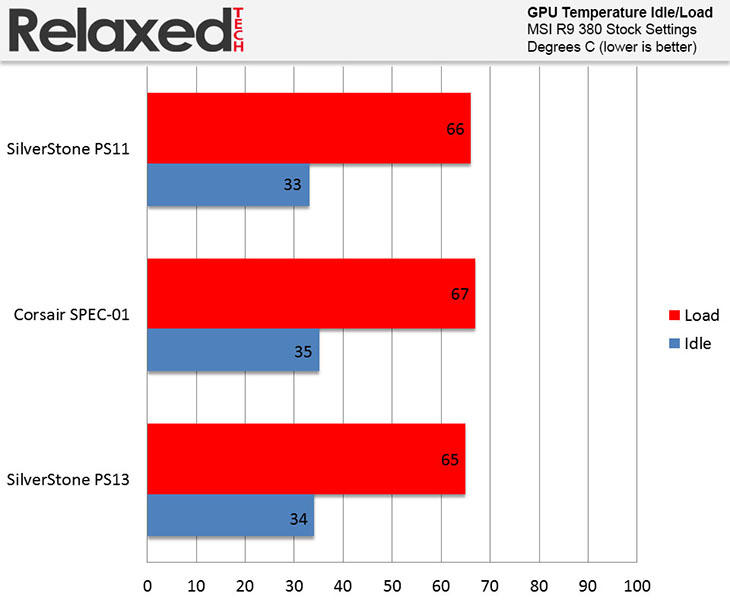 Moving on to the GPU temperature, the PS11 performed about the same as the other two cases. In idle, the temperature was about 1 degree Celsius cooler with the PS11 case and 1 degree Celsius warmer under load compared to the PS13. Overall, the airflow performance is great with the SilverStone PS11 case.
Conclusion
The PS11B-W is a well designed budget case with plenty of features and SilverStone has done a great job designing it. The build quality and design is sturdy and elegant and it was easy to work inside case. I would have liked to see another fan included in the back but that would probably increase the price a bit higher.
At the time of this review, you can find the PS11 for $54 on Amazon. As we saw on the previous page, the PS11 offers great cooling performance with just one fan. The PS11 supports up to six fans total which is plenty but if you are into water cooling, you can install an AIO cooler at the front. I was pleased to see the tooless design of the HDD cage which makes the installation a breeze.

Pros:
+ Supports Up To Six Fans
+ Room For Full Size Graphics Card
+ Dust Filters
+ Removable Drive Cage
+ Nice Big Window
+ Sturdy Build Quality

Cons:
- Reset Button is Hard To Press

The only flaw that I can think of is the reset button. The reset button is so small that it's very hard to press. Other than that, this case is pretty much perfect for entry level users. In the end, if you are in the market for a budget case, you can't go wrong with the PS11.
Final Score 9.5