Introduction

SilverStone was founded in 2003 and since then, they have become a well known name in the enthusiast market and have gained a lot of respect for releasing quality products such as cases, fans, power supplies and CPU coolers. The Precision series consists of the PS06, 07, 08, 09, 10, 11, 12 and PS13. SilverStone has made two models of the PS13; PS13B (black) which is the one that I will be reviewing and PS13B-W (black + window).
The PS13B model is mostly made out of steel with a plastic panel that is all painted black and has a large ventilated section at the side that can accommodate two 120mm fans and costs only $40.00. The PS13B-W model is exactly the same as the first one but the only difference is that you have a side panel window and costs $45.00. With that being said, the SilverStone PS13 case comes with plenty of room for installing graphics cards up to 13.7 inches, a full size ATX PSU and an ATX motherboard up to 12" x11".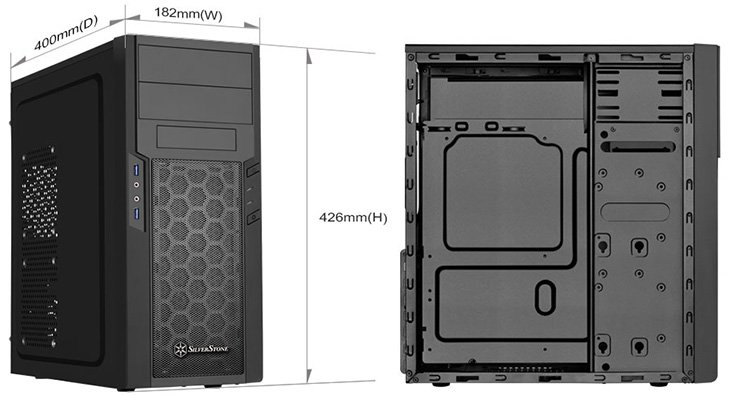 The Precision PS13 offers plenty of cool features such as quick access filters for easy cleaning, motherboard back plate opening for quick CPU cooler assembly, two USB 3.0 ports on the front and removable fan filter. If you are big on air cooling, the PS13 supports up to six fans total which is more than what some other mid-tower cases can support. You can install two 120mm fans on the front, one at the back, two on the side and one at the bottom.
Specifications
SilverStone PS13 Specifications
Manufacture:
SilverStone
Model:
SST-PS13B (Black)
SST-PS13B-W (Black + Window)
Material:
Plastic Panel, Steel Body
Motherboard:
ATX (up to 12" x11") , Micro-ATX
Drive Bay:
External - 5.25" x 2, 3.5" x 1
Internal - 3.5"x 1, 2.5" or 3.5"HDD x 2
Cooling System:
Front - 120mm fan slot x 2 (included 120mm fan x 1)
Rear - 120mm fan slot x 1
Side - 120mm fan slot x 2 (SST-PS13B only)
Bottom - 120mm fan slot x 1
Expansion Slot:
7
Front I/O Port:
USB 3.0 x 2
Audio x 1
MIC x 1
Material:
Brushed Aluminum and Steel
Power Supply:
Standard PS2(ATX)
Expansion Card:
Support up to 13.7", width restriction* - 4.92" ~ 5.91"
Limitation of CPU cooler:
162mm (none window)
159mm (window)
Limitation of PSU:
174mm
Net Weight:
3.36kg (PS13B)
3.26kg (PS13B-W)
Dimension:
182mm (W) x 426mm (H) x 400mm (D) , 31 liters
Packaging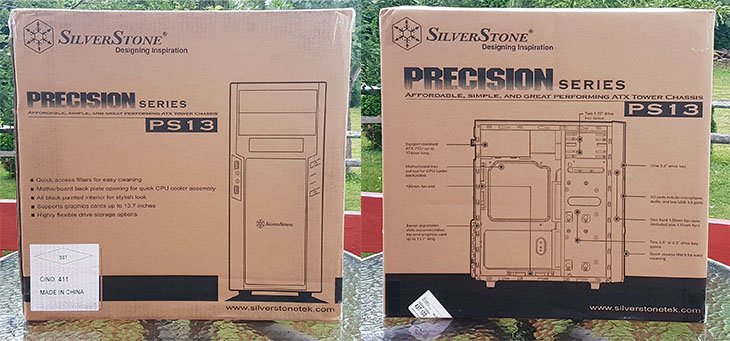 The case comes in a cardboard box and on the front of the box you see the name 'Precision series PS13' in huge bold text and on the back you have the basic technical specifications of the case. The case is 182mm in width, 426mm tall and 400mm deep and weighs 3.36 kg which is pretty light.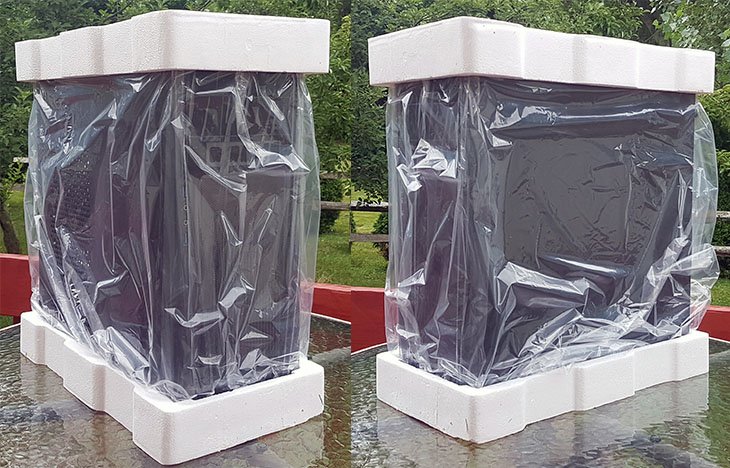 When opening up the package, you are presented with a high density foam that securely holds the case in place and it is wrapped up in plastic to prevent any accidental scratches during shipping.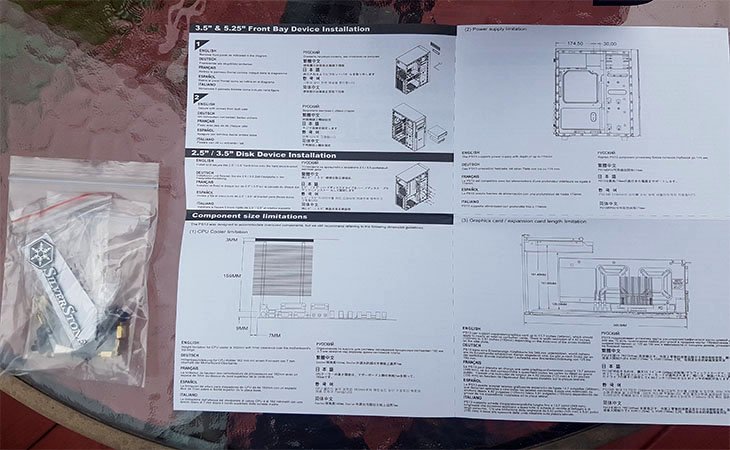 Along with the case, you will get a quick start guide that has all the information that you need to know about the case.
Design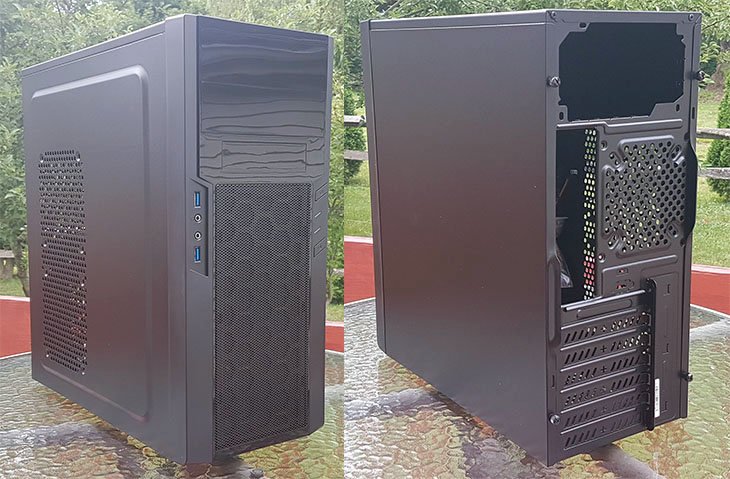 The PS13 is made of steel except for its front panel which is made out of plastic. Looking at the front, we can see that there are two USB 3.0 ports, headphone and microphone jack, power and reset buttons and also two indication LEDs. The case has seven expansion slots and a top mounted power supply and supports a 120mm fan on the back.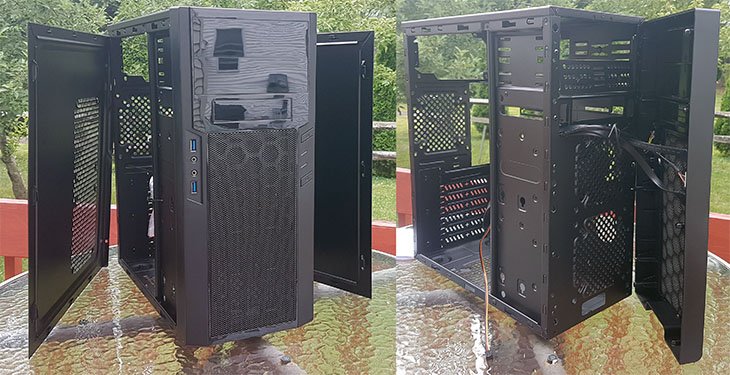 When you remove the front panel, you will see that the PS13 comes with a dust filter and also two 5.25 inch bays and one 3.5 inch bay. The PS13 allows you to install a 120mm fan on the bottom and one 3.5 drive. You can install CPU coolers with a maximum height of 162 mm or 159 mm in the version with window. What I don't like is that there aren't many holes for cable management in this case so I can imagine it will be hard to keep the cables neat and tidy.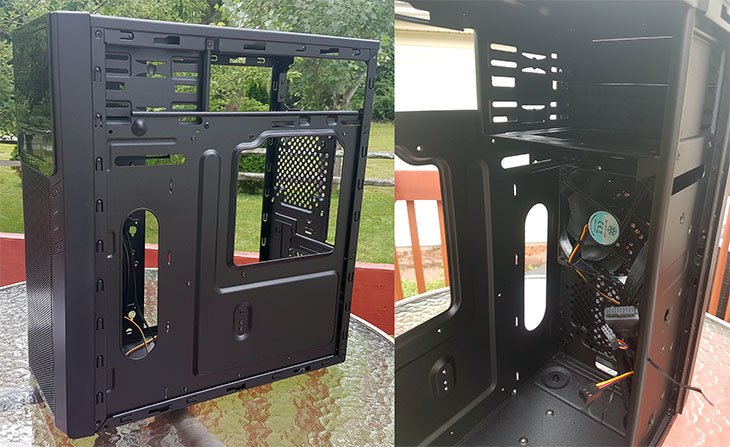 When removing the side panel, we see a big cut out which helps when installing the CPU cooler, a hole for routing the cables and SilverStone's pre-installed 120mm fan.
Comparison
Cases Tested In This Review
Model:
SilverStone PS13
SilverStone SPEC-01
Price:
$39.99
$49.99
Warranty:
1 Year
2 Years
Weight:
3.36kg
4.8kg
Form Factor:
Mid-Tower
Mid-Tower
Dimensions:
182mm x 426mm x 400mm
447mm x 200mm x 428mm
Motherboard Support:
ATX (up to 12" x 11"), Micro-ATX
Mini-ITX, MicroATX, ATX
Fans Included:
Front: (x1) 120mm
Front: (x1) 120mm
Power Supply:
ATX (not included)
ATX (not included)
Material:
Plastic Panel, Steel Body
Steel
Maximum GPU Length:
348mm
414mm
Expansion Slots:
7
7
External Connections:
(x2) USB 3.0
(x1) Audio
(x1) Mic
(x1) USB 2.0
(x1) USB 3.0
(x1) Headphone Port
(x1) Microphone Port
We'll be comparing the SilverStone PS13 against the Corsair SPEC-01 which is $10 more expensive than the PS13. The SPEC-01 weighs 4.8kg while the PS13 weighs 3.36kg. Maximum GPU length is 414mm with the SPEC-01 versus 348mm with the PS13.
Test Methodology
Test Setup
Processor:
Intel i7 3770K @ 4.4GHz 1.24v
Motherboard:
Asus Maximus V Gene
RAM:
Kingston HyperX 8GB
Graphics Card:
MSI R9 380
Storage:
Samsung 840 Pro 256GB
Power Supply:
Antec HCP 850W
Heatsink:
Noctua NH-U12S
OS:
Windows 8.1 64Bit
Thermal Compound:
Noctua NT-H1
Case:
SilverStone PS13
Corsair SPEC-01

To test the airflow performance of the SilverStone PS13 and Corsair SPEC-01, we will be testing the temperature of both the CPU and GPU during idle and load phases. We will also be testing the cooling performance of the case with an Intel Core i7-3770K overclocked to 4.4Ghz at 1.24 volts. This will be a good way to test the airflow performance of these cases because we all know that Ivy Bridge runs hot once overclocked and it outputs lot of heat.
All of the testing is done with an ambient temperature of ~19C. RealTemp will be used to monitor the temperature of the CPU and Prime95 (Large FFTs) will be used to deliver the full load to the CPU for 20 minutes. We'll run FurMark for also 20 minutes to put as much load into the GPU as possible.
Idle temperatures will be measured after leaving the computer idle for 20 minutes. CPU-Z will be used to verify the CPU speed and the voltage being used in Windows 8.1 and GPU-Z will be used to monitor the temperature of the video card.
Results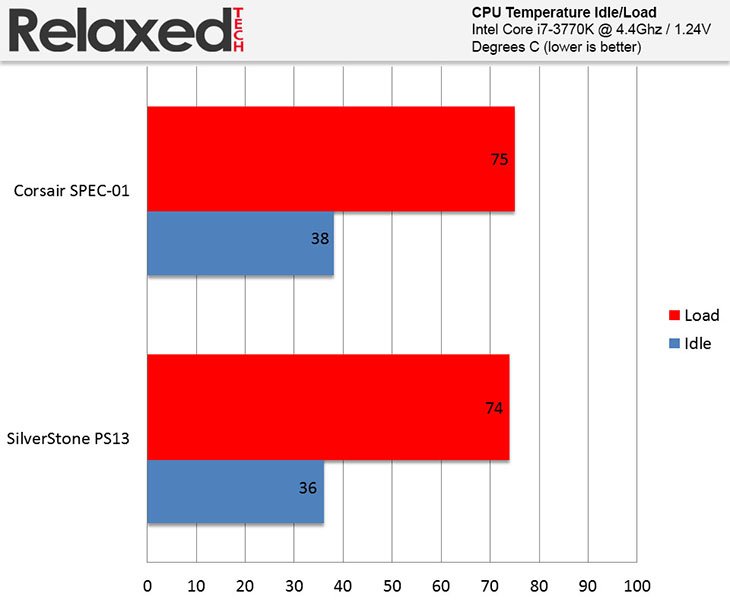 Despite both cases having just one fan, the cooling performance is much better with the PS13 case. The PS13 has ventilation holes on the side that help with bringing in more airflow. Corsair's SPEC-01 case has a glass side panel which looks nice but blocks the airflow and makes it difficult for the heat to escape the case.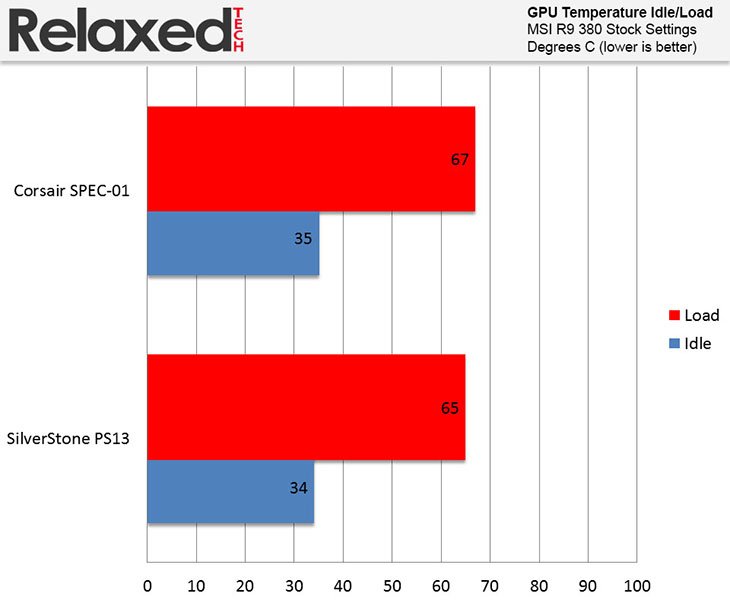 I recorded similar results with GPU load, the PS13 did better than the SPEC-01 in both idle and load. In idle, the temperature was about 1 degree Celsius cooler with the PS13 case and 2 degrees Celsius cooler under load. The airflow performance is much better with the SilverStone PS13 case and on top of that, it is $10 cheaper too.
Conclusion
SilverStone has a great product on their hands with the PS13. The PS13 retails at an attractive price of $40 and offers great cooling performance as we saw on the previous page. Adding one or two more fans would improve the cooling performance even more and don't forget that it supports up to six fans total. If you are creative, you can find a way to install an AIO cooler but air cooling is what this case is primarily designed for since there isn't enough space for an AIO cooler.
The design team at SilverStone has a done a fantastic job at making a near perfect case with absolutely little to no flaws. The only flaw that I can think of is that there's limited cable management but I guess there's only so much that you can do with $40. Other than that, this case is top-notch and is great for users who are on a tight-budget.

Pros:
+ Supports Up To Six Fans
+ Room For Full Size Graphics Card
+ Dust Filter
+ Cheap
+ Compact
+ Great Build Quality

Cons:
- Limited Cable Management

SilverStone has designed a great case with the PS13 while still pricing it lower than the SPEC-01. The case is steel overall with a plastic front panel and has a nice sleek quality. In the end, the PS13 is a very competitive product that offers great cooling performance and plenty of features to somebody who's looking for a budget case.
Final Score 9.0