Introduction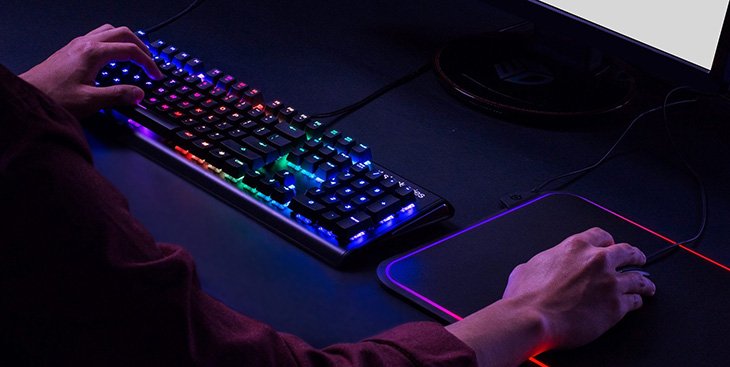 Finding the right gaming keyboard in a market saturated with poor quality mechanical keyboards is hard and that's why today we are looking at the Apex M750 from SteelSeries which is easily one of the best gaming keyboards that I have ever tested. The SteelSeries Apex M750 is a sophisticated full-size mechanical gaming keyboard that features a modern design with RGB lighting. It comes with SteelSeries's third generation QX2 switches which delivers much faster gameplay with low force and a linear actuation point.
The QX2 switches from SteelSeries are very similar to the Cherry-MX red switches so that means there won't be any tactile feedback but the keystrokes are silky smooth. According to SteelSeries, the QX2 switch features copper click leaves, clear casings and DURACON thermoplastic stems, to deliver buttery smooth linear operation. As far as the specs go, it comes with a 4mm travel distance, 2mm actuation point and a 45cN actuation force and it is guaranteed for 50 million key presses.
Price-wise, the Apex M750 retails for $139.99 on Amazon and comes with 1-year of limited hardware warranty. It weighs about 2.2 lbs without the cable and it measures 46.7 mm x 454 mm x 153.5 mm inches (L x W x H). The cable itself is 6.5 ft long and it is not braided. Braided cables offer extra durability and are normally preferred by gamers, but the coating on the supplied cable is quite thick.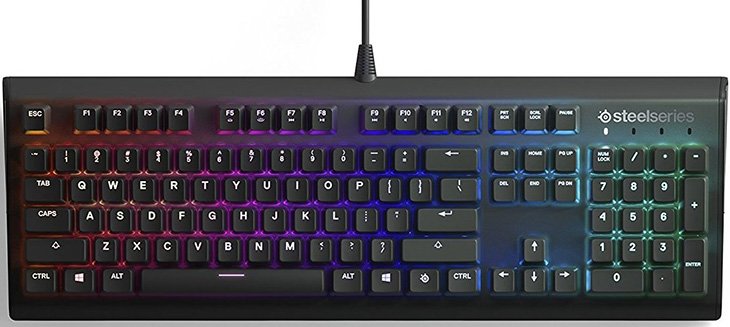 The Apex M750 is made of aluminium alloy which means it is very lightweight compared to most mechanical keyboards and it feels quite sturdy when holding it. This is a fantastic gaming keyboard but it falls short on two key features in my opinion. First, it lacks dedicated media keys, and second, there's no palm rest which can be a deal-breaker for some people.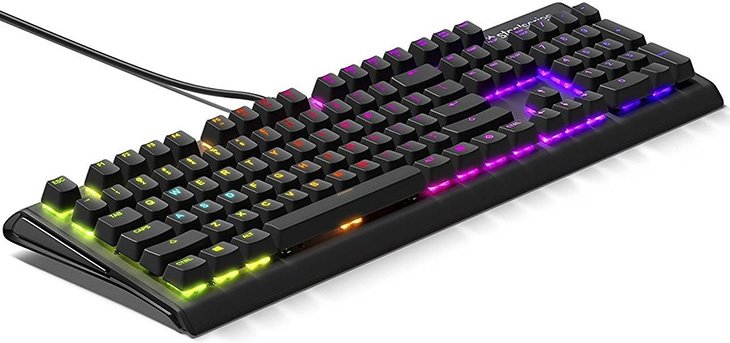 The key caps in the Apex M750 are exposed so you will see the RGB lighting flowing through the case. Each key has its own RGB LED and you can customize the lighting effects via the SteelSeries Engine Software. The SteelSeries Engine Software makes it really easy to customization and create complicated lighting effects in just a few seconds.

Since the key caps are exposed, this makes it easy to remove the keys and exchange them and also clean them. You can expect a lot of light leakage with the Apex M750 due to having exposed keycaps which might bother some people. I also understand that some people might not like the look of exposed keycaps but I think you get used to it very quickly.
Something else that I think the Apex M750 lacks is a dedicated USB passthrough. For those that don't know what a USB passthrough is, it's simply a USB port on the keyboard that you can use to connect a USB device to so you don't have to connect it from behind the computer case. This can be very useful if you want to charge your smartphone while playing a game or when browsing the web.

The QX2 switch is not necessarily designed for typing, and while it is a decent step up compared to the regular membrane switches, you should probably look elsewhere if you are an avid typist. The QX2 switches are good for gaming but the short travel distances and fast actuation makes it difficult to use this keyboard for everyday tasks.
Specifications
Technical Specifications
Company:
SteelSeries
Model:
M750
Anti-Ghosting:
100%
Height:
153.5 mm
Width:
454 mm
Depth:
46.7 mm
Top Material:
5000 Series Aluminum Alloy
Weight:
2.2 lbs
Cable Length:
2 m, 6.5 ft
Switches:
QX2 Linear RGB Switch
Durability:
50 Million Keypresses
Actuation Point:
2 mm
Total Travel:
4 mm
Force:
45cN
OS:
Windows and Mac OS X
Box Content:
Product Information Guide
Replaceable Keyboard Feet
Apex M750 Gaming Keyboard
Announced:
August 2017
Performance
I tested the gaming performance of the Apex M750 by playing Battlefield 1 and I absolutely love the performance that the Apex M750 offers. The Apex M750 is comfortable to use and its sturdy design can withstand forceful tapping with no problems. I did compare the Apex M750 keyboard to the Logitech G610 keyboard which uses Cherry-MX red switches and I could not tell the difference between the two keyboards. The QX2 switches feel very similar to the Cherry-MX Red switches and both are very responsive.
SteelSeries Engine Software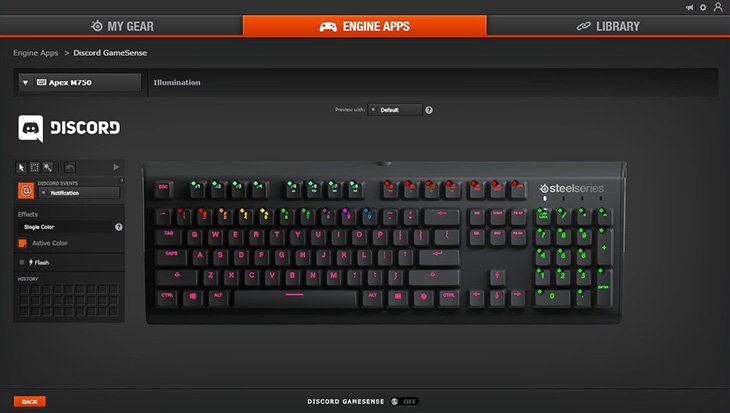 The SteelSeries Engine Software can be used for managing all SteelSeries accessories, such as mice, keyboards, and headsets. Setting up the Apex M750 with the SteelSeries Engine Software for customization and personalization is pretty straight forward. With in the "Engine Apps" tab, you can customize and personalize things such as key bindings, illumination, or settings.
The Illumination menu is probably where you will be spending most of your time because it gives you access to different kinds of lighting configurations. The SteelSeries Engine Software gives you the option of choosing any color by customizing with RGB or hex color codes. There are 12 different lighting effects options like static, breathing, wave, rippling, etc.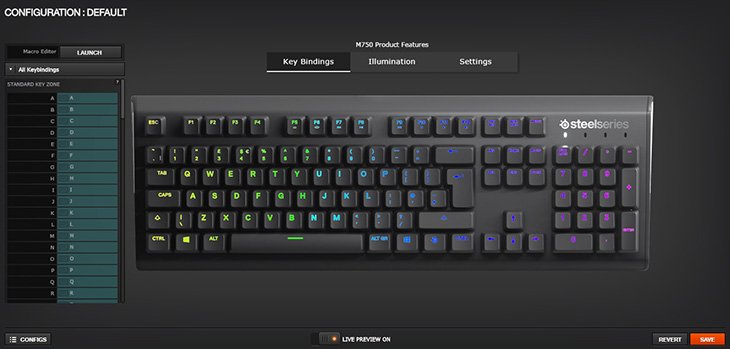 Key bindings can be extremely useful to gamers because you can remap every key on the keyboard for more convenient access for example. SteelSeries has done a fantastic job making the UI of the Engine Software easy on the eyes and they have also included a dedicated macro manager which can be activated by hitting the button on top of the list of keys. With the dedicated macro manager feature you can basically create an unlimited amount of customizations which is really awesome.
Conclusion
At $140, the SteelSeries Apex M750 keyboard is quite expensive and at this price point, I was expecting to see dedicated media keys and also a palm rest and I'm disappointed that the M750 lacks both of those features. Other than that, the Apex M750 is a great keyboard for users who are looking for a high-end gaming keyboard with a sturdy build quality and a sleek design. The RGB LEDs look very nice and the SteelSeries Engine Software software offers a ton customization options. I had a blast testing the Apex M750 in gaming and the caps themselves are very durable and not prone to fading or losing their texture.

Pros:
+ SteelSeries Engine Software
+ Attractive Design
+ Great Performance
+ Comfortable
+ Sturdy

Cons:
- Lacks Dedicated Media Keys
- No Palm Rest
- Expensive

If you are in the market for a high quality gaming keyboard, the Apex M750 is definitely the keyboard to get. You simply can't go wrong with the SteelSeries Apex M750 because it offers everything you could want in a high end gaming keyboard. Overall, I believe the SteelSeries Apex M750 keyboard deserves our recommended award.
Final Score 8.5