SilverStone Primera PM01 Review: SilverStone Does It Again
Author: HP Date: Manufacture: SilverStone Product Name: PM01 Price: $109.99 Warranty: 1 Year
Introduction

SilverStone is a company that doesn't need an introduction and they are well known in the computer hardware industry. They are known for being highly active in the computer case market with a huge range of products for all prices. SilverStone is contentiously releasing new cases that vary greatly in design and purpose. If you are in the market for budget friendly cases, you can read our reviews of the Precision PS11, Precision PS13 and Redline RL05. These are excellent budget cases with plenty of room to work inside and good airflow.

SilverStone has sent us the Primera PM01 which is a stylish mid tower case inspired from a sports car that retails for $109.99. The name Primera is the Spanish word for "first" or "first class." It comes in three versions – matte black with red LED (PM01CR-W), piano black with red LED (PM01BR-W) and white with blue LED (PM01WA-W) which is the one that I will be reviewing. The matte black version is still in production and will come out in a month or so. SilveStone has included a built-in light controller system for adjustable brightness with four modes: full brightness, half brightness, breathing pattern, and off. The interior of the PM01 is roomy and supports a variety of large, high end components that are designed to be cooled efficiently by the included three 140mm LED intake fans and an 140mm exhaust fan.
The front and top panels are made of plastic while the body is made of durable steel which seems to be the norm nowadays with most cases. The front panel mesh design is inspired by supercar intake grill and it has a simple clean look to it. The PM01 is an aesthetically pleasing case with its internal painted all black. The case comes with a front and bottom removable dust filter that feels durable and sturdy. It also comes with plenty of room for installing graphics cards up to 16.5 inches, a full size ATX PSU and an ATX motherboard up to 12" x 10.7".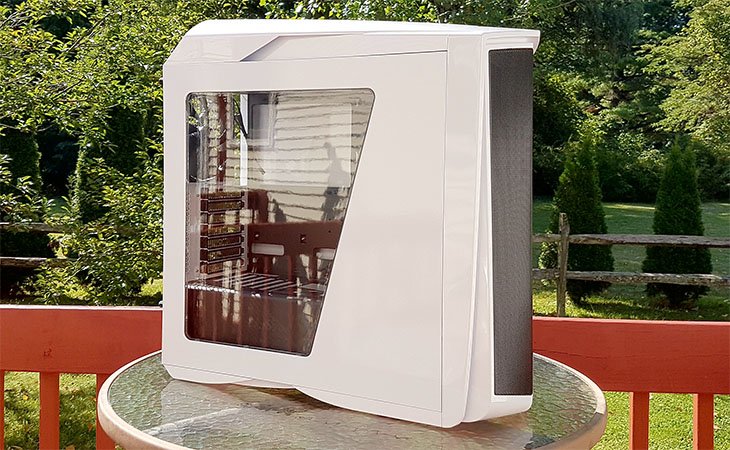 The front of the case is clean and simple and it doesn't have a 5.25" optical drive bay. We are starting to see many case manufacturers coming out with cases that don't have optical drive bays so it's slowly becoming a norm. The PM01 supports many configurations of cooling which I will talk more about in the next page. It supports a total of two 240/280/360mm radiator for AIO liquid cooler or custom water cooling and it's got a reserved water tank mounting holes for water cooling setup.
Specifications
SilverStone Primera PM01 Specifications
Manufacture:
SilverStone
Model:
SST-PM01BR-W (black with red LED + window)
SST-PM01CR-W (matte black with red LED + window)
SST-PM01WA-W (white with blue LED + window)
Material:
Plastic Outer Shell, Steel Body
Motherboard:
ATX (up to 12" x 10.7"), Micro-ATX
Drive Bay:
External - None
Internal - 2.5" or 3.5" x 4, 2.5" x 5
Cooling System:
Front - 3 x 120mm / 140mm fan slot (includes 3 x 140mm LED fan)
Rear - 1 x 120mm / 140mm fan slot (includes 1 x 140mm fan)
Top - 3 x 120mm fan slot or 2 x 140mm fan slot
Radiator Support:
Front - 120mm / 240mm / 280mm / 360mm x 1
Rear - 120mm / 140mm x 1
Top - 120mm / 240mm / 280mm / 360mm x 1
Expansion Slot:
7
Front I/O Port:
USB 2.0 x 2
USB 3.0 x 2
Audio x 1
MIC x 1
Power Supply:
Standard PS2(ATX)
Expansion Card:
Support graphics card up to 16.5", width restriction - 6.88"
Limitation of CPU cooler:
180mm
Limitation of PSU:
240mm
Net Weight:
9kg
Dimension:
220mm (W) x 571mm (H) x 560mm (D), 70.3 Liters
Packaging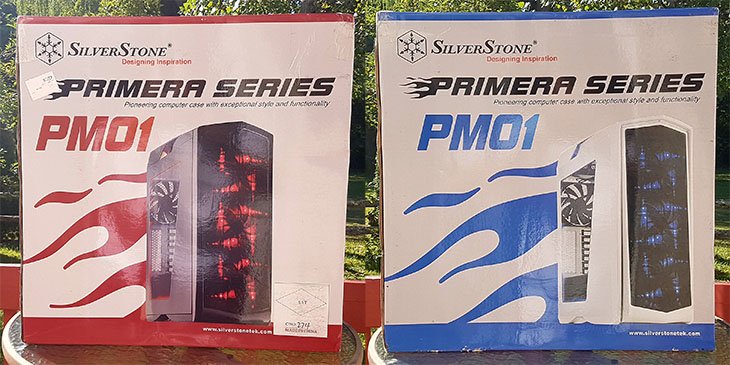 The case comes in an elegant box with one side showing the PM01 in black with red LEDs and the other side showing the white version with blue LEDs. We also see on the front the name 'Primera Series PM01' in huge bold and underneath this we see 'pioneering computer case with exceptional style and functionality'. The case is 220mm in width, 571mm tall and 560mm deep and weighs 9 kg.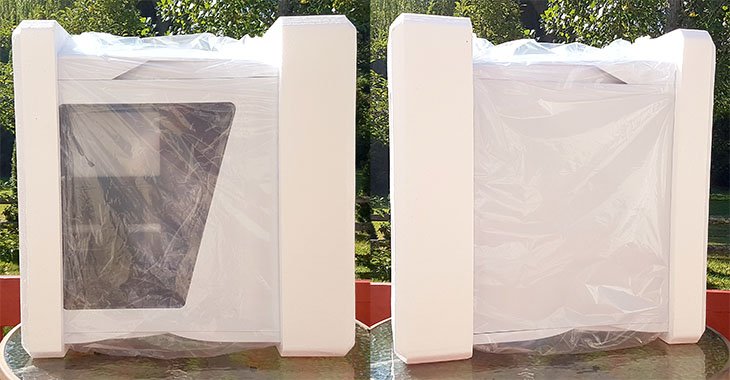 SilverStone's packaging has always been very good and this time it's no exception. We can see that the PM01 is protected by two high density foams as shock absorbent and plastic wrapping to prevent any accidental damages during shipping.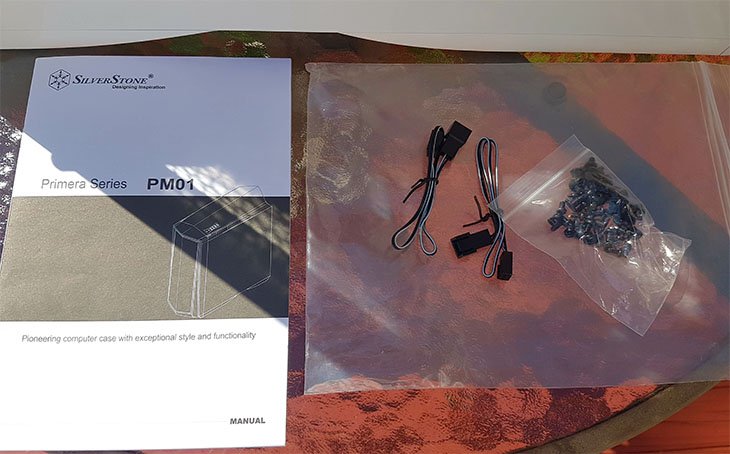 The accessories included are 2 pieces of fan extension cable, a pack of screws and the users manual that has all the information that you need to know about the case.
Navigation: