Introduction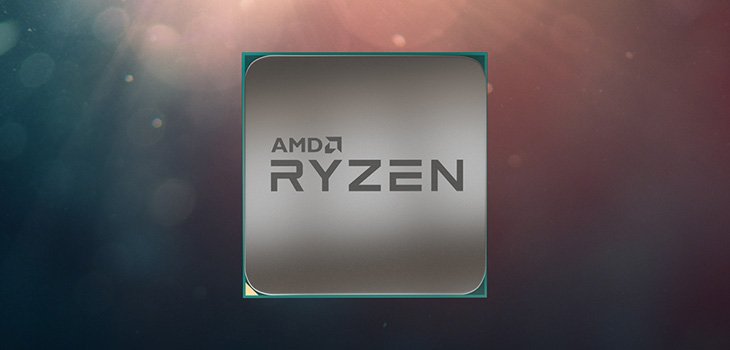 With the release of the Ryzen processors, AMD has undoubtedly shaken up the market with its Ryzen 7 line-up and has put serious pressure on Intel. Their Ryzen processors finally bring much-needed competition to the CPU market that's been dominated by Intel for quite some time now. The Ryzen 7 processors come in a very attractive pricing while offering top-notch performance and in this review, we are going to focus on the Ryzen 7 1700X model.
The price points are shockingly low, with the 1800X at $500, the 1700X at $400, and the 1700 at $330. AMD's Ryzen 7 1700X and 1700 are the little brother of the flagship 1800X and they all share identical core counts, same amount of cache and come with an unlocked multiplier. The only difference is that these two models come with lower clock speeds but with a little bit of overclocking, you can easily reach the performance of the 1800X.
We have already covered the Ryzen 7 1700 in-depth and we were blown away by its excellent price-to-performance ratio. In our AMD Ryzen 7 1700 CPU review, we compared the Ryzen 7 1700 to the i7-6900K and we found the Ryzen 7 1700 performing similar to the i7-6900K in productivity and gaming workloads while costing 1/3rd of Intel's i7-6900K processor. There's absolutely zero reason to buy an i7-6900K now that the Ryzen 7 processors are available.
Not only is the Ryzen 7 1700 cheaper by about $700, but it is also on a brand new platfrom that will last until 2020 while the i7-6900K is on a dead platform. Intel's platforms normally have a much shorter life-span compared to AMD's, and also, don't forget that building an Intel based system costs much more too. If you are building a computer and plan on spending around $300 on just the processor alone, the Ryzen 7 1700 is a much smarter buy than any Intel processor that's currently out there.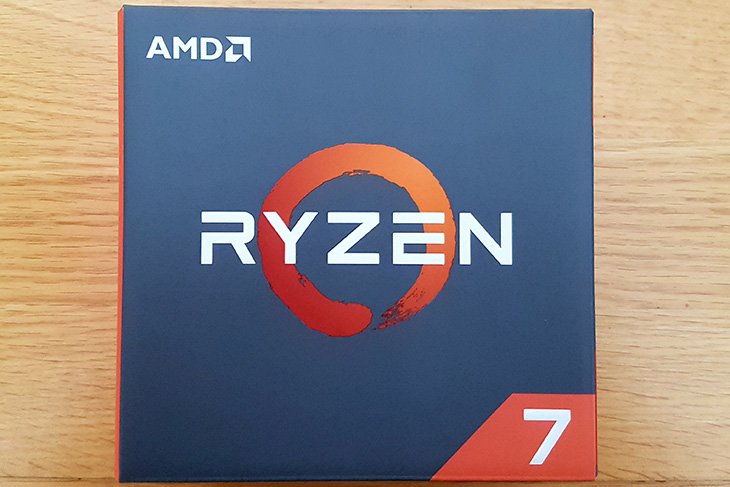 The Ryzen 7 1700X has a base clock speed of 3.4GHz and can boost its cores to 3.8GHz which is a relatively big difference compared to the Ryzen 7 1700 that has a base clock of 3.0Ghz. The Ryzen processors are based on the Zen architecture which is a brand new architecture built from the ground up. I have covered AMD's Zen architecture in my Ryzen 7 1700 review so you can read that if you want to learn about all the new features that AMD has implemented into the Zen architecture.
AM4 is a big step-up from the aging AM3+ socket and it comes with about 40%+ more pins. To put that into perspective, AM4 supports 1331 pins which is a big increase over the 942 pins in the AM3+ socket. Also, the upcoming Raven Ridge APUs will work on AM4 motherboards so you don't have to worry about getting a new motherboard if you plan on buying the new APUs.
Specifications
AMD Ryzen 7 Processors Lineup
Model:
AMD Ryzen 7 1700
AMD Ryzen 7 1700X
AMD Ryzen 7 1800X
Model SKU:
YD1700BBAEBOX
YD1700BBAEMPK
YD170XBCAEWOF
YD170XBCAEMPK
YD180XBCAEWOF
YD180XBCAEMPK
CPU Process Node:
14nm FinFET
14nm FinFET
14nm FinFET
CPU Codename:
Summit Ridge
Summit Ridge
Summit Ridge
CPU Architecture:
Zen
Zen
Zen
Cores / Threads:
8/16
8/16
8/16
Core Clock:
3.0 GHz
3.4 GHz
3.6 GHz
Boost Clock:
3.7 GHz
3.8 GHz
4.0 GHz
XFR (up to 2 Cores):
+50 MHz
+100 MHz
+100 MHz
L1 Cache:
768KB
768KB
768KB
L2 Cache:
4MB
4MB
4MB
L3 Cache:
16MB
16MB
16MB
Unlocked:
Yes
Yes
Yes
TDP:
65W
95W
95W
DDR4 Speed:
2667 MHz
2667 MHz
2667 MHz
DDR4 DIMMs:
4
4
4
PCIe Lanes:
24
24
24
Socket Support:
AM4
AM4
AM4
Transistors:
4.8 billion
4.8 billion
4.8 billion
Die size:
192 mm²
192 mm²
192 mm²
Included Cooler:
Wraith Spire
Wraith Max
Wraith Max
Cooler TDP:
95W
140W
140W
Cooler Weight:
0.425 Kg
0.545 Kg
0.545 Kg
Cooler Dimensions:
109mm (L)
103 mm (W)
54 mm (H)
105mm (L)
108 mm (W)
85 mm (H)
105mm (L)
108 mm (W)
85 mm (H)
Price:
$330
$400
$500
Release Date:
March 2, 2017
March 2, 2017
March 2, 2017
All Ryzen 7 processors have 16MB of L3 cache, 4MB of L2 cache and come with 24 PCI-Express 3.0 lanes and support modern features like dual-channel DDR4 memory, PCIe X4 storage, and USB 3.1 Gen 2. The extended frequency range (XFR) in the Ryzen 7 1700X processor will automatically overclock up to two cores by 100Mhz depending on how good your cooling is.
AMD has said that the Ryzen 7 silicon packs 4.8 billion transistors and to put that into perspective, Intel's Broadwell-E chips pack a total of 3.4 billion transistors. AMD plans to use the Zen architecture around a multi-year CPU roadmap which will be aimed at several market segments such as mobility products, HPC products and workstations.
AMD is bundling their Ryzen 7 processors with improved stock coolers which I have already covered in my Ryzen 7 1700 review so you can read about AMD's new Wraith coolers here. Their original Wraith cooler blew me away and it is certainly the best stock cooler that I have tested. I have to respect AMD for putting an extra effort in shipping their Ryzen processors with high quality stock coolers and don't even get me started about Intel's garbage stock coolers.
The Ryzen 7 1700 comes with a circular 95W Wraith Spire cooler, while the Ryzen 7 1700X and 1800X come with the 140W Wraith Max. I don't have any of the new Wraith coolers for testing but it seems that AMD has built the new Wraith coolers like third party coolers with a copper base and heatpipes.
Test Setup
Test Setup
Processor:
AMD Ryzen 7 1700X
AMD Ryzen 7 1700
Intel Core i7-6900K
Motherboard:
MSI X370 xPower Gaming Titanium (BIOS Version 1.1)
ASUS X99 Deluxe II (BIOS Version 1504)
RAM:
Crucial Ballistix Elite 2667MHz DDR4 16GB (2x8GB)
Graphics Card:
NVIDIA GeForce GTX 1070
Storage:
Crucial MX300 1TB SSD
Power Supply:
SilverStone Titanium ST80F-TI 800W
Case:
Open ATX Bench Case
OS:
Windows 10 64Bit
Thermal Compound:
Noctua NT-H1
Heatsink:
Noctua NH-D15
All of the testing is done with an ambient temperature of ~21C and the CPUs are tested with the power saving features disabled in the BIOS. CPU-Z will be used to verify the CPU speed and the voltage being used in Windows 10. Also, the testing was done on a fresh install of Windows 10 64-bit and we made sure there were as few processes running as possible by disabling a bunch of unnecessary services that come with Windows 10. To make this testing as fair as possible, I will be using the same components listed above (RAM, SSD, GPU, Cooler, PSU) on both test units. Both CPUs will be running at default speeds and RAM speed will be set to 2667Mhz for Ryzen 7 1700X and 2666Mhz for the i7-6900K.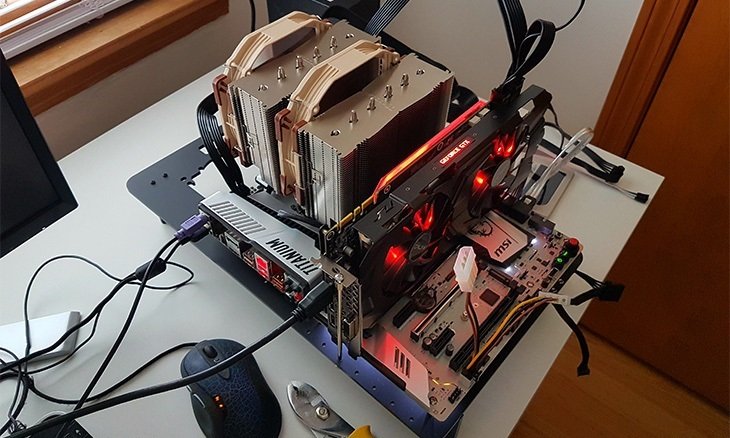 We are setting the Windows power profile on High Performance mode because Ryzen's SenseMI doesn't function properly when set on Balanced mode. When the Windows power profile is set on Balanced mode, it seems that Windows takes over and mis-manages Ryzen's power/clocks. The Balanced mode has problems with waking up the cores from sleep and setting it on High Performance mode forces all cores to be active. I noticed that if I set the Windows Power profile on default Balanced mode, Ryzen's performance drops by at least 5% so this is something that Microsoft and AMD need to address with either a windows update or BIOS update.
tCTL Sensor in AMD Ryzen 7 Processors
Model:
True Junction Temp (Example)
tCTL Offset for Fan Policy
Temp Reported by tCTL
AMD Ryzen 7 1800X:
38°C
20°C
58°C
AMD Ryzen 7 1700X:
38°C
20°C
58°C
AMD Ryzen 7 1700:
38°C
0°C
38°C
I want to quickly mention something about the temperature sensor in the Ryzen processors. According to an official post on AMD's blog, AMD explained that their Ryzen 7 CPUs have a sensor called tCTL (T-Control) which is the primary sensor that reports how hot everything is and the sensor takes the temperature from the interface point between the CPU die and the heatspreader. The tCTL sensor is offset on the Ryzen 7 1800X and 1700X which AMD says is necessary so all AMD Ryzen processors have a consistent fan policy. You can simply subtract 20°C to determine the true junction temperature of the 1800X and 1700X. Also, keep in mind that most applications will be displaying the offset reading, instead of the actual junction temperature.
In gaming, we will be testing at 1920x1080 and 2560x1440 and the settings will be set to ultra. Idle power consumption of the entire computer will be measured after leaving the computer idle for 20 minutes with no additional applications running in the background. Load power consumption of the entire computer will be measured during benchmarking in 3DMark FireStrike on max settings. I want to make it clear that power consumption measurements will differ per computer and components if you add optical drives, HDDs etc and it will also differ based on the PSU efficiency. We are measuring the entire system, not just the processor's power consumption.

Synthetic Benchmarks:
+ Cinebench R15
+ Cinebench R11.5
+ POV-Ray 3.7
+ FryBench
+ TrueCrypt 7.1a
+ SiSoftware Sandra
+ PCMark 8
+ 3DMark Fire Strike

Gaming Benchmarks:
+ Watch Dogs 2
+ Deus Ex: Mankind Divided
+ Hitman (2016)
+ Battlefield 1
+ Tomb Raider (2016)
+ The Division
+ The Witcher 3

Power Consumption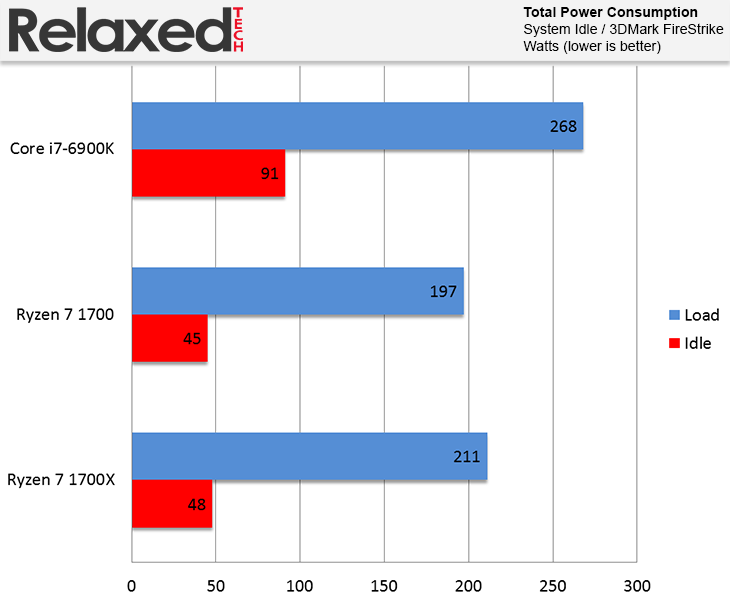 The Ryzen 7 processors are very power efficient compared to the i7-6900K. In the past, AMD's CPUs have never been able to compete with Intel in power consumption but it seems that the tables have turned in favor of AMD this time. Both CPUs are built on 14nm manufacturing process, and yet, the Ryzen 7 processors consume way less power in both idle and under load. Intel must be on suicide watch right now.
Temperature
We used the Noctua NH-D15, the king of air-coolers, to cool the Ryzen 7 1700X. Without any overclocing, the Ryzen 7 1700X runs under 27 Degree Celsius in idle and never goes above 46 C in gaming. When playing Witcher 3 on max settings, I never saw the temperature go above 46 C so that's pretty amazing. I managed to overclock it to 3.9Ghz by going into the BIOS and bumping up the voltage to 1.3875v. I tried to get it to 4Ghz but I had to use more voltage so I stopped at 3.9Ghz. After doing some reading online, it seems that it's difficult to push the Ryzen chips past 4.0-4.1Ghz unless you plan on building your own custom water cooling solution.
After I managed to get it stable at 3.9Ghz, idle temp jumped to 29C and load temperature jumped to 64 C which is still pretty good considering that all eight cores are running at 3.9Ghz. Once I exit out of Witcher 3, the temperature dropped back down to around 29 C within a few minutes. If you plan on building your own water cooling solution, I'm fairly certain that you can get the Ryzen 7 chips well above 4Ghz with very little effort. You can easily reach the performance of the Ryzen 7 1800X with either the Ryzen 7 1700 or 1700X CPU. The Ryzen 7 processors have impressed me with their fantastic power consumption, temperature and overclocking ability. AMD definitely has a winner on their hands with Ryzen.
CPU Performance Results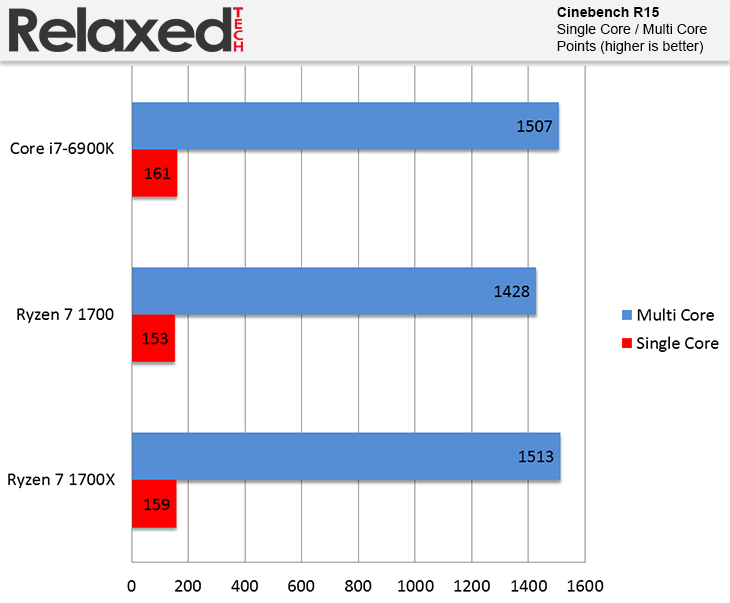 AMD has always struggled with single core performance but Ryzen has finally taken care of that. Looking at the Cinebench R15 chart above, we can see that the Ryzen 7 1700X offers amazing single and multi-core performance. Ryzen finally closes the huge gap between AMD and Intel in both single and multi-core performance.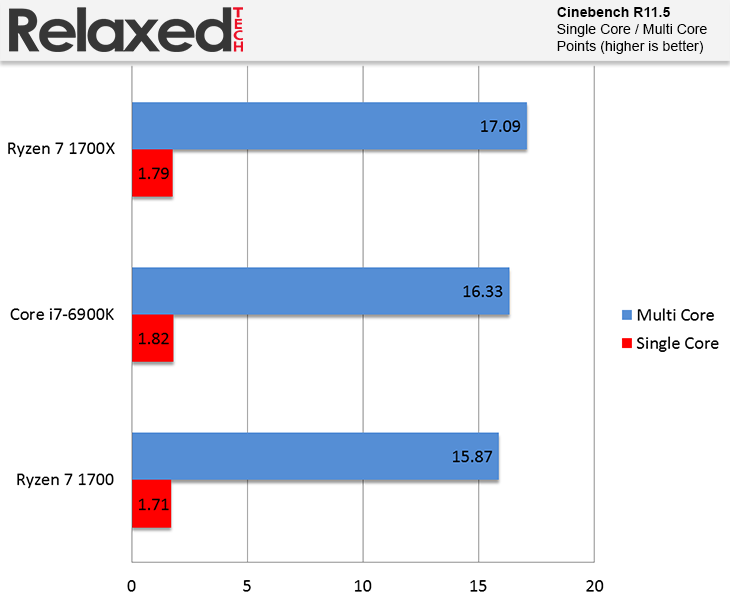 Once again, the Ryzen 7 1700X performed exceptionally well. The single and multi-core performance of the 1700X is very hard to beat at just $400.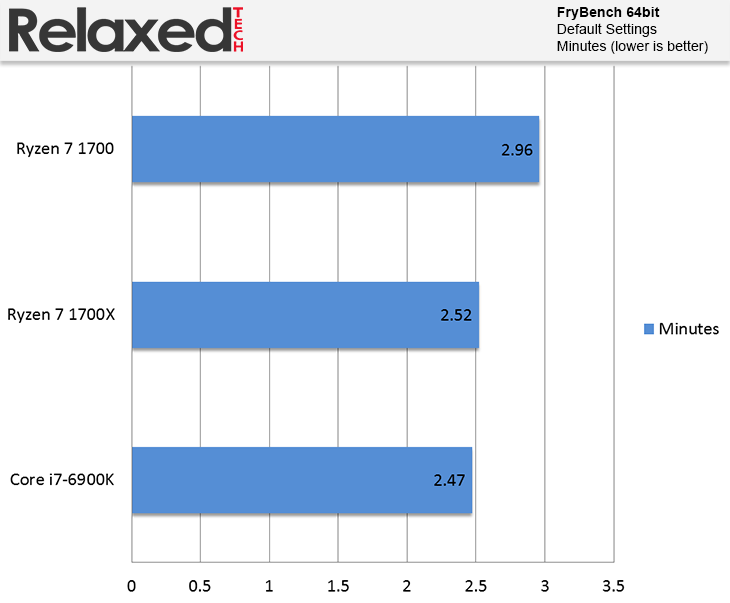 FryRender is a popular benchmarking tool and the Ryzen 7 1700X performed similar to the i7-6900K in this test.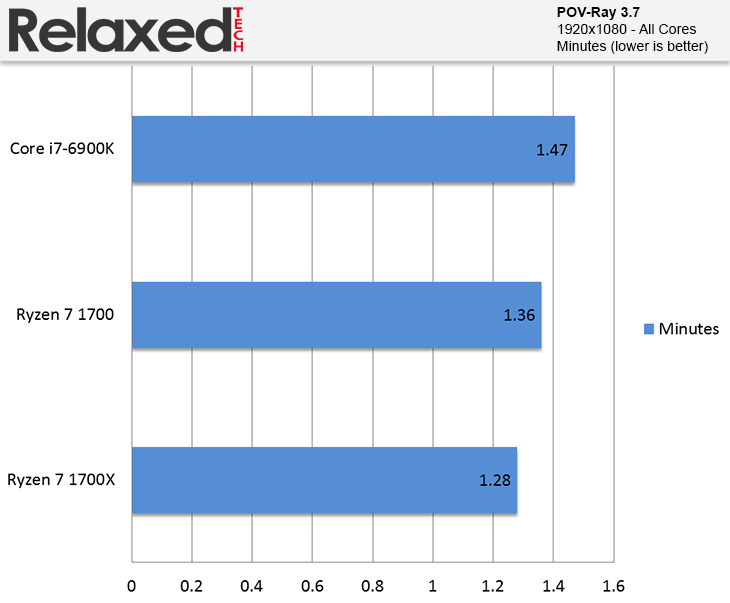 The Ryzen 7 CPUs outperformed the i7-6900K in this benchmark.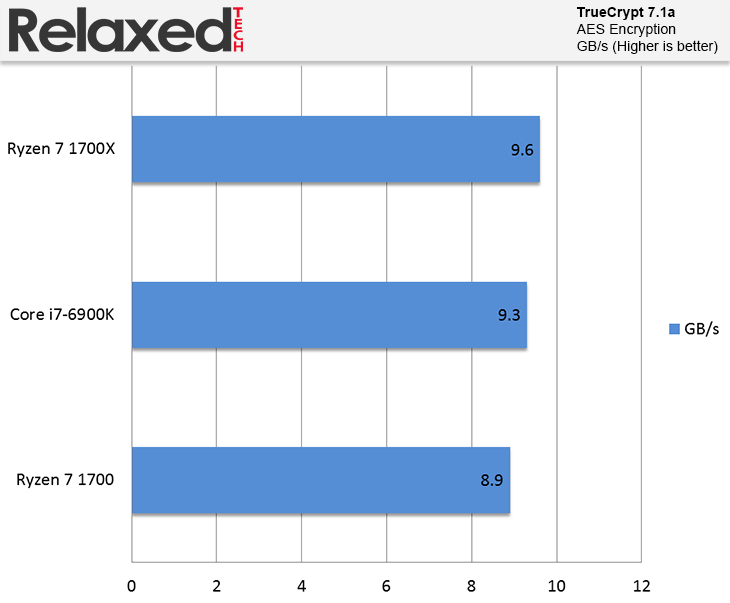 Moving on, the Ryzen 7 1700X once again jumped ahead of the i7-6900K in this test.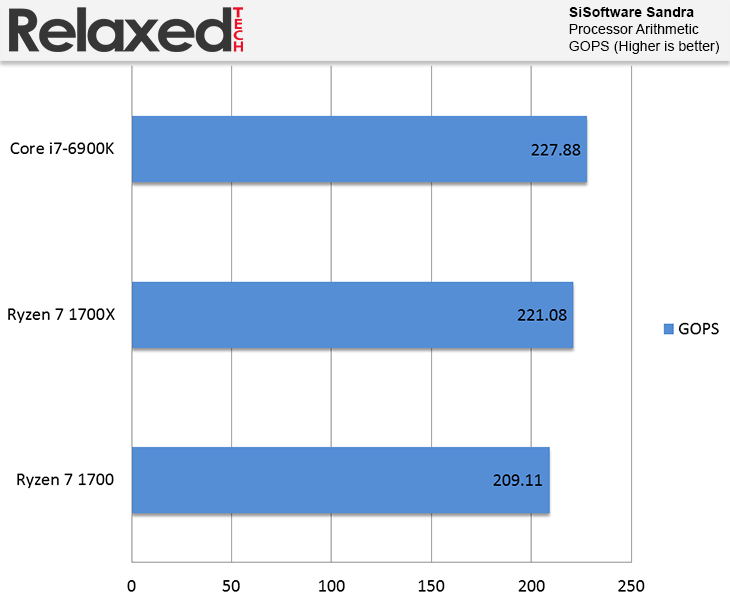 The i7-6900K performed slightly better in this test.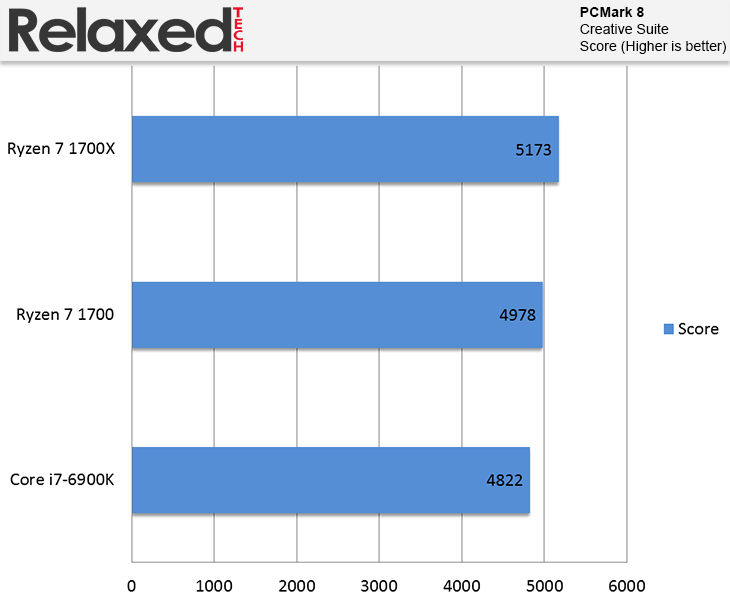 In the PCMark 8 Creative Suite benchmark, the Ryzen 7 CPUs wrecked the i7-6900K.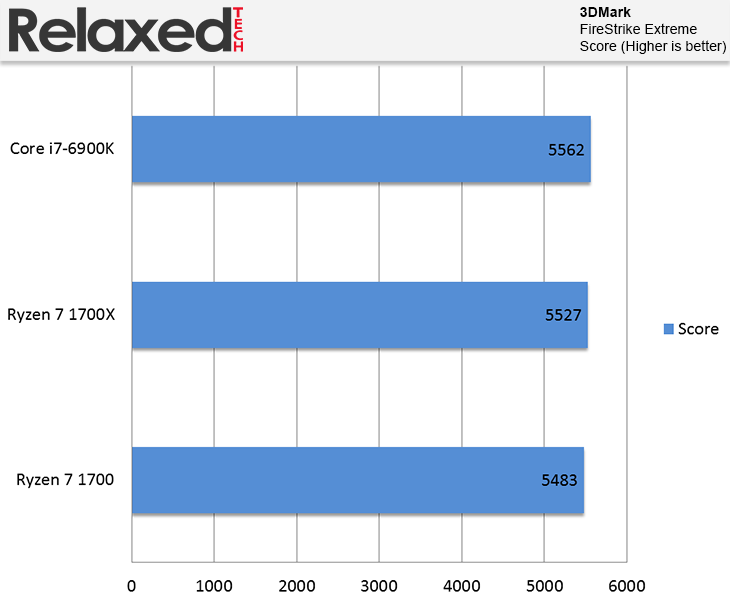 Moving on, the Ryzen 7 CPUs once again delivered excellent performance in the 3DMark FireStrike Extreme test.
Gaming Performance Results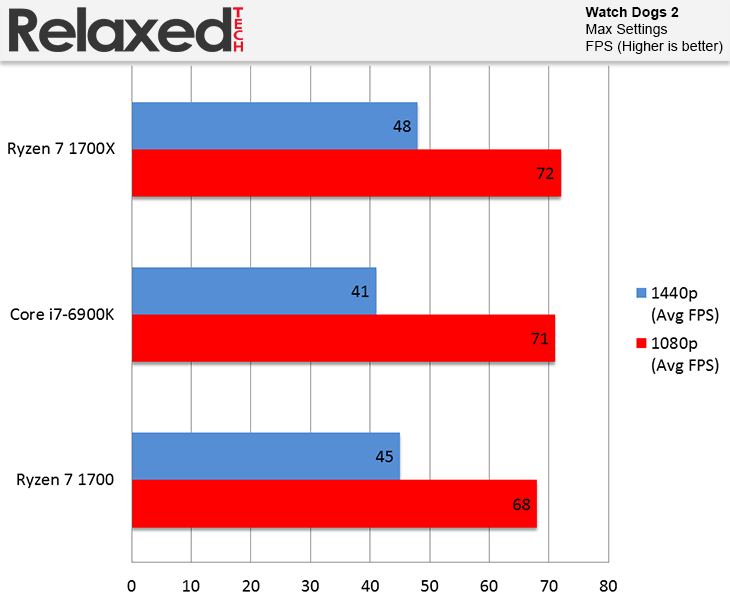 Looking at the Watch Dogs 2 benchmark, the Ryzen 7 1700X won in both 1080p and 1440p.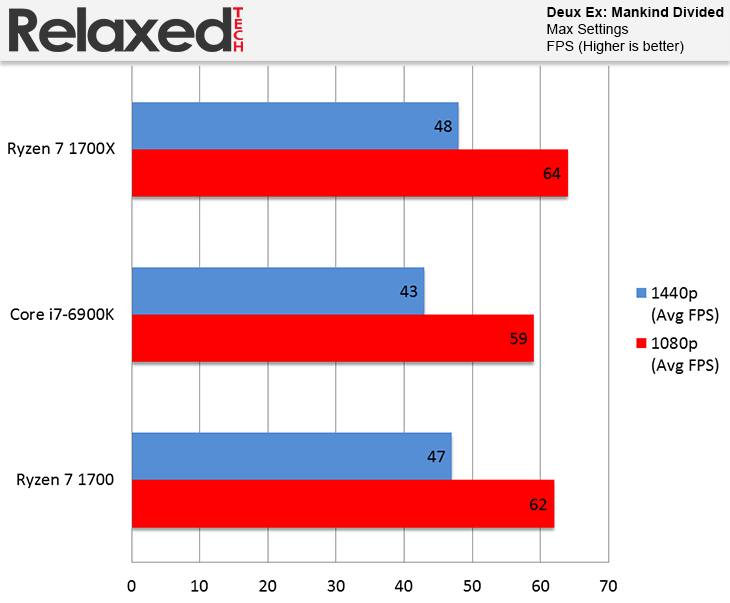 In the Deus Ex Mankind Divided benchmark, the Ryzen 7 CPUs outperformed the i7-6900K.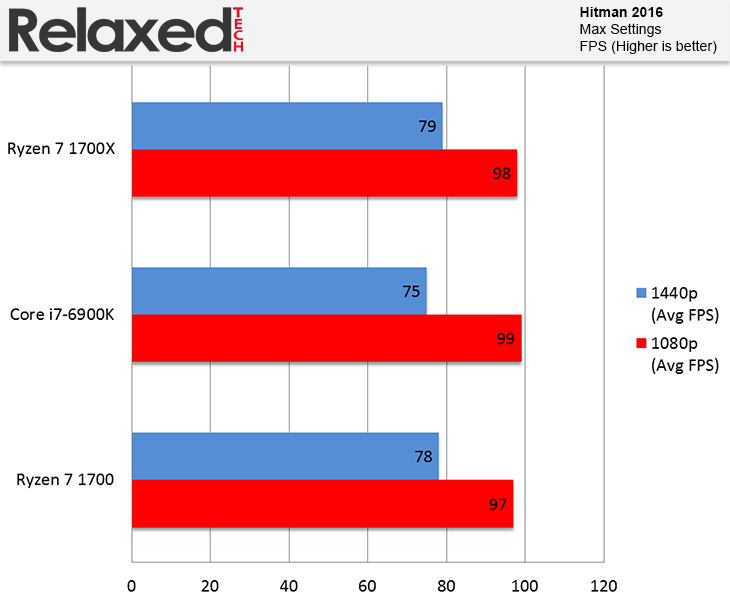 All three CPUs performed relatively the same in Hitman 2016.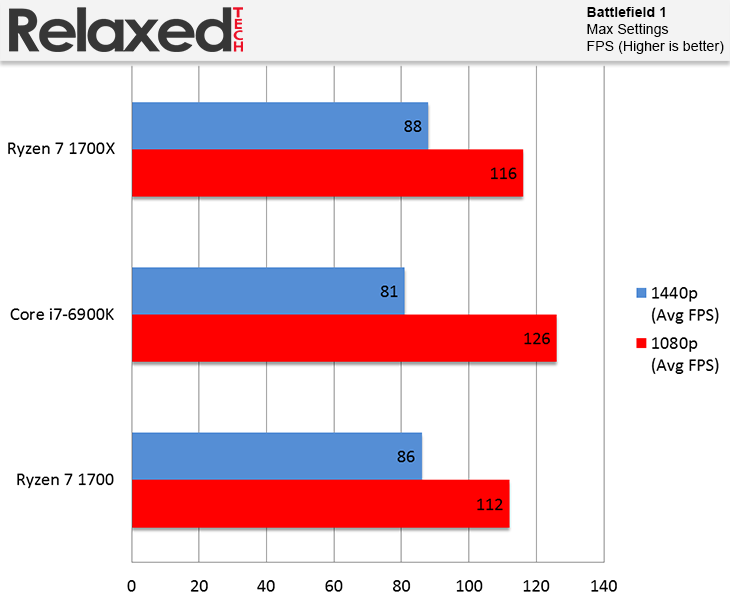 In Battlefield 1, the Ryzen 7 CPUs offered higher fps in 1440p but fell behind in 1080p.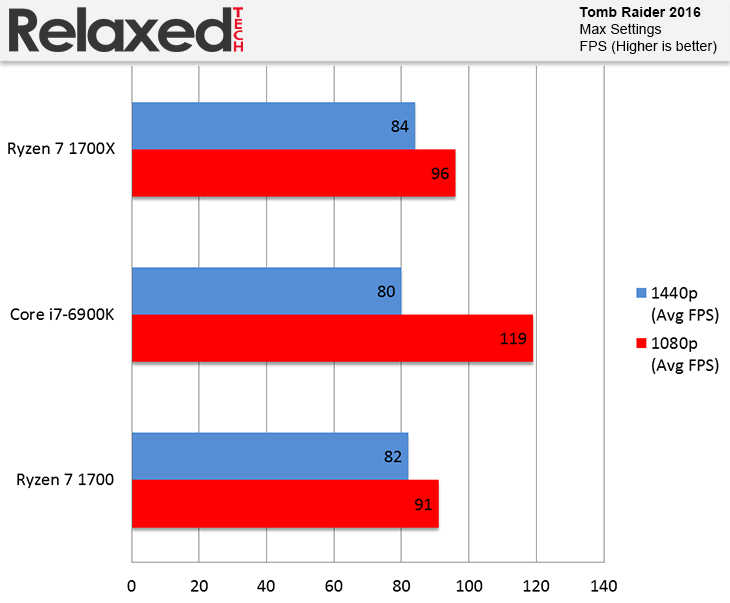 Once again, we see the same thing in Tomb Raider.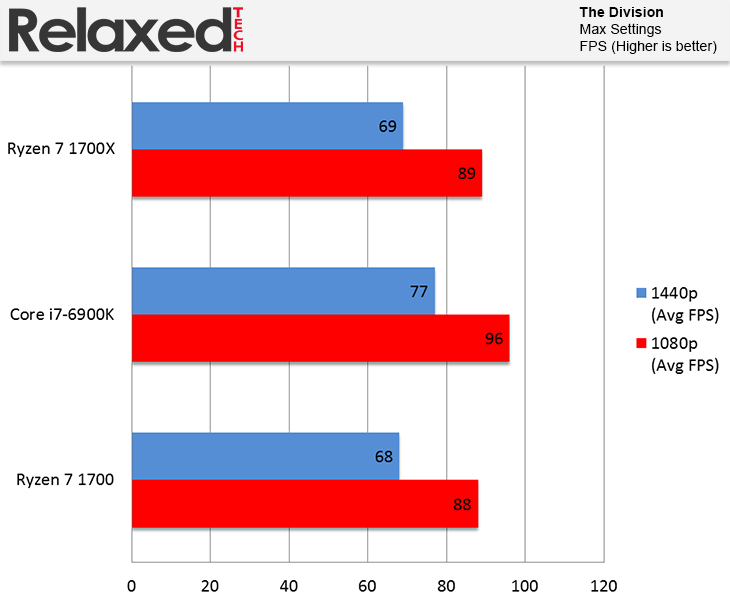 The i7-6900K performed better than the Ryzen 7 CPUs in The Division.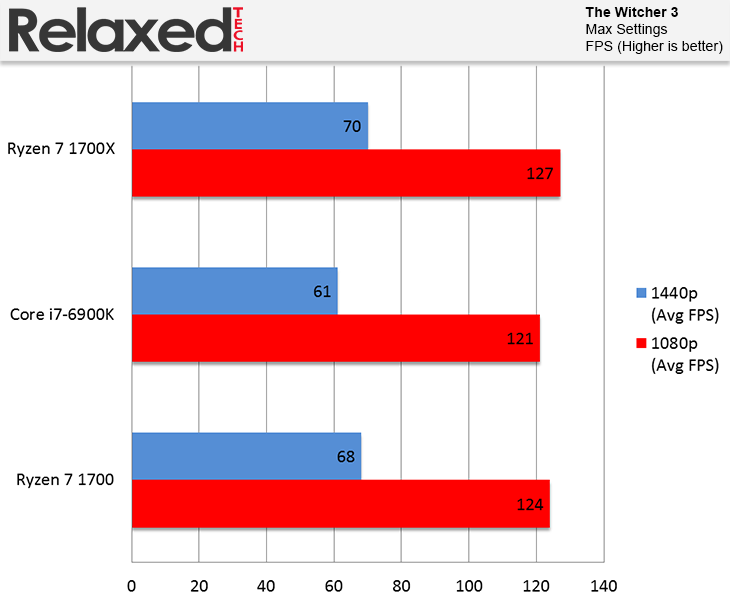 Looking at the Witcher 3 benchmark, the Ryzen 7 CPUs destroyed the i7-6900K in both 1080p and 1440p.
Value & Conclusion
Most of the content written in this conclusion is similar to what I already wrote about the Ryzen 7 1700 since the 1700X is basically the same thing but just clocked higher. Ryzen is an incredible accomplishment and it's nothing short of amazing. As a tech enthusiast, I'm happy to see AMD delivering competitive high-end CPUs. AMD's Ryzen 7 CPUs can easily outperform the i7-6900K in productivity and content creation. I use my computer for a combination of things such as gaming and developing web applications. When I'm developing, the Ryzen 7 1700X processor is definitely much faster than the i7-6900K and the performance difference is huge between the two.
Gaming performance is very impressive considering that Zen is a brand new architecture and games have been tailored to Intel's CPUs for a long time now. When gaming, even though my average FPS is slightly lower than the i7-6900K in some games, the Ryzen 7 1700X feels smoother and fps drops happen a lot less. Multi-tasking is where Ryzen truly shines. When I'm gaming and compiling my Java application in the background, the Ryzen 7 1700X maintains the average FPS in all of my games while the i7-6900K struggles to keep up.
Overclocking is impressive with the Ryzen 7 1700X. I managed to get all eight cores running at 3.9Ghz. If you invest in a good water cooling solution, you will most likely be able to hit 4.0-4.1GHz with either the 1700 or 1700X. The Ryzen 7 1700X is staggeringly ahead of any $330-500 Intel CPU's in multi-core performance. There might be some issues with how some games handle SMT which will most likely get fixed with future patches and don't forget that even Intel had major issues with Hyper-Threading in the early days. Games and software have been tailored to Intel's architectures for the past 6+ years and now we have to wait for games and software to catch up to AMD's new hardware. Zen is a brand new architecture, built completely from scratch and it is unknown to software.
AMD Ryzen's gaming performance will only improve with future patches and AMD has already started working with game developers to get current and future games optimized for Ryzen. These are some AAA titles that are currently being optimized for Ryzen: Doom, BF1, Deus Ex: Mankind Divided, Fallout 4, Ashes of the Singularity, and Totalwar: Attila.

Pros:
+ Outstanding Performance
+ Low-Power Consumption (95W TDP)
+ Much Cheaper Than Competition
+ Ryzen Master Software
+ Perfect For Multi-Tasking
+ Can Reach 1800X Performance Easily
+ Future-Proof Platform
+ Great Price/Performance Value
+ Runs Very Cool

Cons:
- Slightly Rushed To The Market

AMD did a fantastic job with Ryzen and maybe expectations were a little bit too high, but expecting a 100% win over Intel in one generational jump is the reason why some people are disappointed from Ryzen's performance. Ryzen is great for gaming and excellent at workstation applications. There will always be people who want the fastest but the majority of people want the best bang for the buck. I can safely say that the Ryzen 7 1700X is an amazing chip that can handle anything you throw at it. It is perfect for those who do multi-threading work, gaming, and streaming and the price/performance ratio of the Ryzen 7 1700X is fantastic.
Ryzen finally closes the huge gap between AMD and Intel in the high-end segment. Intel's next CPU can no longer be the same remake with as few cores as possible because AMD just raised the bar. We're in the new multi-thread era and Ryzen will only improve with time. Ryzen will make Intel work harder next time and to give us more than just 3% performance increase each year. The Ryzen 7 1700X processor easily deserves our Elite Award.
Final Score 9.7