Introduction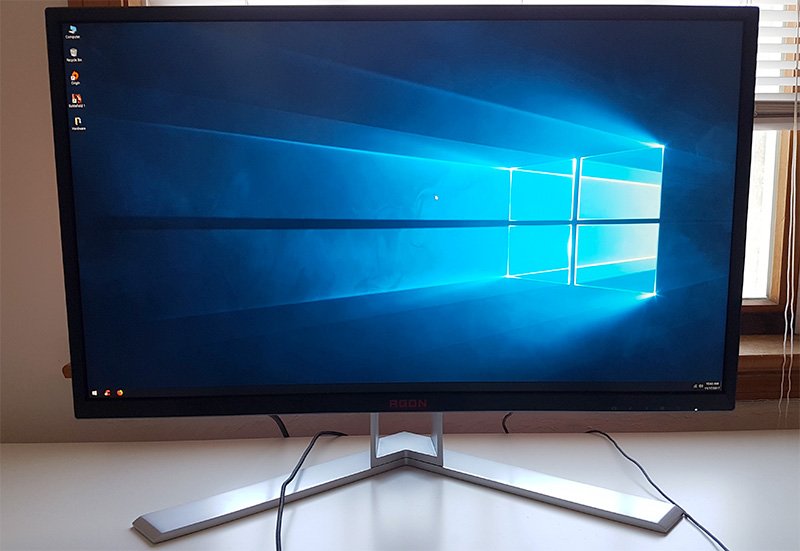 AOC has sent us the AG271UG for review which is AOC's first gaming monitor with a 4K resolution. The AG271UG is a 27-inch stylish gaming monitor that incorporates a wide range of features such as an IPS panel, fully adjustable stand, and a 4K (3840 x 2160) resolution with support for G-Sync at 60Hz refresh rate. The AG271UG sports the same exact design style as what we have already seen in our review of the AG271QG. Needless to say, the AG271UG is an extremely well crafted 27-inch gaming monitor that retails for $799.99 on Amazon and comes with 3 years of warranty.
AOC has positioned the AG271UG toward the higher end of the gaming monitor market which competes with other 4K 60Hz IPS monitors that are on the market such as the Asus PG27AQ, SAMSUNG U28E590D, Dell P2715Q, Acer XB271HK and ViewSonic XG2700. AOC is using an IPS panel panel on their AG271UG which is a type of panel that is best known for its color consistency and wide viewing angles. The older Twisted Nematic (TN) panels on the other hand typically provide faster response times but come at a trade-off in washed out colors and horrible viewing angles.
Features & Performance
AOC has integrated many modern features into the AG271UG such as the Flicker-Free Technology which is used to reduce or eliminate flickering and effectively reducing eye fatigue, Low Blue Light technology, and HDCP (High-bandwidth Digital Content Protection). There have been many studies that have shown that blue light from the computer monitors may be very harmful to the eyes causing macular degeneration or sleep disorders and that's where the Low Blue Light technology comes into play to combat the possible side effects. The HDCP is a technology developed by Intel which is designed to protect digital content.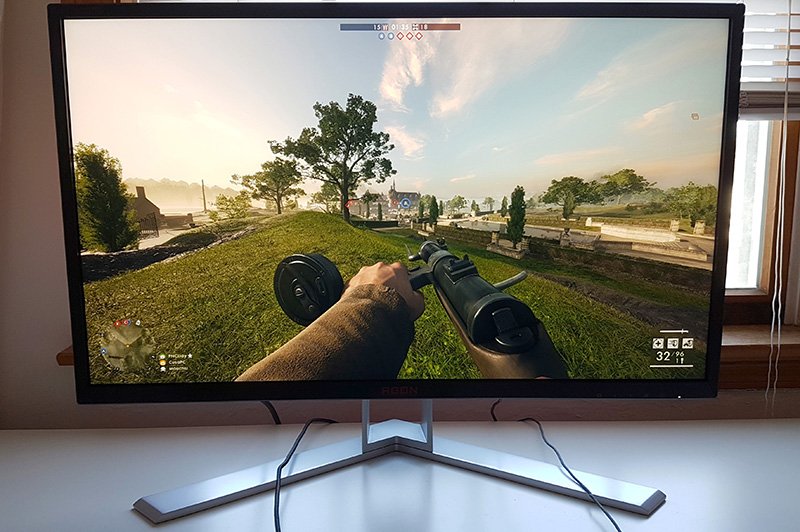 Moving on, the AG271UG has a response time of 4 ms and a native refresh rate of 60 Hz at 4K. AOC has packed in a true 10-bit IPS panel in the AG271UG that accurately portrays 100% of the sRGB and 80% of the Adobe RGB color spaces. Since this monitor is being aimed at gamers with its 4K resolution and G-Sync support, I went ahead and tested this monitor by playing Battlefield 1 on maximum settings. The color depth and contrast ratio that the AG271UG outputs makes games like Battlefield 1 look amazingly good. Color accuracy was strong in Battlefield 1 and the environments appeared natural and vivid.
AOC is well known for utilizing nVidia's G-Sync technology on their high end gaming monitors and the AG271UG is no exception to that. NVIDIA's G-Sync is designed to ensure smooth on-screen action which works by synchronizing the display's refresh rates to the GPU in your GeForce GTX-powered PC to eliminate screen tearing. G-Sync can help you get those critical missing images on the screen which shows enemy movement in ultra smooth motion so you can easily target them.
Specifications
AOC AG271UG Specifications
Manufacture:
AOC
Model:
AG271UG
Viewable Screen Size:
27"
Panel Type:
IPS Panel
Aspect Ratio:
16:9
Color Bit:
10 Bit
Brightness:
300 cd/m2
Refresh Rate:
60Hz

Pixel Density:
163 PPI

sRGB:
100%

Adobe RGB:
80%

Contrast Ratio (dcr):
20M:1
Response Time:
4ms (GtG)
Max Resolution:
3840 x 2160
Color Depth:
16.7M
Pixel Pitch (mm) (H x V):
0.15525(H) x 0.15525mm(V)
View Angle (degrees) (H x V):
178 / 178
Display Area (mm) (H x V):
596.74(H)mm x 335.66(V) mm
Scanning Frequency (H / V):
Horizontal: DP1.2: 52kHz~133kHz
HDMI.4: 30kHz~140kHz
Vertical: DP1.2:30Hz~60Hz
HDMI1.4: 24Hz~60Hz
Cabinet Color:
Black/Red
Adjustability:
Tilt: -3.5°±1.5°~+21.5±1.5°
Pivot: 90°
Swivel: -20°~20°
HA: 130mm
VGA/DVI-D:
0
HDMI 1.4:
1
Display Port 1.2:
1
USB 3.0:
4
Power Consumption:
50W (typical), Standby: ~0.5W
Power Source:
Universal 110~240VAC, 50/60Hz
Wall Mount (mm x mm):
100mm
Built-in Speaker:
2W x 2
Audio:
Line-In/Earphone Out
User Control:
Source/Auto/Exit,left/Game mode
Right/ShadowControl Menu/Enter,Power
Regulations:
cTUVus, CE, FCC, RoHS, Windows 8/10 compatible
OSD Languages:
16 Languages including English,French and Spanish
Features:
Flicker-Free Technology
HDCP (High-bandwidth Digital Content Protection)
Low Blue Light
Other Features:
NVIDIA G-Sync User Friendly Graphical OSD Menu
VESA Wall Mount Compliant1, Kensington Security Slot
Includes AOC's eSaver software, i-Menu software
Net Weight (lbs/Kgs):
14.9/6.8
Gross Weight (lbs/Kgs):
22.1/10
Monitor in inch (WxHxD):
24.5 x 17.1 x 8.6
Monitor in mm (WxHxD):
622.7 x 432.7 x 218.2
Loading Qty w/pallet:
20' = 288 pcs; 40' Std= 576 pcs
UPC:
685417715787
In the Box:
27" Monitor, Power Adapter, Power Cord, HDMI cable
DP cable, Audio cable, USB cable, QSG
Packaging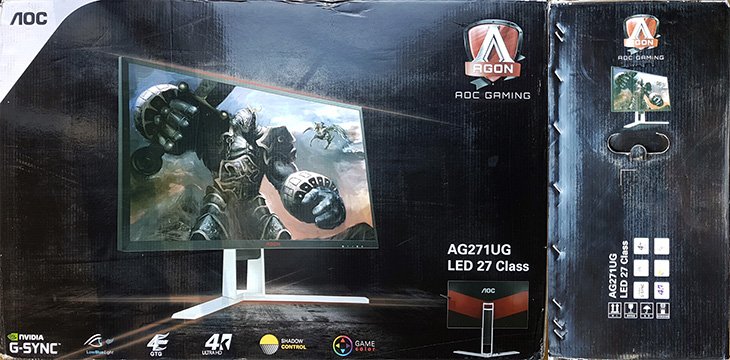 The AG271UG comes in a big elegant box which weighs exactly 10 kg. All of the features are listed at the bottom of the box and the monitor's dimensions are 24.5 inch in width, 17.1 inch tall and 8.6 inch deep. Looking at the top right of the box, we see the name 'AGON GAMING' and underneath this, we see 'AG271UG LED 27 Class'.

When you open up the box, you will be confronted with the monitor's quick-start guide, which is printed on the inside flap of the cardboard. AOC includes high quality cables and the components inside are well packaged and everything feels well secured inside the box. Inside you will find the 27" monitor, the stand/base, power cord/adapter, 1x HDMI 1.4 cable, 1x DisplayPort 1.2, 1x USB cable, 1x Audio cable, and the quick-start guide. The manual and drivers are available for download at the AOC's website. AOC does include a basic quick guide manual but any documentation beyond that will have to be downloaded from AOC's website.

The AG271UG is tightly protected by two high density foams as shock absorbent and plastic wrapping to prevent any accidental damages during shipping. The monitor's dimensions are 24.5 inch in width, 17.1 inch tall and 8.6 inch deep. Overall, the packaging is good and the product arrived in perfect condition.
Design & Build Quality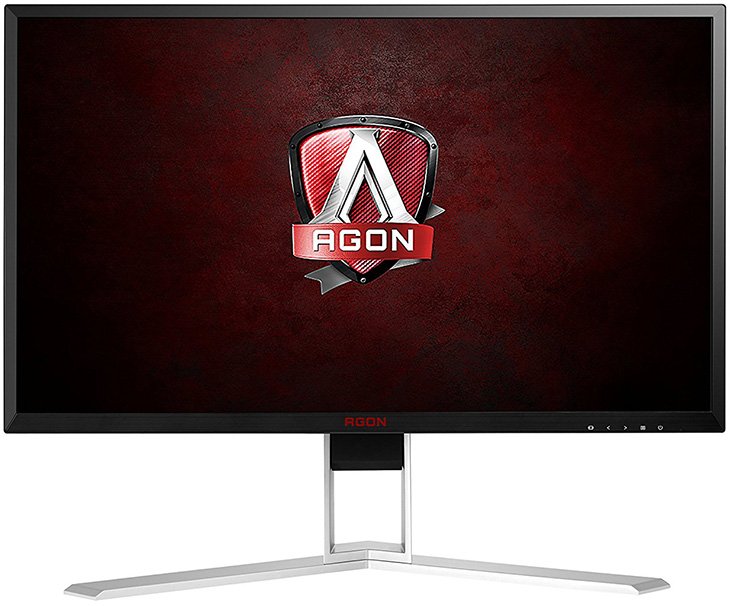 Visually, the AG271UG features a minimalistic and elegant design with a black/red plastic finish which is very pleasing to the eyes. The display sports an anti-glare screen coating finish which makes it easier to see the screen under bright lights. The metal stand gives the monitor a very nice contrast to the black display.
Moving on, the panel, stand, and base are separated and must be assembled. Find the four black screws in the plastic bag to attach the panel to the stand. AOC also includes a VESA holding plate which can be used to attach the monitor to the wall.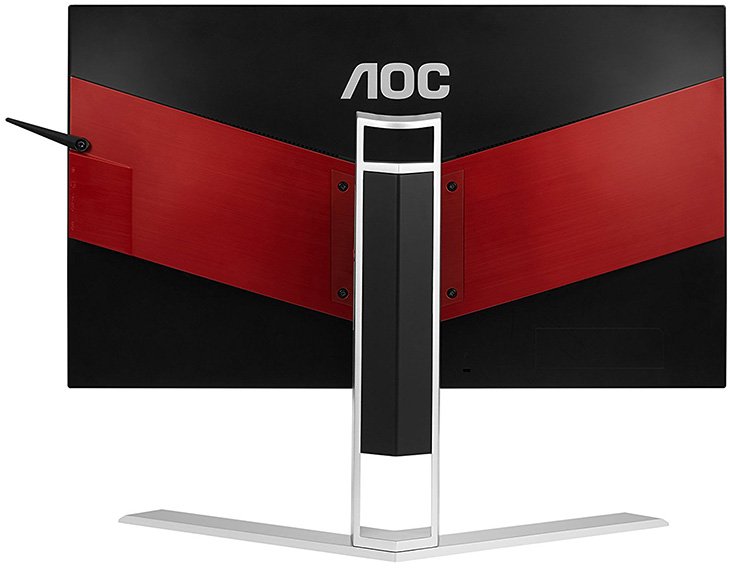 On the back is where you will find the Agon specific styling which is a large 'V-Shaped' red stripe against a black background. The back has a brushed-metal finish which I really like. On the back you will also notice a retractable headphone hook that you can slide down which is used to hang your headphone.
AOC includes a 130mm sliding scale to help with height adjustment and there's also a small red plastic marker to make the process easier. The screen is very flexible and can be rotated to a full 90 degrees into portrait mode, swivel 20 degrees right to left and it can also be tilted -3.5°/21.5° up and down. Also, the panel offers 178-degree viewing angles and 4ms (gray to gray) response time. The monitor stand makes it easy to adjust the positioning of your display to the most comfortable position without interfering with your work.

As far as ports go, there are three USB 3.0 ports downstream, one USB 3.0 upstream, one HDMI 1.4, one DisplayPort 1.2, one 3.5mm Audio In, and one 3.5mm Audio out. There's also a DC power input which you can connect the external power brick to. There's ventilation across the entire port area because the G-Sync module requires ventilation openings due to the heat that it generates which need to be dissipated. If you will be using a G-Sync video card, you must use the DisplayPort 1.2 port to get full access of the monitor and the G-Sync technology.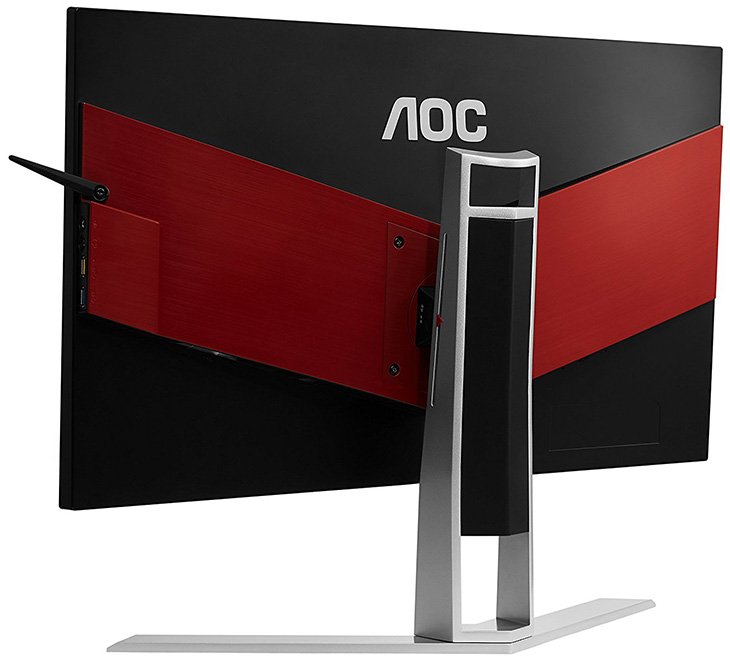 At the right side of the monitor where the retractable headphone hook is, you will find two USB 3.0 ports, a 3.5mm microphone jack and a 3.5mm audio output. The USB 3.0 yellow port supports fast-charging. USB ports can be quite useful because they can be used for example to charge your smartphone while you are gaming or watching a movie.

The base is well designed and it is made entirely of metal. It offers solid stability and is quite sturdy and it doesn't wobble even if you move your desk around. I have noticed that most manufactures utilize a blocky base design which takes up quite a bit of desk space but AOC's Agon line offers a minimalistic base design which I love.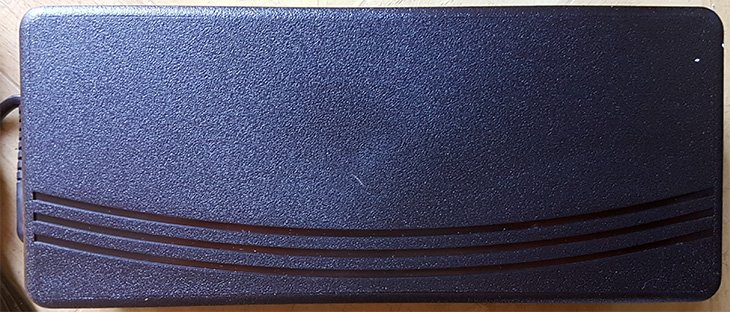 The AG271UG comes with an external power supply which is enormous and it measures 170mm in width, 75mm in height, and 40mm in depth. Having a big power brick under the desk can be quite annoying but I guess you can easily hide it since the power cord is ~4 feet long.
On-Screen Display & Panel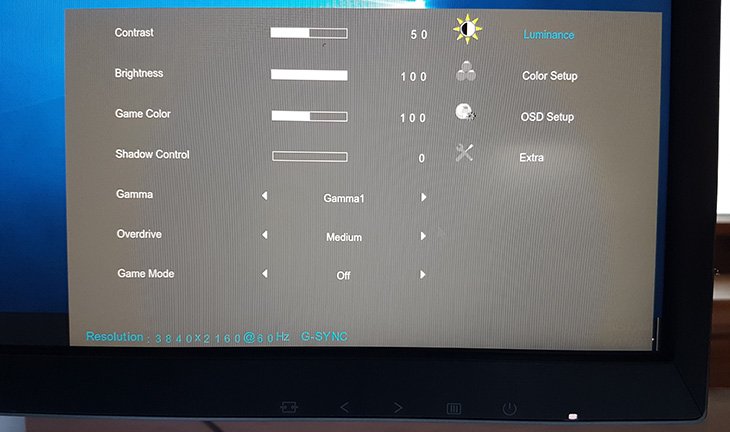 The AG271UG comes with a limited range of settings with just four sections in the OSD. The on-screen display buttons are located across the bottom of the screen which seems to be the norm with AOC monitors nowadays.
The first setting in OSD is Luminance and this contains controls for Contrast, Brightness, Game Color, Shadow Control, three Gamma presets, and three Overdrive presets (weak, medium, strong). You can use the Shadow Control option to bump up areas that are hard to see and you can use the Game Color option which acts like a saturation control. The Shadow Control option can be used to dial-in shadow levels to increase contrast for better dark areas without affecting the rest of the screen.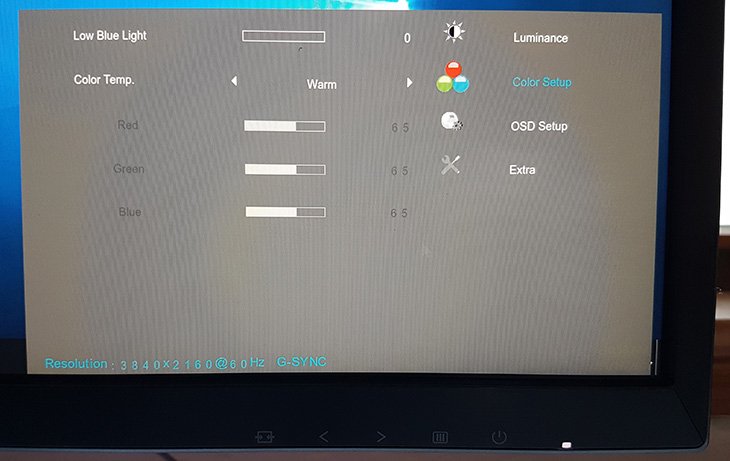 In the Color Setup section, you will see a Low Blue Light option which can be adjusted to reduce the effects of eye strain. The Color Setup section also provides control over color temperature via three presets, Warm, Normal, Cool, with Warm being the default. Besides the color temperature option, you can also tweak the sRGB colors in here. Something that you will notice is that AOC has taken out the picture modes option.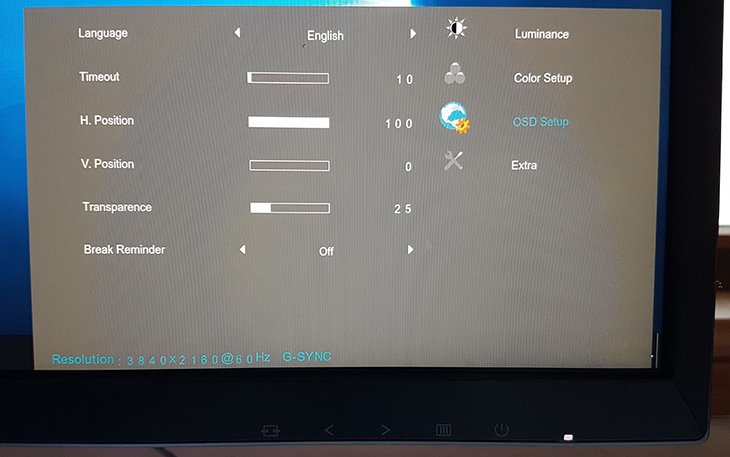 The OSD Setup section allows you to adjust the transparency, language, positions, break reminder and timeout. You can set up a reminder to take a screen break at certain intervals and you can set the timeout up to 120 seconds.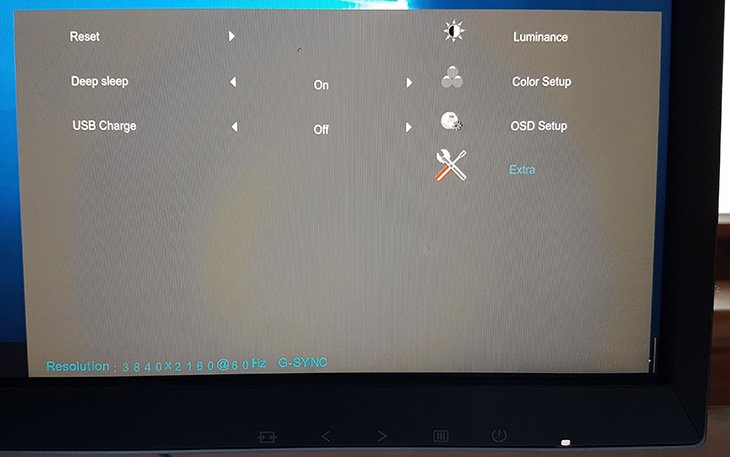 In the Extra section, you will find all the remaining options which can be left the way they are in most cases. You have the reset option, deep sleep, and USB charge. I have to say that the OSD feels very basic, and it is missing a lot of features that most high-end gaming monitors have in this price range have.

The bezel has a plastic finish texture that is inspired by brushed metal. In the bottom center bezel is where the AGON logo is located, in bold, red-type.

The bezels are quite thick at the top and sides but the bottom bezel is noticeably much thicker. To be more precise, the bezels on the sides and also the top bezel measures approximately 11 millimeters and the bottom bezel is about 18 millimeters thick.

Looking at the bottom right of the bezel, you can see the OSD (On-Screen Display) buttons labeled which are actually hard to read in poor light conditions. The buttons themselves are not touch-sensitive and you need to press them from underneath the bezel which can be hard to find if you are gaming with the lights turned off.
Backlight Bleed & Viewing Angles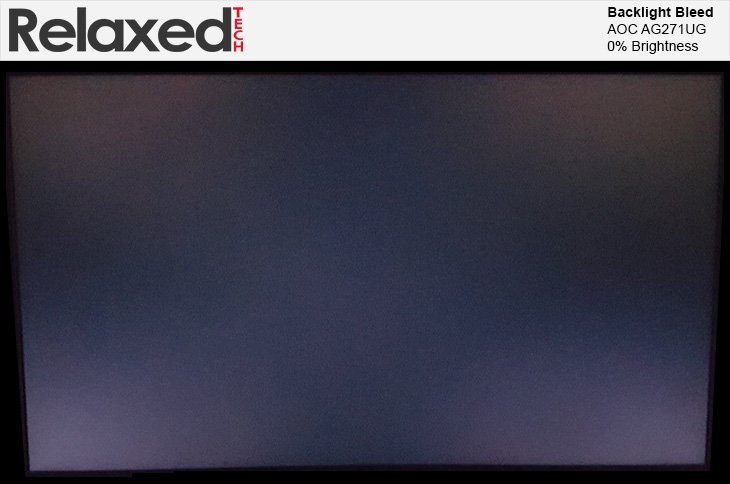 Now we are going to test the backlight bleeding at 0%, 50% and 100% brightness and the testing will be performed in a dark room. Backlight bleeding is a major concern among enthusiasts and gamers because it is a major issue with IPS panels but not so much with VA and TN panels. VA panels normally have superior blacks to IPS panels, but IPS panels typically have better color accuracy.
The above photo is tested at 0% brightness and you can clearly see that this monitor suffers from backlight bleeding even at 0% brightness. You must keep in mind that nearly every IPS panel suffers from backlight bleeding so you should be expecting it.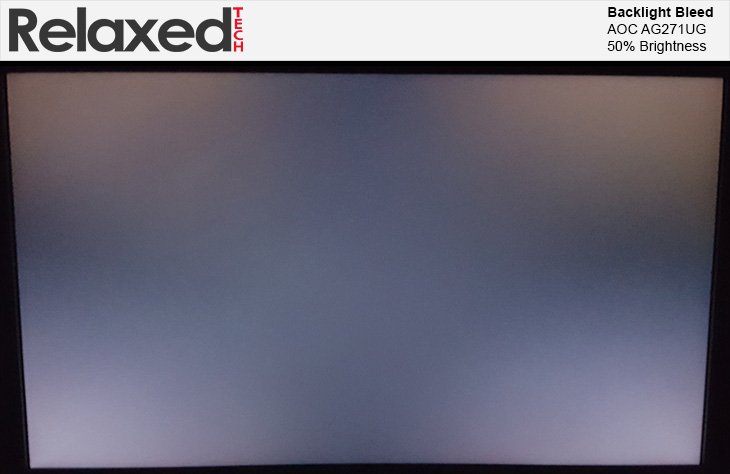 Here we are testing the backlight bleeding at 50% brightness.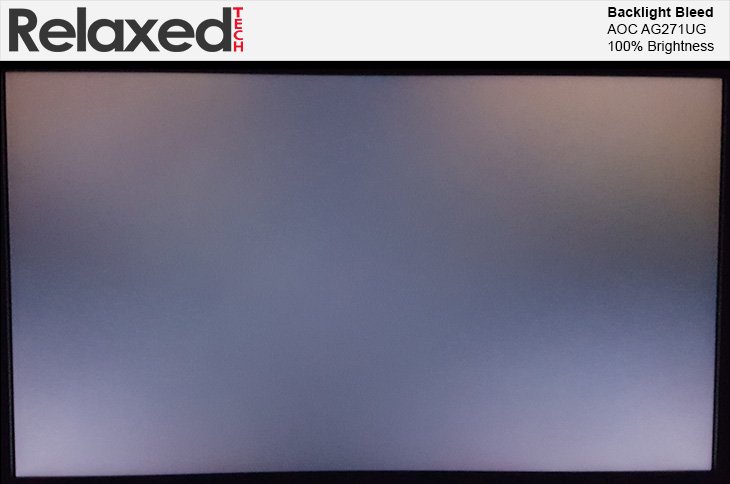 Now we are testing at 100% brightness and you can see a heavy concentration of backlight bleed or 'IPS Glow' in the top right corner and also top left corner. There is a small amount on the bottom right, but the top right is what bothers me the most. When it comes to backlight bleeding, it will all depend on how sensitive you are to it. IPS glow is something that all IPS panels suffer from and some panels have it worse than others but it doesn't necessarily mean that you should be returning the monitor because you think the screen has issues.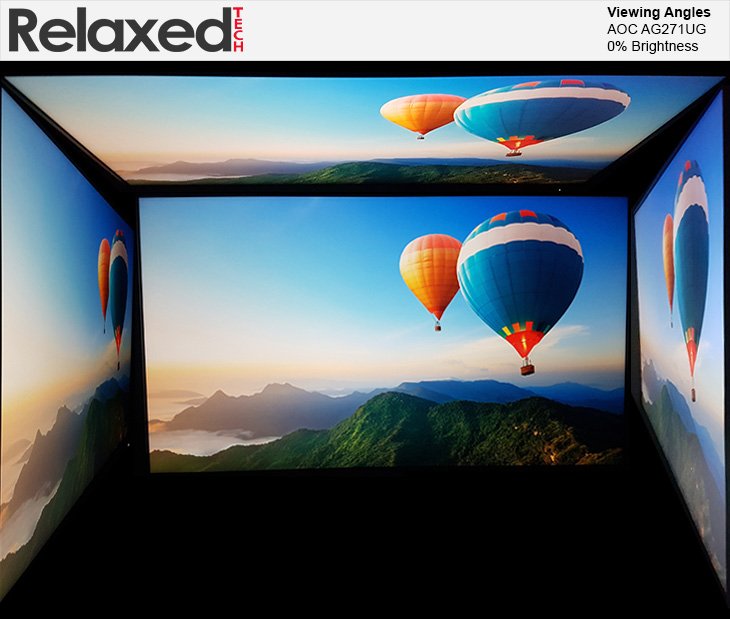 Now we are testing the viewing angles at 0%, 50%, and 100% brightness and the testing will be performed in a dark room. The above photo was tested at 0% brightness and you can clearly see that the viewing angles are fantastic and the color uniformity is very good.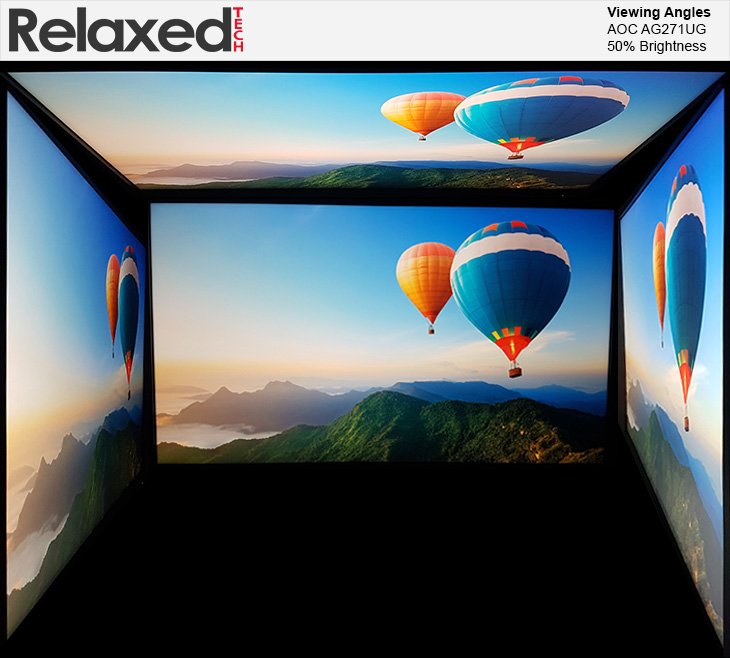 Now we are testing the viewing angles at 50% brightness.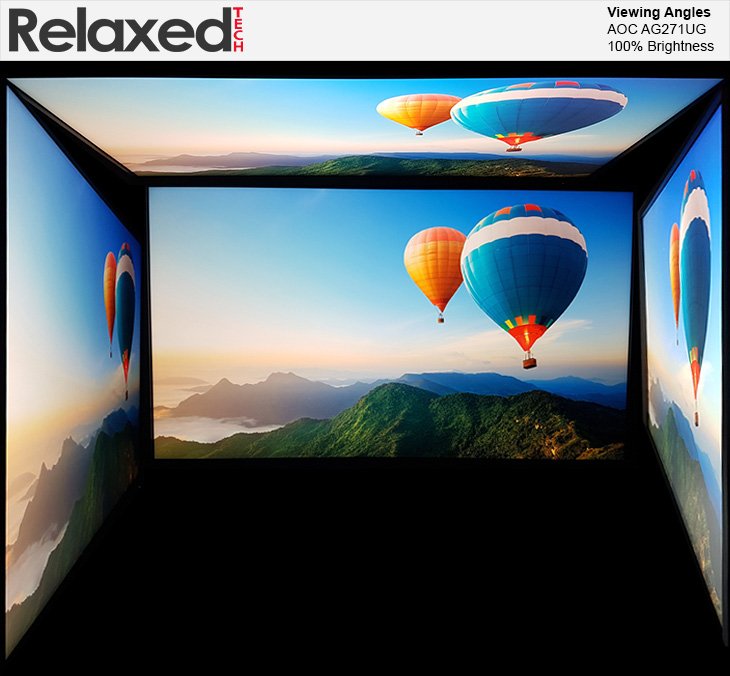 Here we are testing at 100% brightness. Since this is an IPS panel, the viewing angles are fantastic and the color uniformity is top-notch. There was no color shifting or loss of luminance when viewed from an extreme angle during testing. The colors stay true no matter what angle you're viewing the screen from. Color reproduction is fantastic with this monitor which is expected from an IPS panel.
Conclusion
AOC is a well respected company in the gaming monitor industry and they are known for making sturdy, reliable and high quality monitors. On paper, the AOC AG271UG has everything you can ask for in a high-end gaming monitor. It sports a high build quality, fully adjustable stand, 4K IPS panel, G-Sync, fantastic color accuracy and much more. The build quality is sleek and elegant and it definitely has a premium feel to it.
Backlight bleed or 'IPS Glow' is very common with IPS panels and while the AG271UG suffers to some degree from it, it's definitely bearable. Keep in mind that backlight bleed should not impact you in any way, unless you are staring at the corners of the screen. The biggest downside to this monitor is the 2x2W built-in speakers. They are fairly low-quality and even when the volume is set to 100%, the sound output is still too low.
Gamers normally use a high refresh rate monitor but the AG271UG can only do 60Hz at 4K which might be a deal breaker to most gamers. Also, don't forget that you will most likely need a GTX 1080 Ti to run modern games at 4K on maximum settings which will cost you another $750-$850. If having a high refresh rate is more important to you than having a 4K resolution, then consider getting the AG271QG which comes with a 144/165Hz refresh rate and it sports a max resolution of 2560 x 1440.

Pros:
+ Excellent Gaming Performance
+ Aesthetic Design
+ 4K IPS G-Sync Panel
+ High Build Quality
+ Good Packaging
+ Fully Adjustable Stand
+ Superb Color Accuracy

Cons:
- Weak Built-In Speakers
- OSD Is Lacking Features
- Only 60 Hz at 4K
- Expensive

Moving on, the AG271UG offers super quick panel response with 4ms and while the OSD is lacking many features that you normally see in high-end gaming monitors, it is clear and simple to navigate. I can safely recommend this monitor to casual gamers who are looking for the ultimate gaming experience. I'm a casual gamer so having a high refresh rate is not that important to me but if you are into fast-paced games such as CS:GO or DOOM, then the AG271UG might not be the monitor for you since it can only do 60Hz at 4K. Price-wise, the AG271UG is definitely not a cheap monitor at $800, but it comes with plenty of high-end features such as a 4K IPS panel, G-Sync, amazing color accuracy and a high build quality. Overall, the AOC AG271UG deserves our recommended award.
Final Score 8.0