Introduction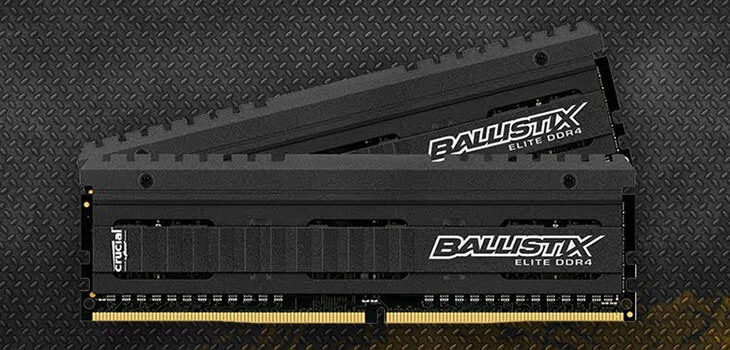 Micron's Ballistix memory has set three overclocking world records for the fastest DDR4 memory frequency. The Ballistix Elite 4000 MHz memory kit scored a new DDR4 world record of 6024 MHz using liquid nitrogen (LN2). Micron has shown that their e-die is able to handle extreme voltages and high temperatures very well which makes their Elite memory the new choice for memory overclockers. Today we are reviewing the Ballistix Elite 4000 MHz 16GB (2x8GB) memory kit which runs at 1.35V and has a stock rated timings of 18-19-19-39.
Ballistix has three memory lines which consists of the Elite, Tactical, and Sport memory series and they all come with a limited lifetime warranty. The Elite series is Ballistix's premium memory line while the Tactical series is the mainstream line and the Sport series is the entry-level line. Their Elite series range in speeds from 2666 MHz and up to 4000 MHz and capacities from 4GB to 32GB in single to quad channel kits. For the past few months I have been running the Ballistix Elite 3600 MHz in my AMD Ryzen rig and it's been working flawlessly.
Ballistix equips their Elite DDR4 memory kits with an integrated temperature sensor which means you can use the Ballistix M.O.D utility to monitor the temperature in real-time. Most memory kits do not come with a thermal sensor so it's nice to be able to monitor the temperature of your memory modules. The Ballistix Elite memory is optimized for Intel XMP 2.0 and AMD Ryzen for easy setup and configuration. This means that once you turn on the Intel XMP profile in the BIOS or AMP for AMD system, it will automatically adjust to the fastest safe speed without having to manually change anything.

Visually, the Elite memory looks really attractive due to its black metal anodized heat spreader which gives it an aggressive militaristic styling. The build quality is fantastic and has a nice premium feel to it when holding it in your hands. I absolutely love that the Ballistix Elite does not use any flashy LEDs because I tend to leave my PC on all the time and I hate having bright LEDs on at night.
Price-wise, the Ballistix Elite DDR4 4000 MHz 16GB (2x8GB) kit retails for $275 on the Crucial store and Amazon which is very expensive compared to other 4000 MHz 16GB kits that are out there. There are many 4000 MHz 16GB (2x8GB) kits that are up to $60-$90 cheaper than the Ballistix Elite 4000 MHz. For example, the Team T-Force Night Hawk RGB 16GB (2x8GB) 4000 MHz costs $200 while the the G.SKILL TridentZ Series 16GB (2x8GB) 4000 costs $190. I have also run across some 4000 MHz 16GB kits that are selling for around $160 so Micron is definitely charging an arm and a leg for their 4000 MHz kit.
Specifications
Technical Specifications
Brand
Ballistix
Series
Elite
Model
BLE2K8G4D40BEEAK
Capacity
16GB (2 x 8GB)
Type
288-Pin DDR4 SDRAM
Speed
DDR4 4000 (PC4 32000)
Timings
18-19-19-39
Cas Latency
18
Voltage
1.35V
ECC
No
Buffered/Registered
Unbuffered
Color
Black
PCB Type
10-Layer Design
Heat Spreader
Yes
Form Factor
UDIMM
Fan Included
No
Height
41 mm
Warranty
Limited Lifetime
Multi-Channel
Dual-Channel Kit
Features
Intel XMP 2.0 & AMD Ryzen Ready
Packaging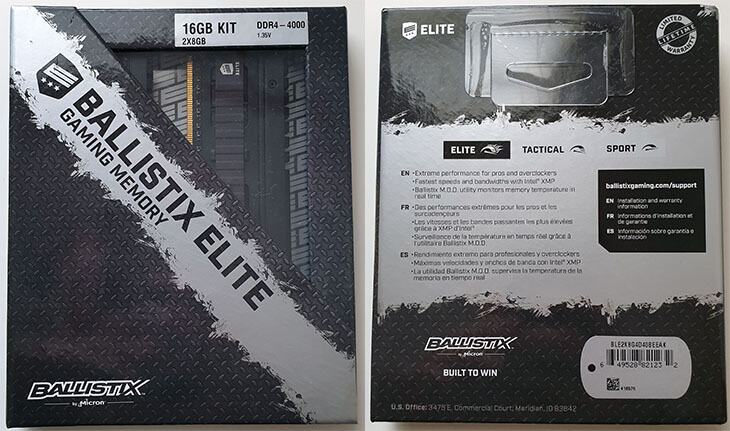 The Ballistix Elite 4000 MHz comes packaged in a fancy cardboard box with visually striking graphics and a clear view of the RAM on the top right corner. Inside you will find two clear plastics holding two modules in each. On the back of the package, you will see a description of each memory series in different languages and some basic product information.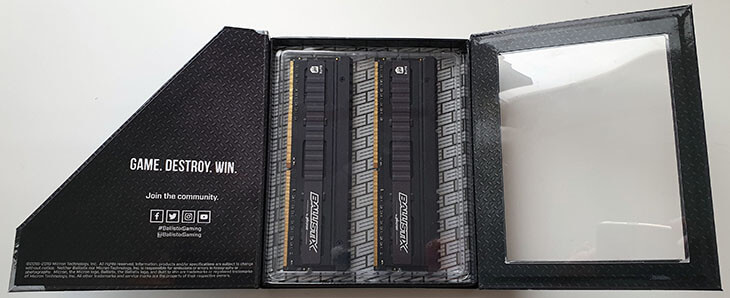 When you open up box, you will be presented with the RAM on full display. The majority of the manufactures use the same basic plastic clamshell packaging on their memory kits but Ballistix has raised the bar here. A quality packaging leaves a strong impression on users and Ballistix has done a great job creating a unique packaging. Overall, the packaging is impressive and definitely feels high quality.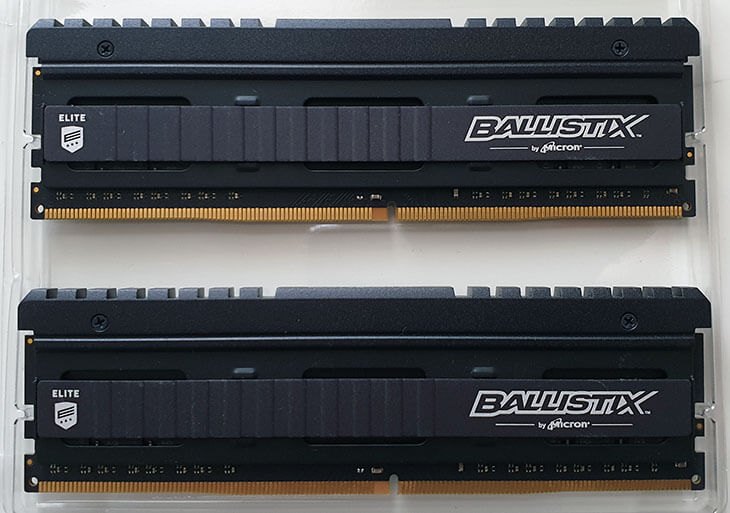 The Elite memory kit is available only in black so if you are into modding and are looking for other color options, you will not find that with the Ballistix Elite line. The memory kit stands 41 mm tall and features a removable heatsink. There are four screws which will need to be removed if you want to remove the heatsink. Since this is a low-profile memory kit, you will have no problems installing a big CPU air cooler such as the Noctua NH-D15. But if you do want to remove the heatsink, that will bring the height down to 31mm which will make it easier installing the memory into a cramped PC case.

Here is a close view of the aluminum heat spreader that stands approximately 10mm above the PCB. The heat-spreaders are fairly thick but they also allow for airflow to flow through. You can see that the heat spreaders don't touch each other and this is important because you want each heat spreader to cool the ICs separately and not combine the heat load.
Test Methodology
Test Setup
Processor
AMD Ryzen 7 3700X
Motherboard
Asus ROG Strix X470-F
BIOS
5406
RAM
Ballistix Elite 16GB (2x8GB) DDR4-4000 MHz
Ballistix Elite 32GB (4x8GB) DDR4-3600 MHz
Ballistix Sport AT 32GB (4x8GB) DDR4-3000 MHz
Ballistix Tactical Tracer 32GB (4x8GB) DDR4-2666 MHz
Patriot Viper LED 16GB (2x8GB) DDR4-3000 MHz
Ballistix Elite 16GB (2x8GB) DDR4-3466 MHz
Ballistix Elite 16GB (2x8GB) DDR4-3000 MHz
Ballistix Tactical 16GB (2x8GB) DDR4-2666 MHz
Kingston HyperX Savage 16GB (2x8GB) DDR4-2666 MHz
Corsair Vengeance LPX 16GB (2x8GB) DDR4-3000 MHz
Graphics Card
Nvidia GTX 1070
Storage
Crucial MX300 1TB
Power Supply
Seasonic Focus Plus 750W
Heatsink
Noctua NH-U12S
OS
Windows 10 Pro 64-Bit (1909)
Thermal Compound
Noctua NT-H1
Case
Corsair 400C
The testing was done on Windows 10 Pro 64-bit (1909) with all the windows updates and latest drivers installed. We have fully debloated Windows 10 and disabled a bunch of unnecessary services that run in the background. It's important to have as few processes running as possible during the testing to prevent any interference. We'll be using the AMD Ryzen 7 3700X CPU that will run on stock settings and we are also using the Asus ROG Strix X470-F motherboard with BIOS 5406 installed (Agesa 1.0.0.4). I was able to run this kit at its rated 4000 MHz speed by simply loading the XMP profile in the BIOS.
Each memory kit will be tested at default speed and timings. For benchmarking software, we'll be using AIDA64 (Read, Write, Copy, Latency), HyperPi 32M, Cinebench R15, Battlefield 1 and Far Cry 5.
Performance Results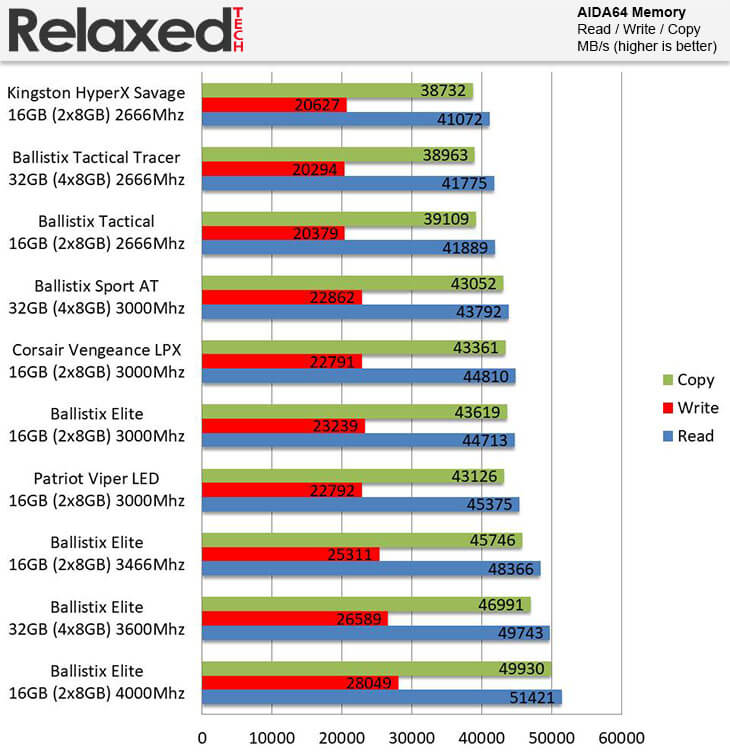 AIDA64 is a popular software that benchmarks the bandwidth and latency of the CPU caches and the system memory.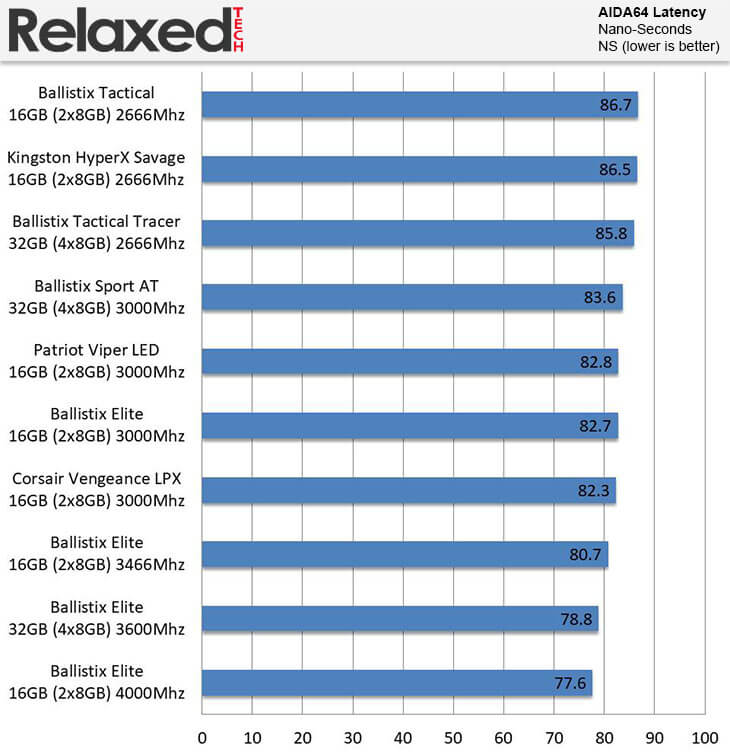 In this test we are using the AIDA64 to benchmark the memory latency which is done by measuring the delay when the CPU reads data from system memory.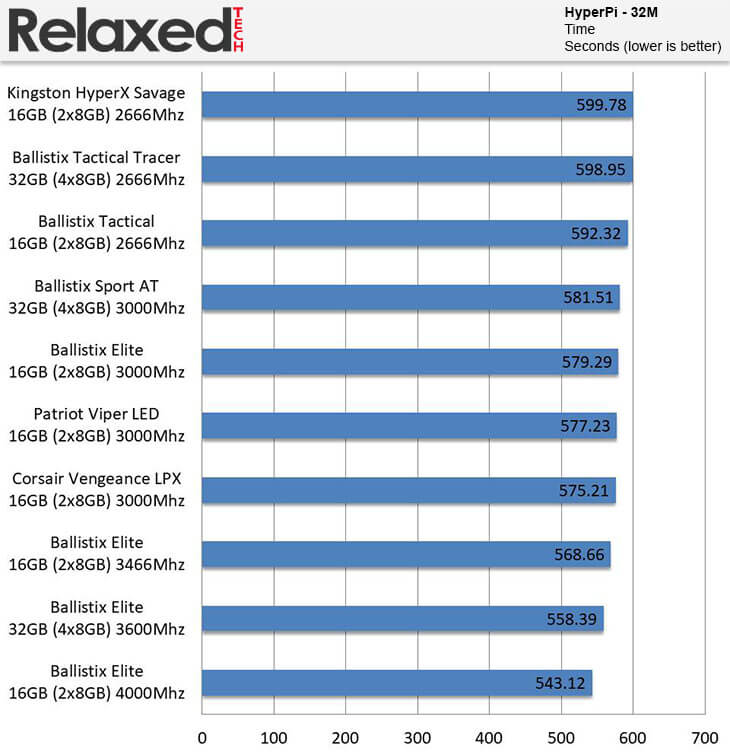 HyperPi 32M is a great utility that is used for checking memory stability by calculating the pi value for a given number of digits.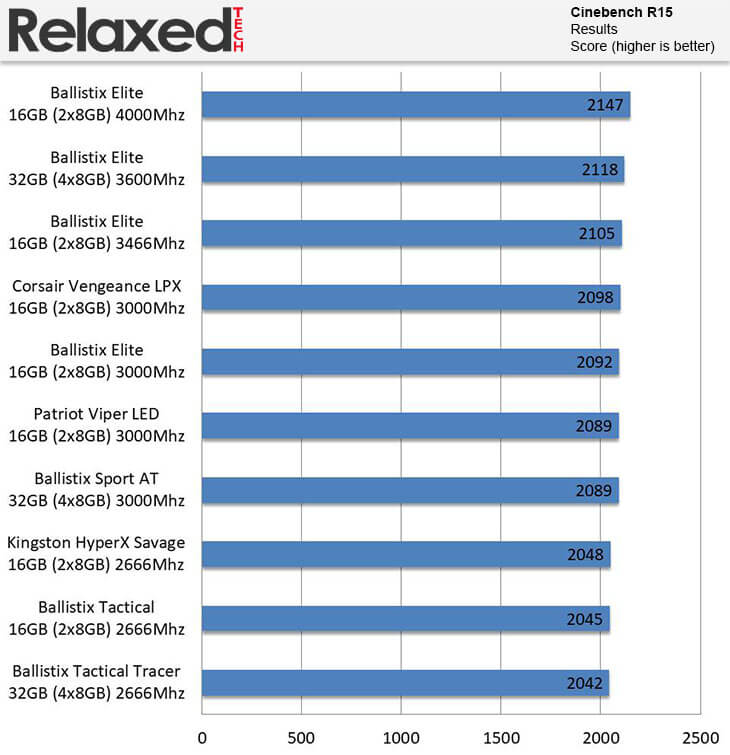 Cinebench is one of the most popular tools out there for benchmarking your CPU and graphics performance and testing system stability.



Battlefield 1 is one of my favorite games to use when benchmarking RAM because it scales very well with high memory frequency. At 1440p ultra settings, the Ballistix Elite 4000 MHz memory kit offered the highest FPS.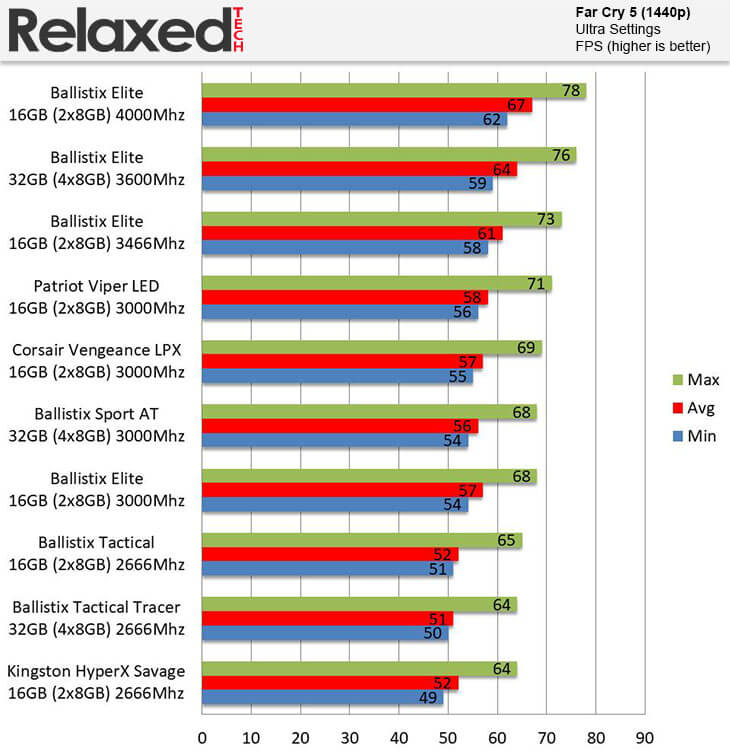 Far Cry 5 is another game that scales well with high memory frequency. At 1440p ultra settings, the Ballistix Elite 4000 MHz memory kit delivered the highest FPS.
Overclocking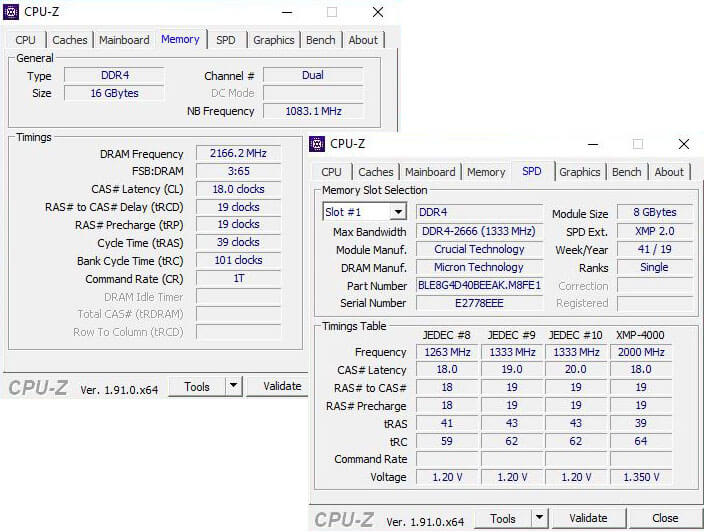 I was able to overclock this memory kit to 4333 MHz using 1.40 DRAM voltage and it was fully stable. DRAM timings were set to 18-19-19-39-1T and everything else in the BIOS was set to auto mode. RAM frequency is limited by the CPU IMC and AMD's Ryzen 3000 series CPUs feature an improved IMC so I'm sure you could get this kit to run higher than 4333 MHz with maybe a slight bump in the timings.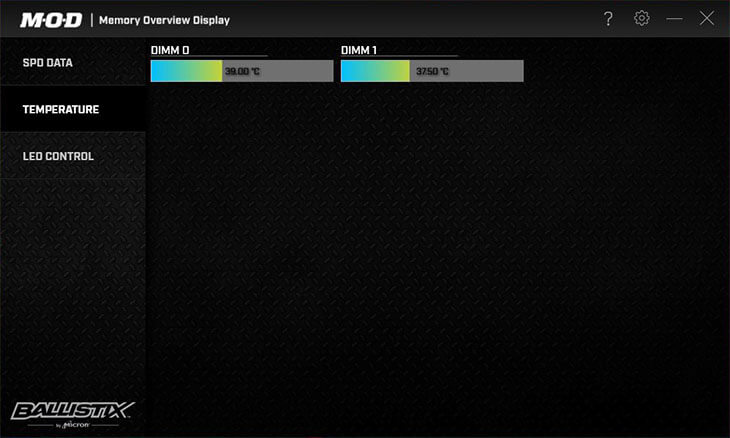 The Ballistix Mod Utility is quite useful if you are overclocking and want to check the temperatures. When I was running the memory at stock 4000 MHz 1.35v, the temperature was hovering around 37c and after overclocking it to 4333 MHz 1.40, I saw the temperature go up to 39c. The metal heatsinks do a good job of keeping the modules running cool.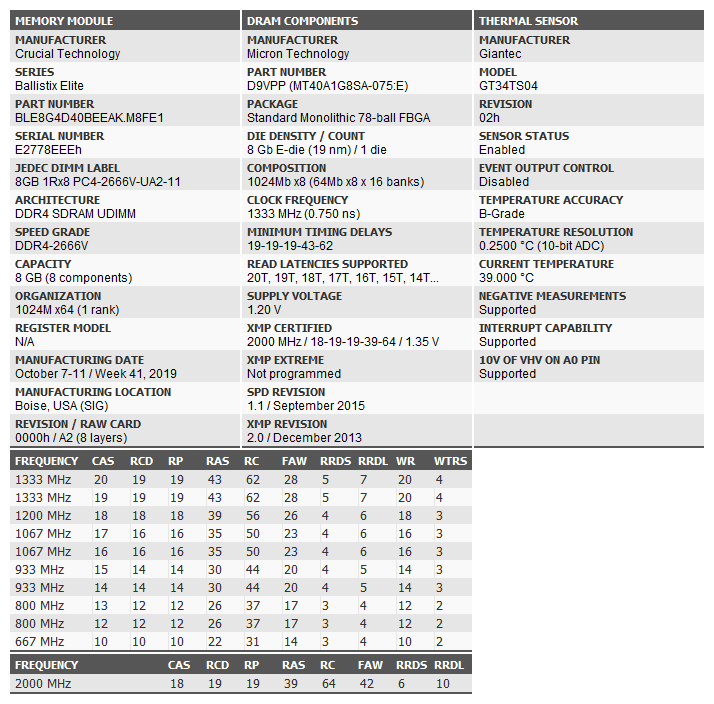 Thaiphoon Burner reports that the memory IC used here is the Micron E-die as expected. AMD's Ryzen CPUs work really well with Micron's E-Die and Samsung B-die RAM and Ryzen benefits from faster RAM because the speed of the Infinity Fabric connecting the 2 dies together runs at the speed of the memory. If you are using a Ryzen CPU, you want to get your RAM to 3200 MHz or higher for optimal performance.
Conclusion
The Ballistix Elite DDR4 4000 MHz 16GB (2x8GB) memory kit features an amazing build quality and the lack of RGB LEDs is a huge plus in my book. Its black and white minimalistic style gives it a sleek look which I really like. Most manufactures equip their memory modules with plastic housing which feels cheap but the Ballistix Elite feels premium thanks to its metal design. The metal heat spreaders are quite effective at keeping the memory nice and cool.
Performance-wise, the Ballistix Elite 4000 MHz performed excellent in all of the benchmarks. I was able to reach the advertised speeds with ease and it was fully stable. I managed to overclock it to 4333 MHz without touching the default timings which is amazing. If you are using a Ryzen 3000 CPU, you can easily push this memory kit to run higher than 4000 MHz.

Pros:
+ Good Build Quality
+ Great Performance
+ Excellent Packaging
+ High OC Potential
+ No RGB LED

Cons:
- Expensive

I must say that that the price will definitely push people away from purchasing this memory kit. Most of the 16GB (2x8GB) 4000 MHz kits out there are so much cheaper than the Ballistix Elite 4000 MHz 16GB kit. In some cases, the Ballistix Elite 4000 MHz can be up to $100 more expensive. If you are looking for a memory kit with great performance and top-notch build quality, we recommend the Ballistix Elite DDR4 4000 MHz 16GB (2x8GB) kit. Overall, I believe the Ballistix Elite DDR4 4000 MHz 16GB (2x8GB) memory kit deserves our Gold award.
Final Score 9.5