Introduction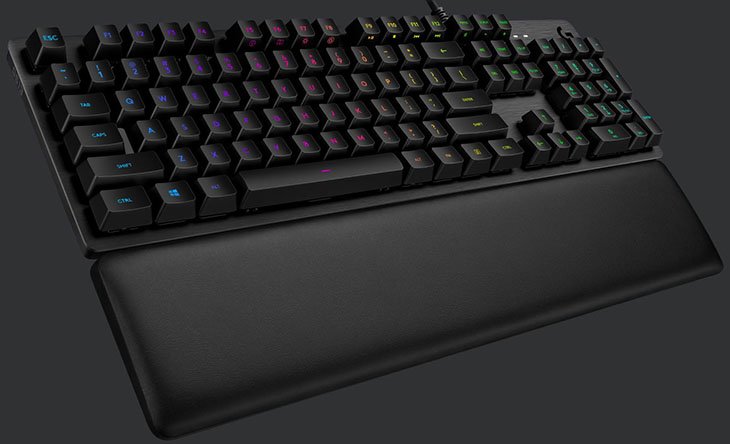 The PC gaming peripherals market is getting bigger every year and there's plenty of opportunities to make money in this market but finding the right gaming keyboard that has all the bells and whistles that gamers want in a market saturated with poor quality gaming keyboards is hard. Logitech is a company that needs no introduction and they are known for making some of the best keyboards and mice on the market. Today we will be reviewing the Logitech G513 which is the successor to the G413 that was released last year.
When we reviewed the Logitech G413, we found it to be one of the best mid-range budget gaming keyboards on the market but it lacked features such as a detachable palmrest which in my opinion is a must have if you are a gamer. With the G513, Logitech has made many improvements to the keyboard and I am happy to say that the new G513 is an almost perfect keyboard. Logitech's G513 is the first keyboard to utilize the Logitech G LightSync technology which lets you customize full spectrum color lighting per key which was not possible with the G413.
Logitech is selling the G513 in two distinct flavors, Carbon and Silver but Logitech also allows you to choose between three different type of switches: Romer-G Tacticle, Romer-G Linear and GX-Blue switches. The G513 Carbon features a nice anodized aluminum finish while the G513 Silver has a sleek classy and stunning look to it which I really like. As with the G413 Silver, the G513 Silver is also a Best Buy exclusive offering. Logitech has sent me two review samples of the G513, one is the G513 Carbon with the Romer-G Linear and the other is the G513 Silver with the Romer-G Tacticle.
The Romer-G Switch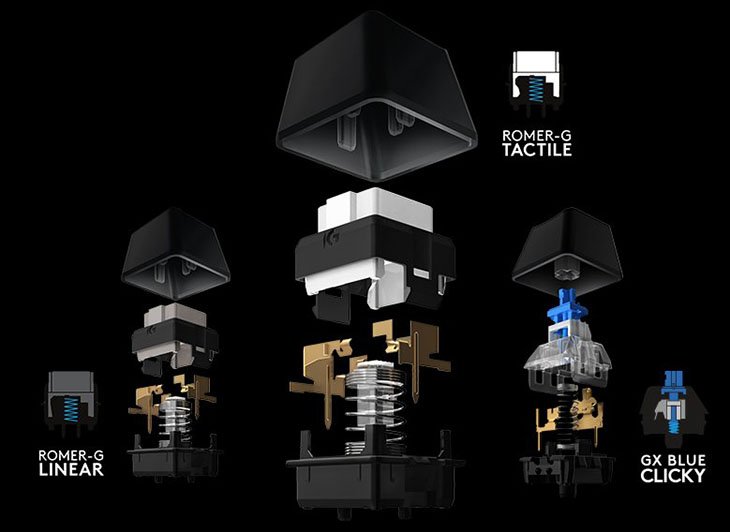 Logitech's Romer-G switch was developed in partnership with Omron. Logitech has designed the Romer-G to be a high performance mechanical gaming switch with faster and quieter actuation.
The Romer-G Tacticle provides a discernible tactile bump during actuation and it is not too loud or distracting. It is ideal for gamers who are into fast-paced gaming due to the short travel distance which plays a huge role in improving the rate of repeating keystrokes.
On the other hand we have the Romer-G Linear which provides a fluid and smooth keystroke and is great for double-taps, rapid keystrokes and uninterrupted half-presses. Similar to the Romer-G Tacticle, the Romer-G Linear is also perfect for gaming. The Romer-G linear was built upon the original Romer-G tactile and it removes the tactile point and further enhances the actuation speed.
Just like the traditional switches, the GX-Blue provides an audible and tactile feedback and is designed for those looking for a keyboard mainly for typing. GX-Blue uses a traditional mechanical key switch design which is identical to that of the Cherry MX Blue. The biggest difference between the Romer-G and GX-Blue switches is the actuation distance and travel distance.
Logitech Switch Specifications
Switch Type:
Romer-G Tactile
Romer-G Linear
GX-Blue
Feedback Type:
Discernible
Fluid & Smooth
Audible Click
Peak Force:
55g
55g
60g
Durability:
70 million
70 million
70 million
Debounce Time:
???
???
???
Total Travel Distance:
3.2 mm
3.2 mm
4.0 mm
Actuation Force:
45g
45g
50g
Actuation Distance:
1.5 mm
1.5 mm
1.9 mm
Reset point:
???
???
???
Keystroke Sound:
Quiet
Quiet
Loud
The Romer-G Linear switch feels similar to the Cherry-MX red switches so that means there won't be any tactile or audible feedback but the keystrokes are silky smooth and each key can be customized to 16.8 million colors using the Logitech Gaming Software. As far as the specs go, the Romer-G Tactile and Linear come with a 3.2mm travel distance, 1.5 mm actuation distance and a 55g actuation force and are guaranteed for 70 million key presses. Logitech also includes a switch puller that can be used to remove the keycap or remove the switch.

In terms of performance, the Romer-G Linear performs somewhat similar to the Cherry-MX Red but the Romer-G Linear feels faster due to having a lower actuation distance and travel distance. Compared to traditional mechanical switches that suffer from high actuation distance time, the Romer-G switches have a low actuation distance time, thus making them ideal for gamers by delivering much faster gameplay.
Pricing, Warranty & Features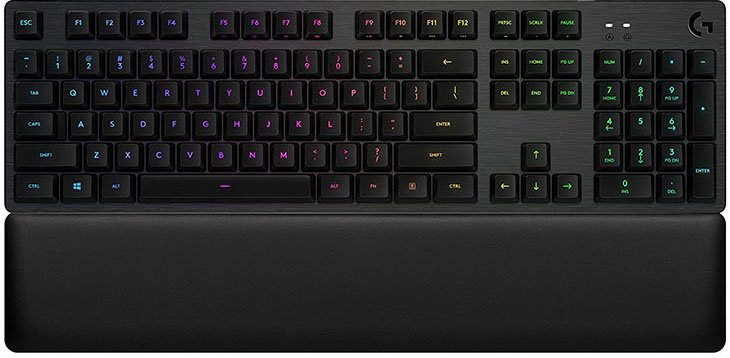 The keyboard itself is relatively lightweight and it has a detachable palmrest, USB passthrough port, RGB backlighting and a built-in cable management channels. Price-wise, the G513 with the Romer-G Tacticle or Linear retails for $149.99 on Amazon and comes with 2-years of warranty but the G513 with GX-Blue retails for $129.99 so if you are looking for a keyboard for typing, I would recommend you go with the GX-Blue and save yourself $20.
The G513 features 26-Key rollover which means every single keystroke gets registered, every single time, regardless of how many other keys are pressed simultaneously. The G513 weighs about 2.4 lbs without including the cable and it measures 17.5" (W) x 5.1" (L) x 1.4" (H). It comes with a 6 ft long cable that it is nicely braided and it is quite thick and durable. Braided cables offer extra durability and are very much preferred by gamers.

Looks-wise, the G513 sports a borderless design which means the keys will stick out over the platform. Some users might not like this because the key caps basically hover above the platform without any protection on the sides and dust can easily accumulate inside but at the same time this makes the keyboard much easier to clean and maintain.

Cable management is top-notch with the G513 and it offers two different cable pathways to allow users to clean up their desktop and set up their gaming gear in an organized manner. You can organize the mouse cable by looping through the "U" shaped loop while the main channel through the center of the board can be used for the headset cable to avoid having the cable go around the keyboard or through and under the desk.
Most budget keyboards are made out of plastic but the G513 is made with aircraft grade aluminum for a sturdy design. It does not feature a flashy look but rather a minimalistic look which I absolutely love. The G513 is lightweight and it feels quite durable when holding it in your hand. To help elevate the keyboard, there are rubber pads underneath the keyboard and also there are the single-step feet with a rubber base to help keep the keyboard in place.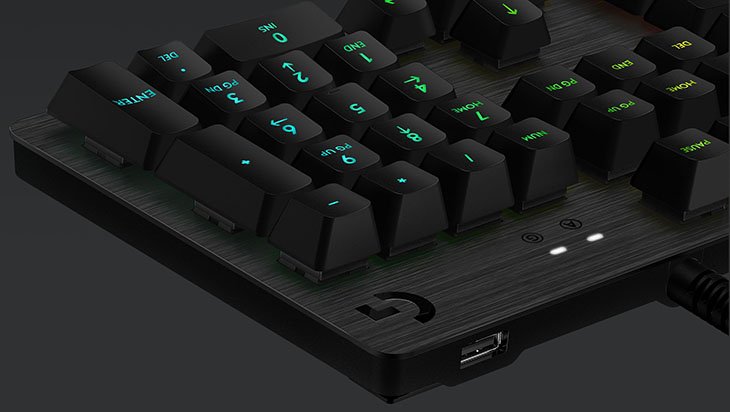 Logitech has integrated a dedicated USB passthrough in the G513 which can provide full power and data speed for any USB device. For those that don't know what a USB passthrough is, it's simply a USB port on the keyboard that you can use to connect a USB device to so you don't have to connect it from behind the computer case. This can be very useful if you want to charge your smartphone while playing a game or when browsing the web. What I don't like about the G513 is that it requires two USB ports, one for the keyboard and one for the USB passthrough.
At $150, you would expect the G513 to come with dedicated media controls but that's not the case here. Most gaming keyboards that retail for $100+ come with dedicated media controls that give you access to light effects, multi-media controls, and also have a dedicated volume/mute wheel. Since the G513 does not come with dedicated media keys, you can use the FN key to control volume, play and pause, mute, game mode, lighting, etc. The FN toggle feature in Logitech Gaming Software configures keys to perform media commands by default.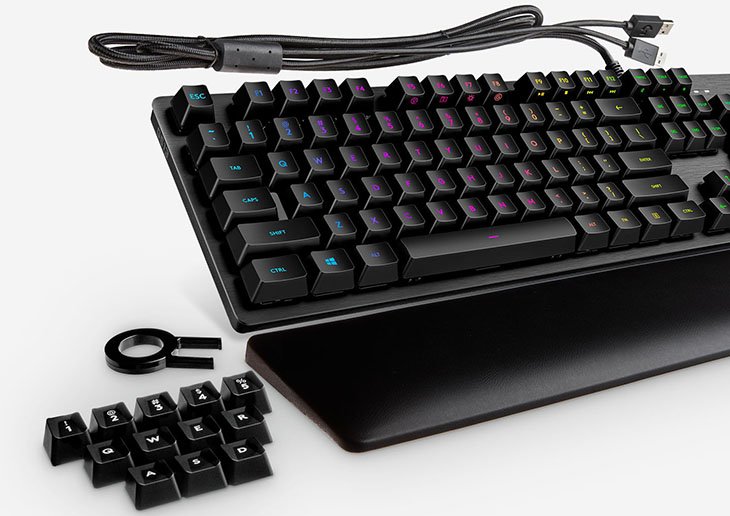 The Logitech G513 comes with standard smooth key caps designed for speed and a traditional feel. Most gamers are comfortable with smooth keycaps but Logitech also includes a 12 optional set of gaming keycaps with their faceted design for those players who prefer to get every edge they can. The best thing about the G513 is the memory foam palmrest which is soft and durable. It is waterproof and sweat resistant so it easily wipes clean. Logitech has placed six rubber feet underneath the palmrest to keep it firmly in place.
Specifications
Technical Specifications
Company:
Logitech
Model:
G513
Height:
1.4" (34mm)
Width:
17.5" (445mm)
Length:
5.1" (132mm)
Weight w/o cable:
39.0oz (1105g)
Cable Length:
6 ft (1.8 m)
Switches:
Romer-G (Tactile)
Durability:
70 million keypresses
Actuation distance:
1.5 mm
Actuation force::
45 g
Peak force:
55g
Total travel distance:
3.0 mm
Connection Type:
USB Type A (corded)
USB Protocol:
USB 2.0
USB Speed:
Full Speed
Indicator LIghts (LED):
2
USB Ports (Built-in):
1, USB 2.0
Backlighting:
Yes
Backlight Toggle:
FN + F7
Game Mode:
FN + F8
Media Controls:
FN + F9/F10/F11/F12
Announced:
March 15 2018
Performance
Gaming performance was tested by playing Battlefield 1 for a few hours. The G513 Tacticle and Linear offer great gaming performance and the keyboard itself is very comfortable to use. Its sturdy design can withstand forceful tapping with no problems which is very nice. The Romer-G Tacticle and Linear feel pretty identical but I will say that the Romer-G Linear does feel slightly faster. Overall, the Romer-G switches are responsive and relatively silent compared to traditional mechanical switches and they should also last much longer as they're rated for 70 million actuations.
Logitech Gaming Software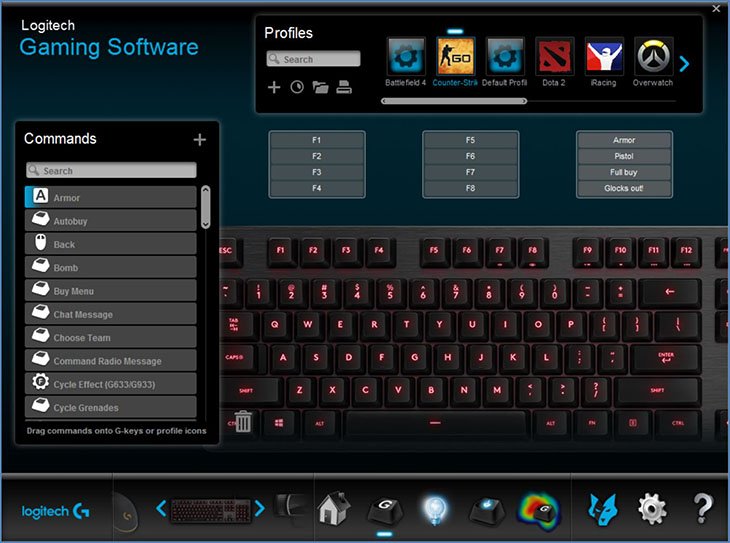 Setting up the G513 for customization and personalization with the Logitech Gaming Software is pretty straight forward. The Logitech Gaming Software can be used for managing all Logitech accessories, such as mice, keyboards, and headsets. It allows you to customize things such as lighting effects, per app profiling and other tools to perfect your personal experience. Logitech's Gaming Software has a nice modern look and feel which I really like. We are using the latest version of the which at the time of writing this review is 9.02.61 and it is about 120MB.
You can set up per-game profiles to automatically adjust certain aspects of the G513 when you launch an application. To enable per-profile settings, simply click the radio button on the tab you want to apply. Users can dial in their settings to get the perfect experience while gaming.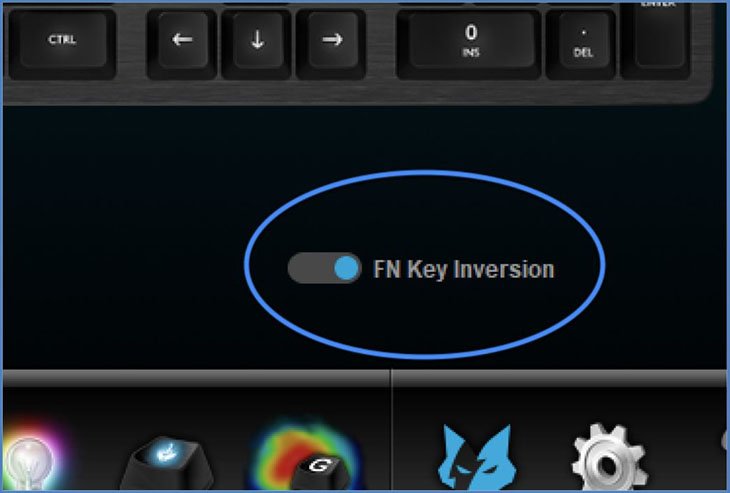 You can use the 'Custom Function Keys' to assign any custom function to the Function 1-12 keys on the G513 keyboard. Using the powerful macro and scripting features built into the Command Editor, you can basically create an unlimited amount of customization with Custom Function Keys and you can even save and export the profiles you create to share with other people. Logitech Gaming software also allows you to invert the FN keys which means you can use the volume up/down/mute without using the FN key.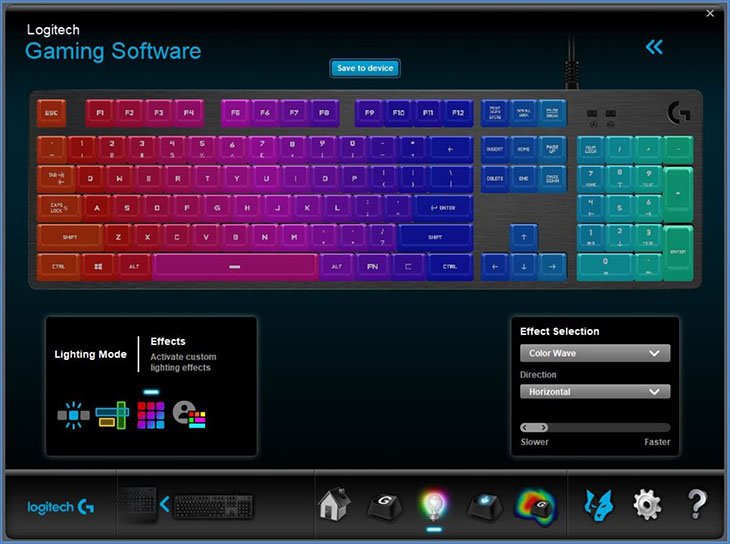 You can personalize things such as key bindings, illumination, or settings. In the above screenshot, you can spend some time customizing different kinds of lighting configurations. After you pick the lighting effect, you can then experiment with the color selection, brightness, speed, and direction. There are plenty of different lighting effects options to choose from such as static, breathing, wave, rippling, etc.
Conclusion
Logitech's G513 is an excellent gaming keyboard thanks to the Romer-G switches and its sleek and minimalistic design is what I love the most about this keyboard. If gaming is your primary goal, I would go with the Romer-G Linear because it offers smooth linear keystrokes and delivers a low actuation distance which makes it perfect for gaming. GX-Blue switches on the other hand would be ideal for typing so I would go with that if typing is what you will be doing most of the time.
The Romer-G switches have a higher lifespan over traditional mechanical switches and they sport a great build quality. Logitech's Romer-G switches are durable and perform exactly as advertised. I also love the Logitech G LightSync technology which allows to customize individual keys to have its own RGB lighting. Logitech includes 12 optional keycaps which are great for customizing the keyboard. The keycaps themselves are not prone to fading or losing their texture which is nice.
Two things that I don't like about the G513 are that it requires two USB ports in order to utilize the USB passthrough and that it lacks dedicated media keys. At $150, the G513 is quite expensive and there are plenty of mechanical keyboards out there that cost less and come with features such as dedicated media keys. If Logitech decides to make another revision to the G513 in the future, they should definitely consider including dedicated media keys.

Pros:
+ Sleek Design
+ USB Passthrough
+ Detachable Palmrest
+ Braided Cable
+ Per Key RGB Lighting
+ Logitech Gaming Software
+ Fantastic Switches
+ Keycap Puller

Cons:
- Lacking Dedicated Media Keys
- Requires Two USB Ports

Other than that, the G513 is an amazing keyboard for gamers who are looking for a truly high-end gaming keyboard with a sturdy build quality and a sleek design. If you are looking to buy a fantastic mechanical gaming keyboard with a ton of attractive features, you simply cannot go wrong with the Logitech G513. Overall, I believe the Logitech G513 keyboard deserves our gold award.
Final Score 9.4