Introduction

When most people build a gaming system, usually most of their money goes to buying a powerful video card and processor and spending as little as possible on a power supply. It makes sense to spend most of your money on a video card and processor because those two components have a big impact on your gaming experience but what most people forget, is that the power supply is one of the most important component in a PC. Cutting corners when purchasing a power supply can prove fatal for your system and you must make sure you purchase a quality power supply from a reputable company.
The problem is that many people have no idea which power supply to use in their system and they simply end up buying some random power supply they find on websites such as Amazon and Newegg. There are three major things you have to look for when shopping for a power supply: power output, efficiency and manufacturer. There are a very large number of cheap, no-name power supply products out there and many of which should be avoided at all costs. A no-name power supply can take down other components in your system and it's often more expensive to buy the cheapest unit because of the increase in electricity cost in the long run. A higher quality power supply will typically be more efficient and pay for the difference in price over time.
SilverStone is not just known in the industry for making great computer cases but also for making high quality reliable power supplies. The SilverStone power supply line are comprised of the Strider, SFX, Nightjar, Gemini and Zeus model lines. I interviewed Tony Ou, SilverStone's marketing manager, a few months ago and asked him some questions about computer cases, power supplies and other upcoming products from SilverStone. Head over here if you are interested in reading my interview with Tony Ou.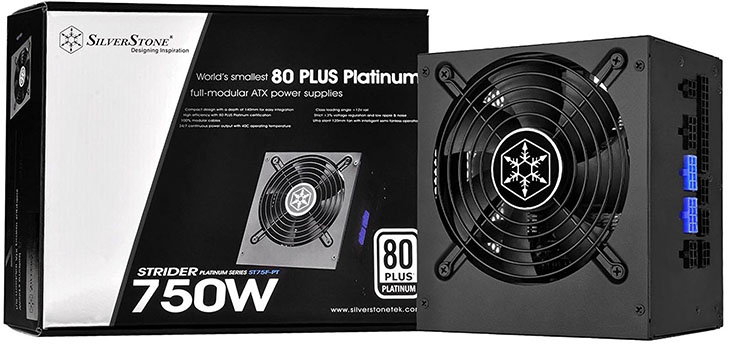 Today we are going to look at the SilverStone Strider Platinum ST75F-PT power supply that retails for $154.99 and comes with 5 years of warranty. SilverStone displayed the ST75F-PT at CES at the beginning of 2016 and it received a lot of positive attention. The Strider Platinum line ranges in capacity from 550W all the way up to 1200W. The ST75F-PT is a 80+ Platinum certified PSU, fully modular and comes in a compact design that delivers 415W per litre. It has a silent 120mm fan with intelligent operation with the ability to run in fanless mode and comes bundled with flat black cables. The fan in the power supply turns off for silent operation during idle or low powered activities if the loading condition is below 20%. The first thing you will notice about the PSU is Silverstone's logo in the middle of the rounded wire grill.
Another feature include ±3% regulation, powerful single +12V rail, 24/7 continuous power output, and multiple PCI-E cables. SilverStone has designed the ST75F-PT for those looking to build efficient systems in small footprints. The ST75F-PT has a 40 Celsius max temperature rating. Some of the high quality PSUs are rated for 50 Celsius intake temperature but that doesn't mean the ST75F-PT won't operate above 40 Celsius, it's just that the fan profile is optimized for temperatures under 40 Celsius. The 50 Celsius rating is a pretty difficult standard to meet and the majority of the PSUs out there are rated for 40 Celsius.
Looking at the power specifications below, the single +12V rail can deliver up to 62.5A, so it's got plenty of power to handle a couple of high-end video cards. In case you are wondering, power supplies with multiple +12V rails are infact just a single +12V rail split up each with a limited output capacity. Splitting up a single +12V rail into multiple rails is done for safety reasons. It's safer to limit the current through multiple rails so that each wire can carry a limited load without getting too hot than to have one single +12V rail. Both single and multiple rails have their advantages and disadvantages. The biggest advantage a single rail PSU has over a multiple rails PSU is that you don't have to worry about which rails are connected and most single rail PSUs are of higher quality. But this is also a big disadvantage when it comes to fault tolerance and safety.
Specifications
SilverStone ST75F-PT Specifications
Manufacture:
SilverStone
Model:
SST-ST75F-PT
Max. DC Output:
750W
Power Density:
415W per liter
Load Range
+3.3V
+5V
+12V
+5VSB
-12V
Max.(Amps):
22A
22A
62.5A
3.0A
0.3A
Peak (Amps):
/
/
/
/
/
Min.(Amps):
0A
0.2A
0A
0A
0A
Range (%):
±3%
±3%
±3%
±5%
±10%
Line Reg.(%):
±1%
±1%
±1%
±1%
±1%
Ripple(mVp-p):
50mV
50mV
120mV
50mV
120mV
Color:
Black(Lead-Free Paint)
Combined +3.3, +5V:
120mm
Combined +12V:
750W
Input Voltage:
90V~264V
Input Frequency Range:
47Hz~63Hz
PFC:
Active PFC(PF>0.9 at full load)
Efficiency:
89%~92% at 20%~100% loading
MTBF:
100,000 hours
Operating temperature:
0°C ~ 40°C
Protection:
Over current protection
Over power protection
Over voltage protection
Under voltage protection
Over temperature protection
Short circuit protection
Connectors:
1 x 24 / 20-Pin motherboard connector(550mm)
1 x 8 / 4-Pin EPS / ATX 12V connector(750mm)
4 x 8 / 6-Pin PCIE connector("550mm / 150mm"x2)
8 x SATA connector("600mm / 150mm / 150mm /150mm"x2)
6 x 4-Pin Peripheral connector("600mm / 150mm / 150mm"x2)
2 x 4-Pin Floppy connector("600mm / 150mm / 150mm / 150mm"x2)
Cooling System:
Single 120mm silent fan
Noise Level:
0 ~ 28 dBA
Dimension:
150 mm (W) x 86 mm (H) x 140 mm (D)
Weight:
2.25 kg
Form factor:
ATX
Certification:
80 PLUS Platinum
Other:
GPU Support list
Compatible with ATX12V v2.4
Packaging

The PSU comes in a simple but elegant box and on the front we see that the ST75F-PT is world's smallest 80 plus platinum. On the back, you will see a couple of graphs illustrating the features of the PSU such as the efficiency, size difference between a regular PSU. Since this PSU features a compact design, it makes it ideal choice for enthusiasts with compact cases. The dimensions are 150mm in width, 86mm tall and 140mm deep and weighs 2.25 kg.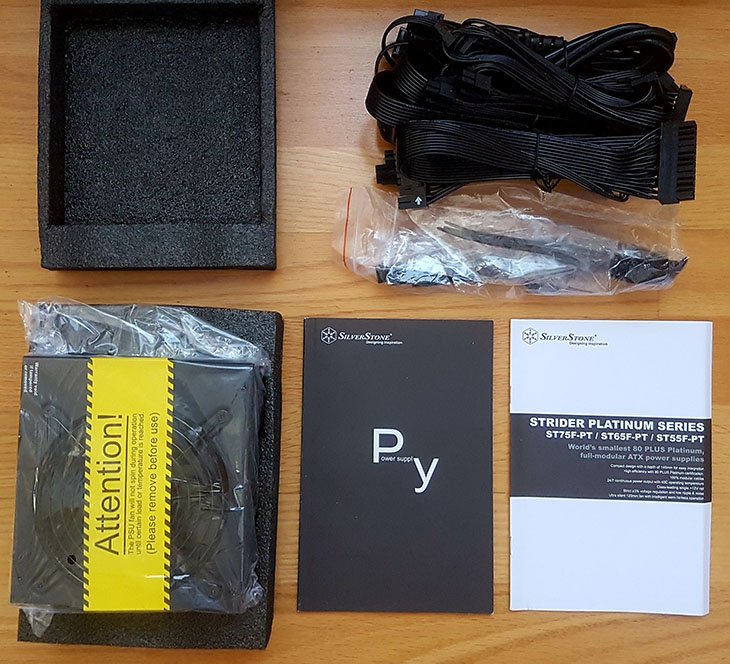 SilverStone's packaging has always been very good and this time it's no exception. We can see that the ST75F-PT is protected by two high density foams as shock absorbent and plastic wrapping to prevent any accidental damages during shipping. SilverStone has put a yellow tape around the PSU that says the fan will not spin during operation until certain load or temperature is reached. The ST75F-PT features a nice clean, flat black paint job that's really attractive. There's a void sticker on one of the corners of the PSU and tampering with the PSU of course voids the warranty.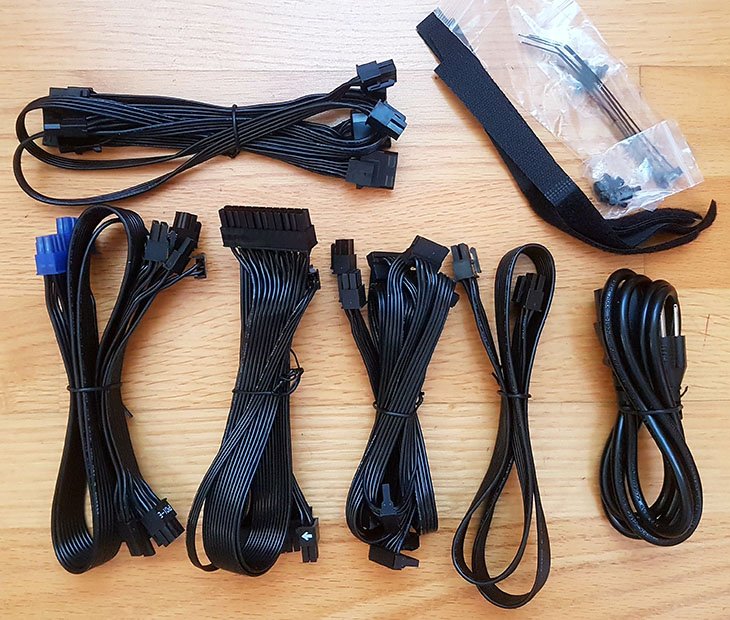 The accessories included are Velcro straps, two sets of bolts, a couple of zip ties, an AC power cord and two manuals. The manuals have all the information that you need to know about the power supply. The black manual has basically information on how to set up your power supply in all the languages and it's pretty generic. The white manual on the other hand is where all the interesting information is about the PSU and it tells you everything you need to know about the PSU. It's perfect if you want to learn how PSUs work and how to troubleshoot them and it will make you a more informed enthusiast user.
All cables are flat and are of plenty ample length and feel high quality in hand. Flat cables have much greater flexibility to allow for tighter folding and management of cables. This PSU is compatible with SilverStone's PP05 which can be used to reduce cable clutter in smaller cases and all cables are wrapped in super flexible mesh. I strongly recommend the PP05 kit if you are going to be building a small form factor computer so you won't have to deal with the added clutter of long cables.
Internal Design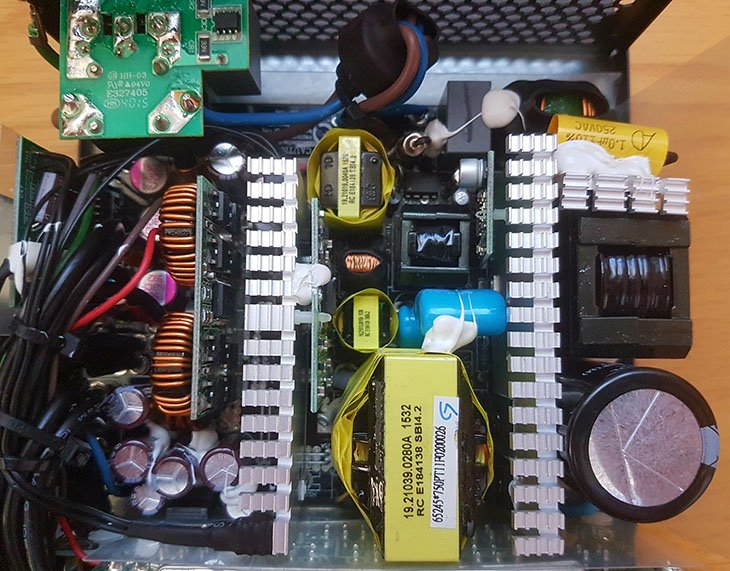 The overall build quality of the ST75F-PT is high quality. The OEM that makes the ST75F-PT is Sirfa/High Power which also makes some of SilverStone's other Strider Platinum PSU models and Strider Gold series. The first thing you will notice once you open it up are the three heatsinks that dissipate the heat from primary and secondary side and the smaller heatsink that dissipates heat from the single bridge rectifier. The integration and soldering is excellent despite using a single layer PCB design. You can see that the fan is attached onto the front of the heatsink using a temperature probe to sense temperature.
The ST75F-PT uses some Teapo capacitors and some Nippon Chemi Con capacitors. Japanese manufacturers such as the Nippon Chemi Con are high quality and have a reputation for excellent quality control. Japanese capacitors are also said to use a refined electrolyte with better sealing capacity that are more resilient to higher temperatures. The Teapo capacitors on the other hand are very common in power supplies but they are not quite as reliable or reputable as the Japanese brands. The main capacitor is provided by Nippon Chemi Con and is a Rubycon MXG 400v 560uF electrolytic rated at 400v 560uF 105C.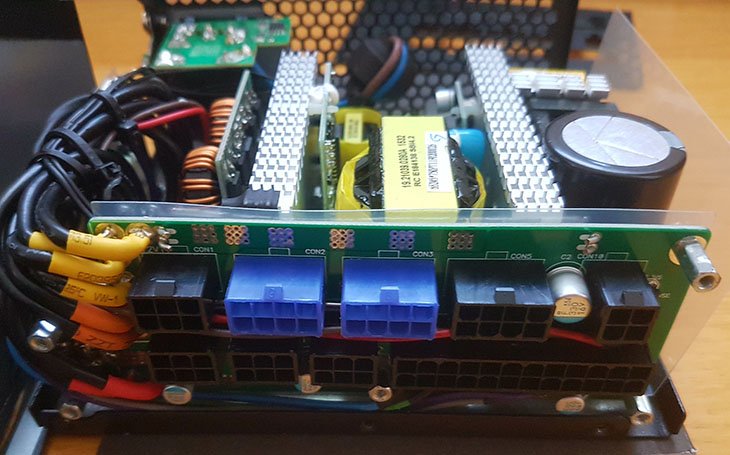 The primary side uses half-bridge topology and LLC resonant converter while the secondary side uses synchronous rectification and DC-to-DC converters. If you look at the picture above, you will see that there's a small PCB where the AC receptacle and power switch are installed which also holds the first part of the EMI suppression filter. All the wires are color-coded so it is easy to take everything apart and re-house if needed. Looking at the front side of the modular PCB, you will see four Chemi-Con polymer caps that provide extra ripple filtering.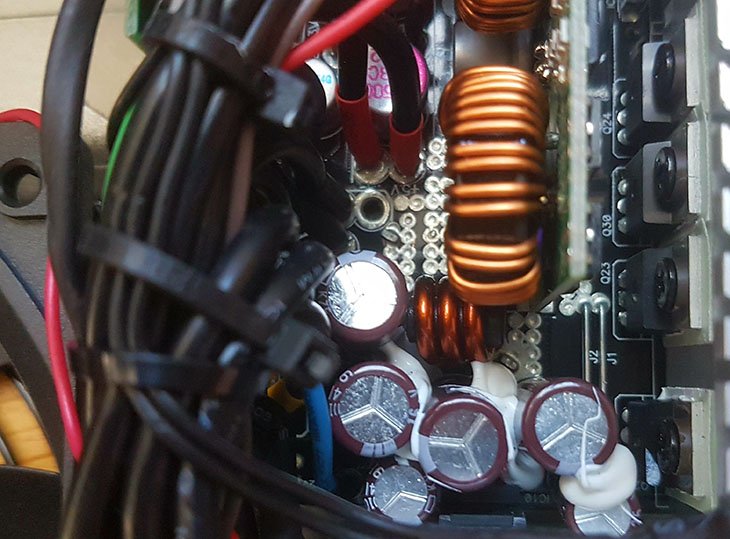 The +12V rail's filtering is handled by several Chemi-Con electrolytic caps along with few Teapo and Chemi-Con polymer caps. Looking at the back of the power supply, we can see that the connectivity is fairly standard. The back panel is removable and it makes the disassembly job a lot easier. Below the sockets, there's a basic guide as to what each socket is for. We have the main 24-pin socket, 4x 6-pin Molex and SATA power connectors, two blue 8-pin (6+2pin) connectors are the PCIE power connectors for your video card(s), a single motherboard 8-pin power socket and there's a random 4-pin socket that that's used to feed information back to the PSU regarding the voltages being supplied.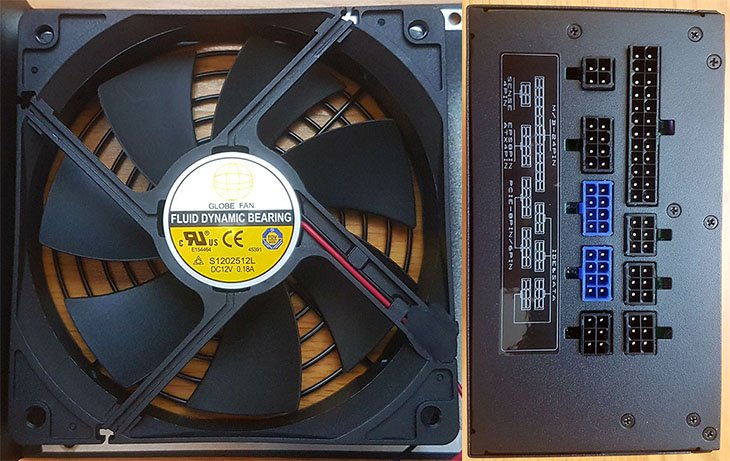 The Strider Platinum 750W comes with a 120mm fan with a max 1500 RPM rated at 0.18A at 12v. The fan is mounted offset towards the left side and it doesn't spin while the PSU is at less than 20 percent load and it is attached via a 2-pin connector header. The built-in 120mm fan uses fluid dynamic bearings and has excellent airflow and low noise. The fan remains under 1000RPM under most operations so it's perfect if want to build a quiet gaming computer or a quiet home office computer.
Test Methodology
Test Setup
Processor:
Intel i7 3770K @ 4.4GHz 1.24v
Motherboard:
Asus Maximus V Gene
RAM:
Kingston HyperX 8GB
Graphics Card:
Sapphire R9 390X
Storage:
Samsung 840 Pro 256GB
Power Supply:
SilverStone ST75F-PT
Heatsink:
Noctua NH-U14S
OS:
Windows 8.1 64Bit
Thermal Compound:
Noctua NT-H1
Case:
SilverStone PM01
Since I don't have a proper power supply tester, I am going to focus on testing just the fan noise. But I can comfortably say that this little beast easily powered the computer that you see above without any issues and it did so while being much quieter than any PSU I have tested before. I used AIDA64 to stress test the computer to its absolute limit and keep in mind that my i7-3770K is overclocked to 4.4Ghz and I'm also using an R9 390X which is power hungry. I'm very impressed by the quality of this PSU and how silent it is even under stress. Now let's move on to the fan noise results.
Noise Levels In dBA
Lawn Mower:
90 dBA
Vacuum Cleaner:
80 dBA
City Traffic:
75 dBA
Conversation:
65 dBA
Air Conditioning:
60 dBA
Floor Fan:
50 dBA
Electric Hum:
45 dBA
Refrigerator Hum:
40 dBA
Rustling Leaves:
30 dBA
Pin Falling:
15 dBA
Just Audible:
10 dBA
Threshold of Hearing:
0 dBA
All of the testing is done with an ambient temperature of ~19C. Sound pressure level readings were measured 10cm away from the PSU and the ambient noise level is ~26 dBA. Fan noise will be measured in three load levels: low, medium and high load. Fan noise in low load will be measured after leaving the computer idle for 10 minutes at the desktop screen. Fan noise in medium load will be measured after playing GTA V on max settings for 10 minutes. Fan noise in high load will be measured after stress testing the computer with AIDA64 for 10 minutes.
Results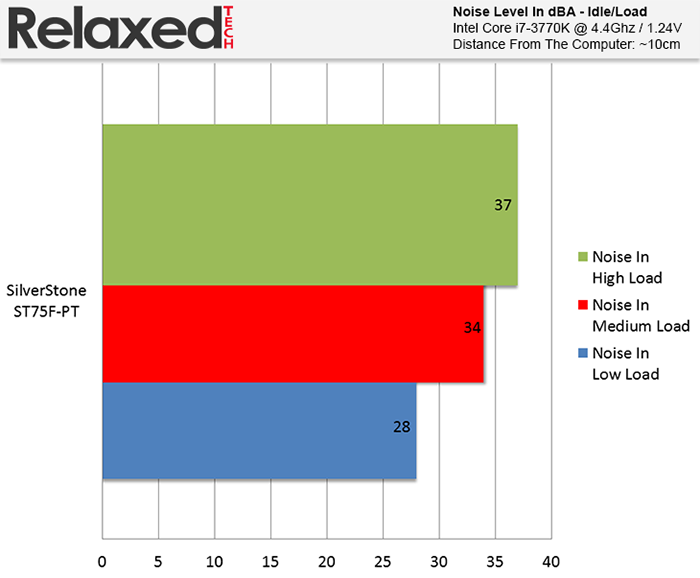 The ST75F-PT was very quiet in low and medium load. During low load, the fan doesn't spin so it's silent and during medium load, the fan is still quiet. Once the fan started spinning, it remained relatively quiet. During high load, the fan is noticeable but not very noisy.
Conclusion
The ST75F-PT has everything you can ask for in an enthusiast PSU and then some. The compact design which measures only 140mm is amazing for a 750W ATX PSU and it's also fully modular. It features an ultra silent 120mm fan with intelligent semi-fanless operation and it has a clean and elegant build quality that has ample power to drive a high end gaming computer with no problem. The trend for small form factor computers has been increasing over the years and as hardware components continue to advance toward more efficient and smaller designs, SilverStone is helping to drive the efficiency movement by releasing the Strider Platinum series of power supplies.
According to SilverStone, the ST75F-PT is the smallest fully modular ATX power supply with 80 plus platinum efficiency. If the loading condition is below 20% during idle, the fan in the power supply can remain off for silent operation. For those looking to build highly efficient systems in small footprints, the ST75F-PT is definitely one of the best PSUs you can buy at the moment. The 120mm fan does a good job at keeping the PSU nice and quiet which is great for quiet home or office use.
The ST75F-PT retails for $154.99 on Amazon which isn't cheap by any means but it's to be expected from a high quality product such as this. The build quality of the SilverStone ST75F-PT is very good. The aesthetics of this unit are nice and simple. The interior design of the SilverStone ST75F-PT is very modern and the integration is very good for a single layer PCB design. The 5 year warranty is great and SilverStone has a good customer service.
Pros:
+ Quality Internal Design
+ Extremely Quiet
+ Fully modular
+ 5 Year Warranty
+ High Efficiency
+ Compact Design
+ Aesthetic

Cons:
- Price

SilverStone has done a fantastic with the ST75F-PT and the compact design, high efficiency and high build quality make this a top notch PSU. This is a great PSU and the high price means it only makes the most sense for high-end, small form factor builds. Overall, the SilverStone ST75F-PT easily deserves our gold award.
Final Score 9.0