Introduction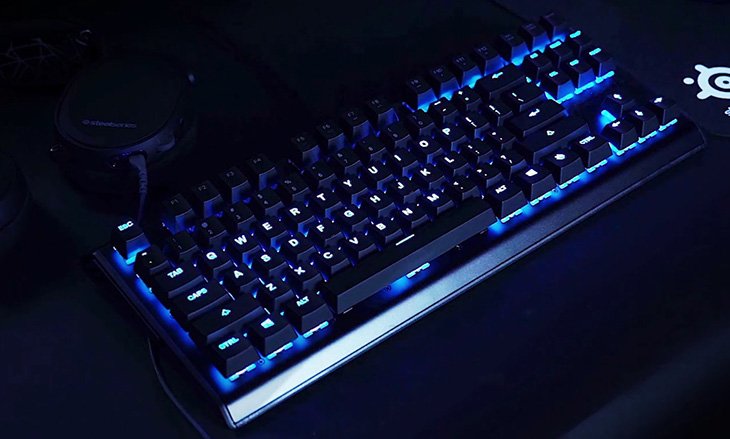 There is no doubt that Tenkeyless keyboards are becoming very popular among PC users and gamers. Most games don't utilize the number pad which is why most gamers love the compact design of the Tenkeyless keyboards. There are plenty of TKL gaming keyboards out there but finding the right one in a market saturated with poor quality gaming keyboards is hard. SteelSeries launched the Apex M750 TKL last year and they have sent us a review sample of the Apex M750 TKL which is the little brother of the SteelSeries Apex M750.
The SteelSeries Apex M750 TKL features a modern design with an aluminum alloy build quality and comes with SteelSeries's third generation QX2 linear switches which are similar to the Cherry-MX mechanical switches. SteelSeries's Apex M750 TKL comes with per-key RGB lighting customization and features 100% anti-ghosting and full N-Key rollover ensuring that every single keystroke gets registered.
SteelSeries has updated their Engine software with new features and customizations. The SteelSeries Engine software allows you to dynamically create lighting effects in just a few clicks and it is now integrated with the Discord chat application which can be used to give real-time chat notifications.
The QX2 Linear Switch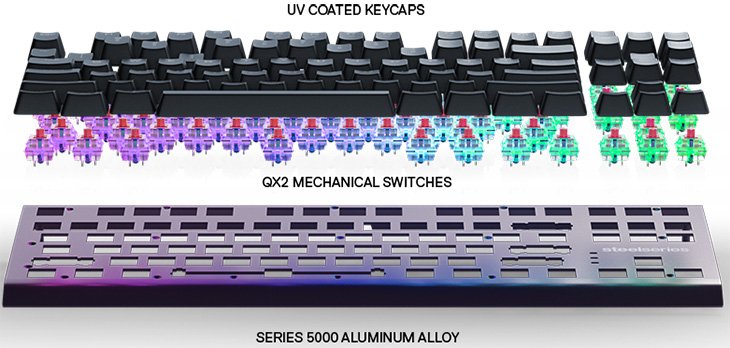 SteelSeries's QX2 switches were developed in partnership with Gateron which is a Chinese manufacturer known for making great switches. The QX2 linear switches are a modified version of the Gateron Red switches which are basically very similar to Cherry MX Red switches. SteelSeries has made the switches with copper click leafs, clear casings and softer plastic stems to deliver nice and smooth operation. The keycaps have a nice UV coating on them which is great because UV coated keys handle wear better than regular ABS keys.
The SteelSeries QX2 linear switches behave very similarly to the Cherry-MX red switches so that means there won't be any tactile or audible feedback but the keystrokes are silky smooth and each key can be customized to 16.8 million colors using the SteelSeries Engine software. As far as the specs go, the QX2 linear switches come with a 4mm travel distance, 2mm actuation point and a 45g actuation force and it is guaranteed for 50 million key presses.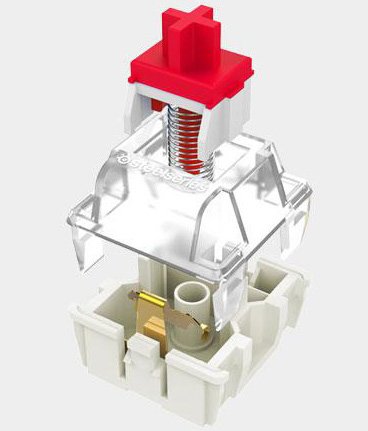 In terms of performance, the QX2 linear switches offer similar performance to the Cherry-MX Red switches with the actuation distance (2mm) and travel distance (4mm) being the same and also with the same rating for actuation force, 45G for the QX2 linear and 45G for the Cherry-MX Red. I was not able to find out the debounce time and reset point of the QX2 linear switches but they should be similar to the Cherry-MX Red.
Switch Specifications
Switch Type:
SteelSeries QX2
Cherry-MX Red
Peak Force:
45 cN – Linear
45 cN – Linear
Switch Life:
50 million
50 million
Debounce Time:
?
5ms
Tactile feedback:
No
No
Audible feedback:
No
No
Travel Distance:
4mm
4mm
Actuation Distance:
2mm
2mm
Reset point:
?
1.9mm
Keycap stem:
MX (cross)
MX (cross)
Something else that you might notice about the keycap stem in the SteelSeries QX2 linear switches is that they are compatible with the Cherry-MX stem. This means you can use the stem of any Cherry MX key caps with the QX2 switches and everything will fit perfectly.
Pricing, Warranty & Features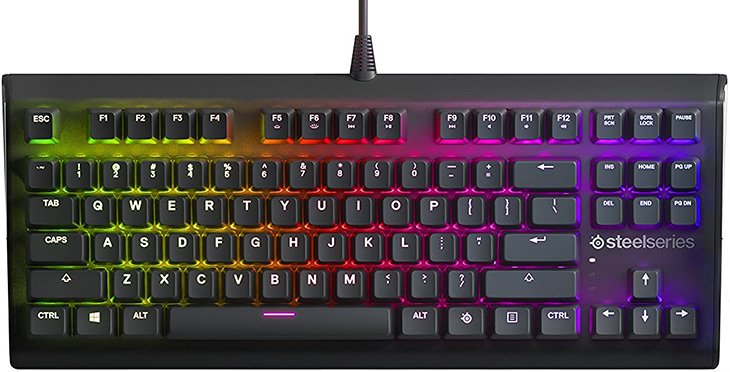 Price-wise, the Apex M750 TKL keyboard retails for $129.99 on Amazon and comes with 1-year of warranty. It features full N-Key rollover which means every single keystroke gets registered, every single time, regardless of how many other keys are pressed simultaneously. The Apex M750 TKL weighs about 1.9 lbs including the cable and it measures 160 mm x 370 mm x 35 mm inches (H x W x D). The cable itself is 6.5 ft long and unfortunately, it is not braided which is a disappointment because braided cables offer extra durability and are very much preferred by gamers.
At $130, you would expect the Apex M750 TKL to come with features such as dedicated media controls and wrist rest pad but that's not the case here. Besides lacking a braided cable, the Apex M750 TKL also lacks dedicated media controls and a wrist rest pad. Most gaming keyboards that retail for $100+ come with braided cable, and also feature dedicated media controls that give you access to light effects and multi-media controls.
A dedicated USB 2.0 passthrough is another feature that I would have liked to have seen in Apex M750 TKL. If you don't know what a USB passthrough is, it's simply a USB port on the keyboard that you can use to connect a USB device to so you don't have to connect it from behind the computer case. This can be very useful if you want to charge your smartphone while playing a game or when browsing the web. This is not a big deal but it's something that most high-priced keyboards have.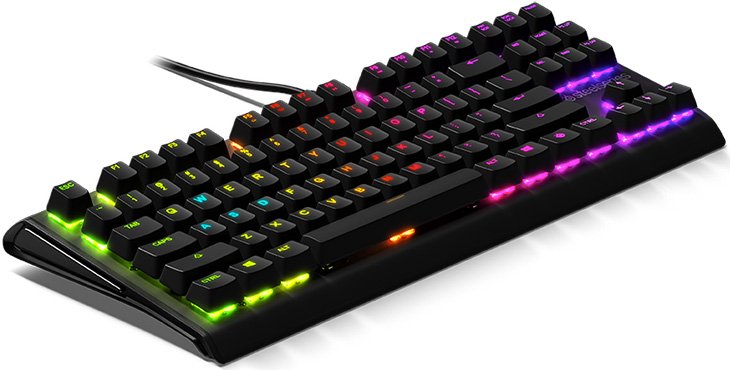 The key caps in the Apex M750 TKL feature a bold font which looks amazing when the RGB light shines through and since they are UV coated, they are more durable than normal ABS keycaps and also the texture feels much smoother than ABS keycaps. You will notice that the keycaps in the Apex M750 TKL are exposed which makes them easy to remove, exchange and also clean them but at the same time it's easy for dirt and dust to gather inside the keyboard.
While exposed keycaps give the keyboard a modern look to it, some people do not like the look of it because of RGB lighting flowing through the case which is also known as light leakage. With that being said, the Apex M750 TKL does suffer quite a bit from light leakage which might bother some people. Exposed keycaps are not for everyone and I know many people that prefer their keys to be boxed in simply because they can't stand the light leakage. But I think once you start using a keyboard with exposed keycaps, you get used to it very quickly.

Design-wise, the Apex M750 TKL features a sleek and minimalistic look which I really like. SteelSeries has built the Apex M750 TKL with an aluminum alloy material which means it is very lightweight compared to most mechanical keyboards and it feels quite sturdy when holding it. The finish on the keyboard is fingerprint resistant which is also very nice. To help elevate the keyboard, there are two removable rubber feet on the bottom.

One thing I want to mention about the QX2 linear switches is that they are not necessarily designed for typing, and while they are an improvement over the regular membrane switches, you should probably look elsewhere if you are an avid typist. The QX2 linear switches are great for gaming but the short travel distances and fast actuation makes it difficult to use this keyboard for everyday tasks.
Specifications
Technical Specifications
Company:
SteelSeries
Model:
M750 TKL
N-Key Roll Over:
104-Key (All)
Anti-Ghosting:
100% (Full)
Illumination:
Individually controllable per-key RGB
including whole-keyboard patterns and reactive typing effects
Programmability:
Fully Programmable with Key Rebinds
Key Press Macros
Text Based Macros
Height:
160 mm
Width:
370 mm
Depth:
35 mm
Top Material:
5000 Series Aluminum Alloy, Matte Black Finish
Weight:
1.9 lbs
Cable Length:
2 m, 6.5 ft
Switches:
QX2 Linear RGB Switch
Durability:
50 Million Keypresses
Actuation Point:
2 mm
Total Travel:
4 mm
Force:
45cN
OS:
Windows and Mac OS X
Box Content:
Product Information Guide
Replaceable Keyboard Feet
Apex M750 TKL Gaming Keyboard
Announced:
October 2017
Performance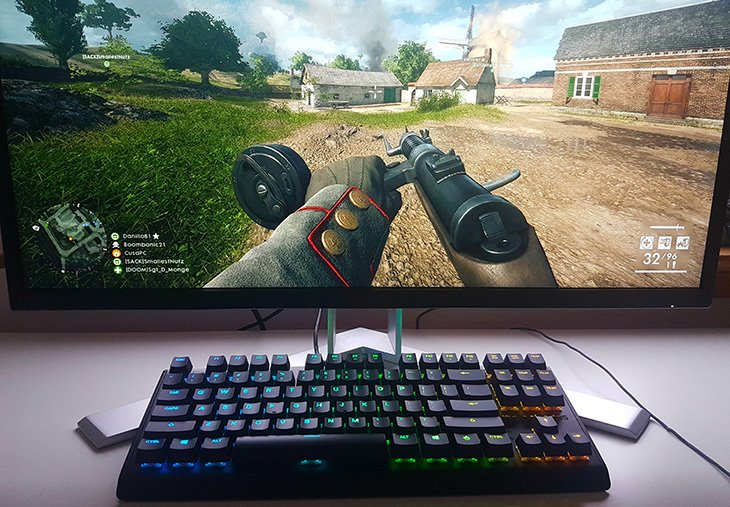 Gaming performance of the SteelSeries Apex M750 TKL was tested by playing Battlefield 1 for a few hours. I found the Apex M750 TKL comfortable to use during gaming and the performance was excellent. I really like the sturdy design of the Apex M750 TKL because it can withstand forceful tapping with no problems.
Also, I compared the Apex M750 TKL keyboard to the Logitech G610 keyboard which uses Cherry-MX red switches and I could not tell the difference between the two switches. The QX2 switches feel very similar to the Cherry-MX Red switches so if you are used to Cherry-MX red switches, you will love the QX2 linear switches.
SteelSeries Engine Software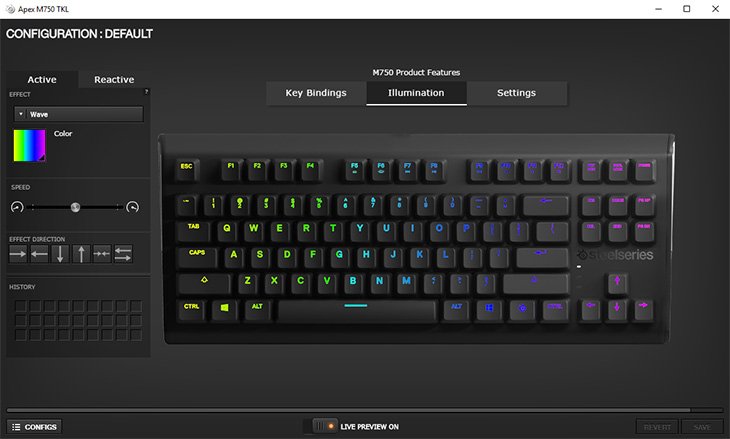 The SteelSeries Engine Software can be used for managing all SteelSeries accessories, such as mice, keyboards, and headsets. Setting up the Apex M750 TKL with the SteelSeries Engine Software for customization and personalization is pretty straight forward. The UI of the SteelSeries Engine software has a nice modern look and feel which I really like. We are using the latest version of the Engine software which at the time of writing this review is 3.11.13 and it is about 110MB.
With in the "Engine Apps" tab, you can customize and personalize things such as key bindings, illumination, or settings. The Illumination menu is probably where you will be spending most of your time because it gives you access to different kinds of lighting configurations. After you pick the lighting effect from the drop down menu, you can then experiment with the color selection, brightness, speed, and direction. There are 12 different lighting effects options such as static, breathing, wave, rippling, etc.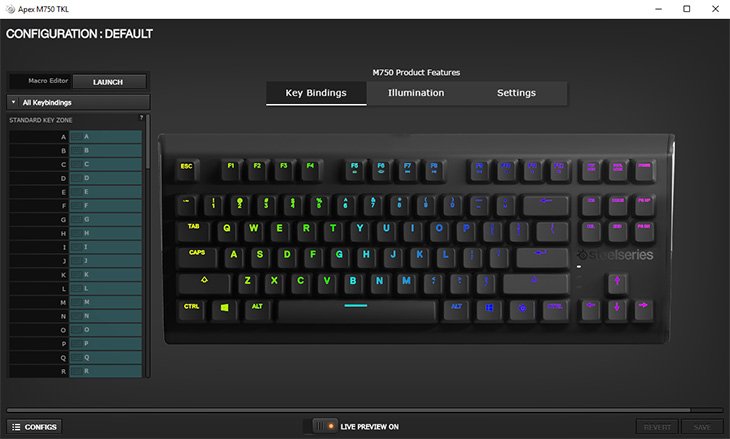 Key bindings can be extremely useful to gamers because you can remap every key on the keyboard for more convenient access. In the key bindings section, you also have a dedicated macro editor which can be activated by hitting the button on top of the list of keys. With the dedicated macro editor feature you can basically create an unlimited amount of customizations which is really awesome.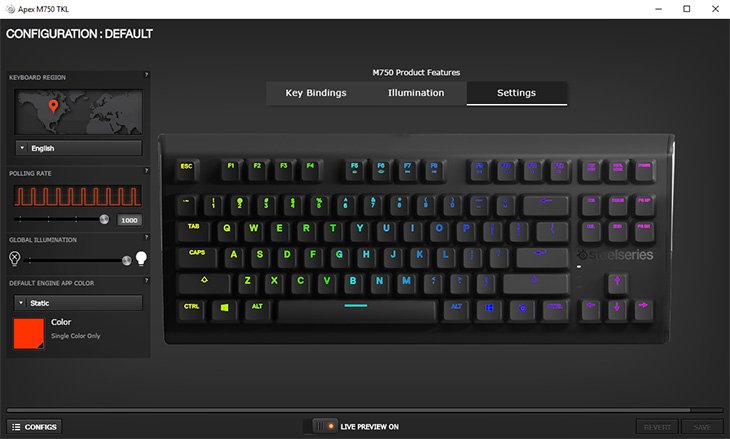 The Settings tab allows you to tweak the polling rate but I would leave it at the default which is 1000 Hz which means the mouse cursor is updated every 1 milliseconds. You can also change the global illumination which is disabled by default and also change the Engine app color. Everything can be set with only just a few clicks which makes it really easy to tweak the settings.
Conclusion
The Apex M750 TKL is a great gaming keyboard and its sleek and minimalistic design is what I love the most about this keyboard. The QX2 linear switches deliver smooth linear keystrokes which gives you a great gaming experience. I also love the UV coated keycaps because they offer better durability than ABS keycaps and are not prone to fading or losing their texture.
Gaming performance was excellent with the Apex M750 TKL. I tested it by playing Battlefield 1 and the response and feel was excellent. I would definitely recommend the Apex M750 TKL if gaming is what you will be doing most of the time but if you're an avid typist, then I'd recommend to go with a more tactile switch such as the Cherry MX Blue.
When it comes to software customizations, the SteelSeries Engine software comes with plenty of attractive customizations which allows you configure things such as polling rate, N-Key rollover toggle and key-repeat. The SteelSeries Engine software makes it really easy to customization and create complicated lighting effects in just a few seconds and it sports a modern look and feel which I love.

Pros:
+ SteelSeries Engine Software
+ Attractive Design
+ Great Performance
+ Comfortable
+ Sturdy
+ Great Packaging

Cons:
- Expensive
- Lacks Dedicated Media Keys
- Lacks Wrist Rest Pad
- Cable Not Braided

The biggest downside of the Apex M750 TKL is its lack of features. The Apex M750 TKL lacks many of the bells and whistles found in other similarly priced keyboards such as dedicated media keys, braided cable and a wrist rest pad. These features have become a standard in the gaming industry and many gamers expect them at this price-range. Other than that, the Apex M750 TKL is a great gaming keyboard for those who are looking for a keyboard with a sturdy build quality and a sleek design. Overall, I believe the SteelSeries Apex M750 TKL keyboard deserves our recommended award.
Final Score 8.5