Introduction

SilverStone is a company that doesn't need an introduction and they are well known in the computer hardware industry. They are known for being highly active in the computer case market with a huge range of products for all prices. SilverStone is contentiously releasing new cases that vary greatly in design and purpose. If you are in the market for budget friendly cases, you can read our reviews of the Precision PS11, Precision PS13 and Redline RL05. These are excellent budget cases with plenty of room to work inside and good airflow.
SilverStone has sent us the Primera PM01 which is a stylish mid tower case inspired from a sports car that retails for $109.99. The name Primera is the Spanish word for "first" or "first class." It comes in three versions – matte black with red LED (PM01CR-W), piano black with red LED (PM01BR-W) and white with blue LED (PM01WA-W) which is the one that I will be reviewing. The matte black version is still in production and will come out in a month or so. SilveStone has included a built-in light controller system for adjustable brightness with four modes: full brightness, half brightness, breathing pattern, and off. The interior of the PM01 is roomy and supports a variety of large, high end components that are designed to be cooled efficiently by the included three 140mm LED intake fans and an 140mm exhaust fan.
The front and top panels are made of plastic while the body is made of durable steel which seems to be the norm nowadays with most cases. The front panel mesh design is inspired by supercar intake grill and it has a simple clean look to it. The PM01 is an aesthetically pleasing case with its internal painted all black. The case comes with a front and bottom removable dust filter that feels durable and sturdy. It also comes with plenty of room for installing graphics cards up to 16.5 inches, a full size ATX PSU and an ATX motherboard up to 12" x 10.7".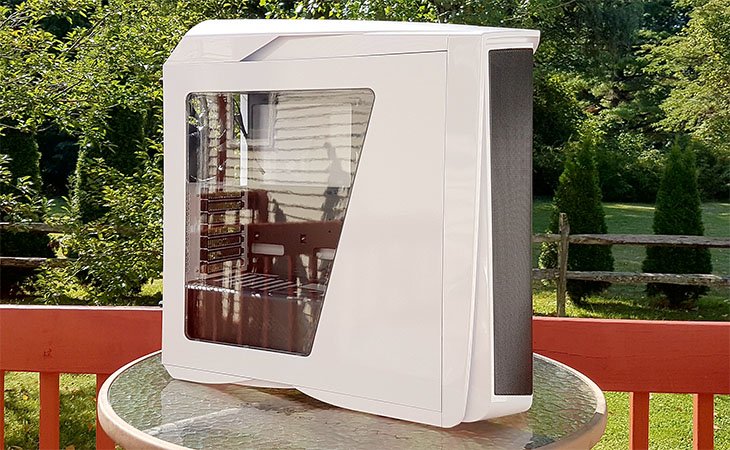 The front of the case is clean and simple and it doesn't have a 5.25" optical drive bay. We are starting to see many case manufacturers coming out with cases that don't have optical drive bays so it's slowly becoming a norm. The PM01 supports many configurations of cooling which I will talk more about in the next page. It supports a total of two 240/280/360mm radiator for AIO liquid cooler or custom water cooling and it's got a reserved water tank mounting holes for water cooling setup.
Specifications
SilverStone Primera PM01 Specifications
Manufacture:
SilverStone
Model:
SST-PM01BR-W (black with red LED + window)
SST-PM01CR-W (matte black with red LED + window)
SST-PM01WA-W (white with blue LED + window)
Material:
Plastic Outer Shell, Steel Body
Motherboard:
ATX (up to 12" x 10.7"), Micro-ATX
Drive Bay:
External - None
Internal - 2.5" or 3.5" x 4, 2.5" x 5
Cooling System:
Front - 3 x 120mm / 140mm fan slot (includes 3 x 140mm LED fan)
Rear - 1 x 120mm / 140mm fan slot (includes 1 x 140mm fan)
Top - 3 x 120mm fan slot or 2 x 140mm fan slot
Radiator Support:
Front - 120mm / 240mm / 280mm / 360mm x 1
Rear - 120mm / 140mm x 1
Top - 120mm / 240mm / 280mm / 360mm x 1
Expansion Slot:
7
Front I/O Port:
USB 2.0 x 2
USB 3.0 x 2
Audio x 1
MIC x 1
Power Supply:
Standard PS2(ATX)
Expansion Card:
Support graphics card up to 16.5", width restriction - 6.88"
Limitation of CPU cooler:
180mm
Limitation of PSU:
240mm
Net Weight:
9kg
Dimension:
220mm (W) x 571mm (H) x 560mm (D), 70.3 Liters
Packaging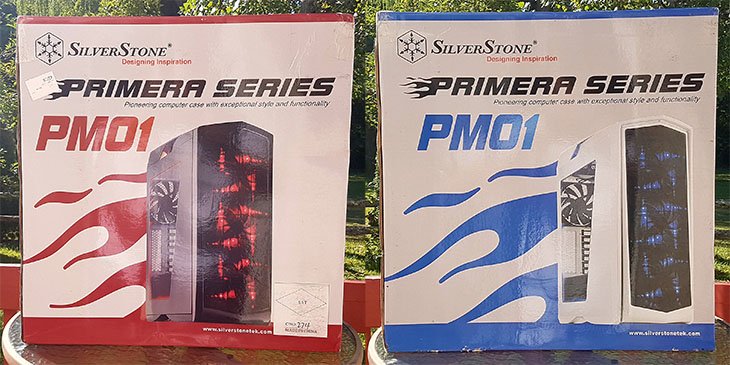 The case comes in an elegant box with one side showing the PM01 in black with red LEDs and the other side showing the white version with blue LEDs. We also see on the front the name 'Primera Series PM01' in huge bold and underneath this we see 'pioneering computer case with exceptional style and functionality'. The case is 220mm in width, 571mm tall and 560mm deep and weighs 9 kg.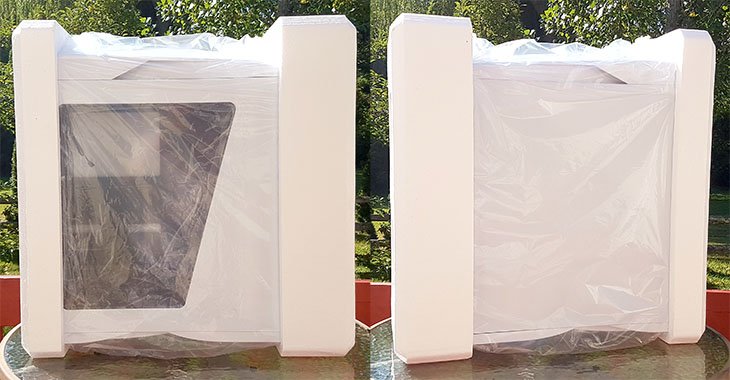 SilverStone's packaging has always been very good and this time it's no exception. We can see that the PM01 is protected by two high density foams as shock absorbent and plastic wrapping to prevent any accidental damages during shipping.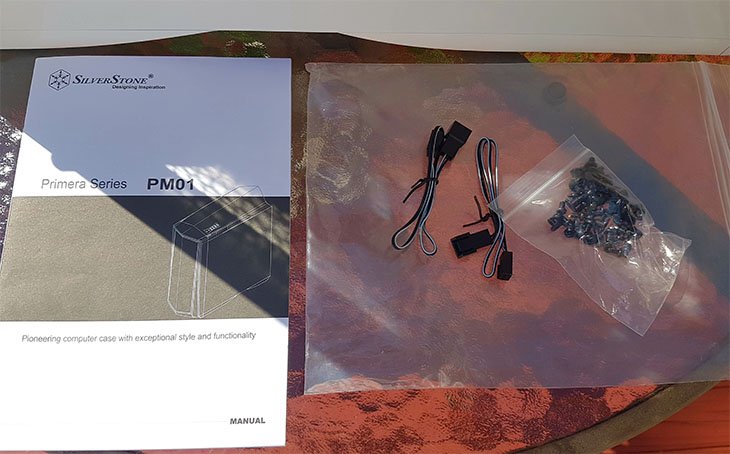 The accessories included are 2 pieces of fan extension cable, a pack of screws and the users manual that has all the information that you need to know about the case.
Design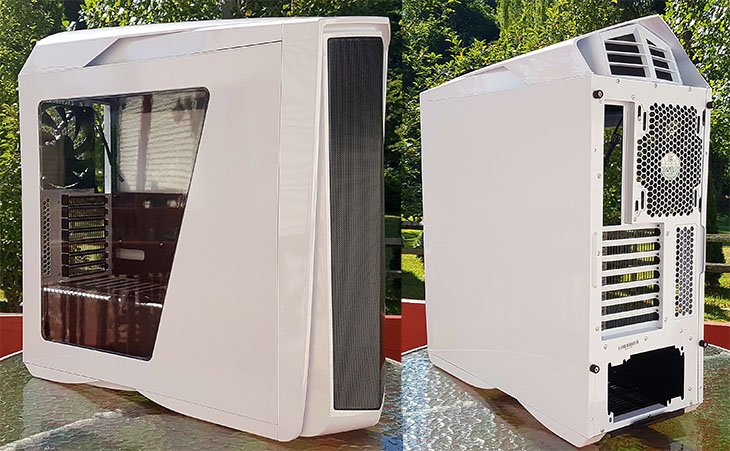 Looking at the front, we can see that it is rather simple with a large mesh section and no external 5.25" bays. The side window is big enough that you can see everything inside. The entire front panel is made out of plastic. On the back, you will see the seven expansion slots, a bottom mounted power supply and also a pre-installed 140mm fan. You will also see a grill on the back of the case that's used to force the hot air out of the case. The side panels are secured with thumbscrews at the rear of the case. I must say that I'm impressed by SilverStone for including a total of four 140mm fans in a case that retails for $110.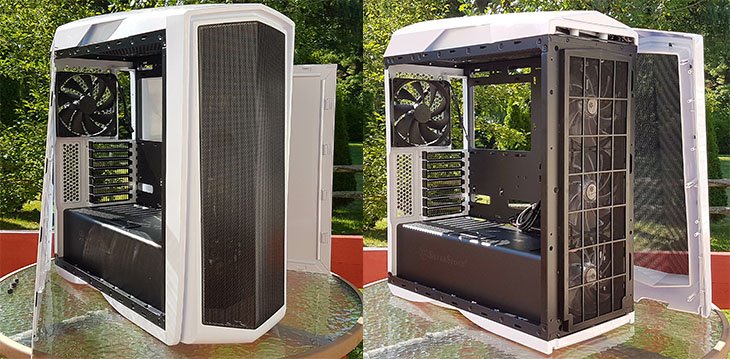 When you remove the side panel, you can immediately tell that SilverStone has spent quite some time designing the interior of the PM01. The interior is roomy and can cover ATX and Micro-ATX motherboards. What I don't like is that the roof and front panel are both screwed in place with screws and you need to remove the side panels first to access these screws. This is not convenient when you just want to clean the dust filters without spending much time removing the side panels and then the screws.
Moving on, after removing the front panel, you will see a dust filter that covers the entire front air intake area which is held into place with clips. Inside you will see a full length PSU cover that is designed to direct airflow across the core components and separate the PSU heat from the rest of the system. It can also be used to hide the PSU cables for better cable management.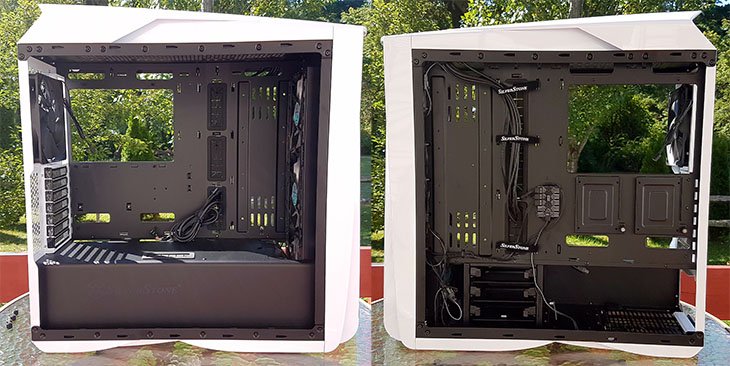 There are a ton of rubber grommet holes for organizing the cables and there's plenty of space behind the motherboard tray and the side panel so it doesn't feel too tight. The motherboard tray has a nice large cut out that will come in handy when installing a CPU cooler. You can install CPU coolers with a maximum height of 180mm so big air coolers such as the the Noctua NH-D15 are 165mm tall so they will fit perfectly in this case.
You will see that the PM01 comes with zip tie mounts to make your cables look nice and neat. On the back of the motherboard tray and lower chamber is where all your drivers will be installed. There are two 2.5" brackets for SSDs on the back of the motherboard tray which can be re-positioned. SilverStone has included a nice 10-port fan hub that runs all fans at full speed and it doesn't support any fan control whatsoever.

On the top left you will see the power button by itself and on the other side you will see two USB 2.0 ports, two USB 3.0 ports, one audio port, one microphone port and an LED switch. Removing the top panel is similar to removing the front panel meaning that you have to remove two screws on each side before having access to the top of the case. You can install three 120mm fans or two 140mm fans or one 120/240/280/360mm AIO cooler on top so there's plenty of room for all kinds of configurations.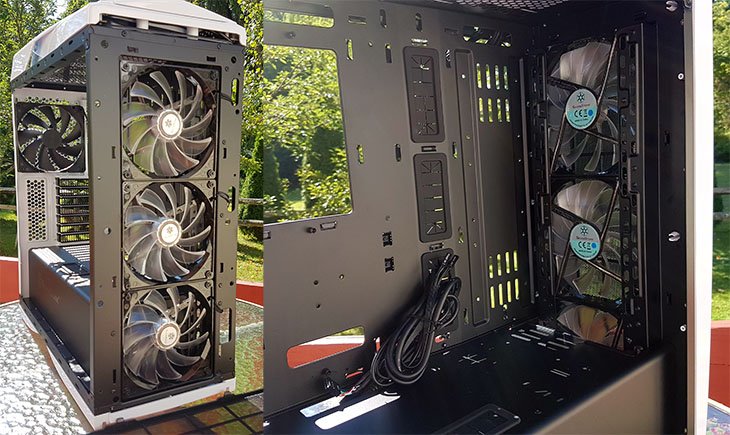 Here we see SilverStone's three pre-installed 140mm LED fans that are designed to generate positive pressure. The PM01 supports a standard ATX power supply up to 240mm in length. The motherboard tray has holes above, below and to the side and there's also a hole on the PSU shroud. SilverStone has done an excellent job pre-routing all the internal cables. At the front of the PSU cover, SilverStone has included a reserved water tank mounting holes that will come in handy when installing large radiators.

The tooless drive cage in the PSU chamber is not removable and holds up to three 3.5" or 2.5" drives. You will see small rubber grommets in the plastic tray which are used to hold 3.5" drives in place. There is another 3.5"/2.5" mount right next to where the PSU will be installed. There's also a removable sheet of mesh that filters dust coming from the power supply fan. The PSU sits at the bottom on some rubber stands to minimize any vibrations coming from the PSU fan.
Comparison
Cases Tested In This Review
Model:
SilverStone PM01
Corsair 750D
Price:
$109.99
$149.99
Warranty:
1 Year
2 Years
Weight:
9kg
9.7kg
Form Factor:
Mid Tower
Full Tower
Dimensions (WxHxD):
220mm x 571mm x 560mm
235mm x 560mm x 546mm
Motherboard Support:
ATX, Micro-ATX
Mini-ITX, MicroATX, ATX, E-ATX, XL-ATX
Fans Included:
Front: (x3) 140mm
Rear: (x1) 140mm
Front: (x2) 140mm
Rear: (x1) 140mm
Power Supply:
ATX (not included)
ATX (not included)
Material:
Plastic outer shell, steel body
Brushed Aluminum and Steel
Maximum GPU Length:
420mm
450mm
Maximum CPU Length:
180mm
170mm
Maximum PSU Length:
240mm
220mm
Radiator Mount Locations:
Front: 120/240/280/360mm
Rear: 120/140mm
Top: 120/240/280/360mm
Front: 240/280mm
Top: 240/280/360mm
Rear: 120/140mm
Bottom: 120/240mm
Fan Mount Locations:
Front: (x3) 120/140mm
Rear: (x1) 120/140mm
Top: (x3) 120mm or (x2) 140mm
Front: (x2) 120/140mm
Top: (x3) 120mm or (x2) 140mm
Rear: 120/140mm
Bottom: (x2) 120mm
Expansion Slots:
7
7
External Connections:
(x2) USB 2.0
(x2) USB 3.0
(x1) Headphone Port
(x1) Microphone Port
(x2) USB 2.0
(x2) USB 3.0
(x1) Headphone Port
(x1) Microphone Port
We'll be comparing the Primera PM01 against the Corsair 750D since both cases are targeted at the enthusiast crowd. The 750D is $40 more expensive and it is a full tower compared to the PM01 which is a mid tower. Both these cases are similar in dimensions and weight so it will be interesting to compare them in cooling performance. The PM01 weighs 9kg while the 750D weighs 9.7kg. Maximum GPU length is 420mm with the PM01 versus 450mm with the 750D. There's room for tall CPU coolers with both cases but the PM01 supports a maximum CPU length of 180mm versus the 750D with 170mm. Corsair's 750D comes with 2 years of warranty while the PM01 case comes with only 1 year.
Test Methodology
Test Setup
Processor:
Intel i7 3770K @ 4.4GHz 1.24v
Motherboard:
Asus Maximus V Gene
RAM:
Kingston HyperX 8GB
Graphics Card:
MSI R9 380
Storage:
Samsung 840 Pro 256GB
Power Supply:
Antec HCP 850W
Heatsink:
Noctua NH-U12S
OS:
Windows 8.1 64Bit
Thermal Compound:
Noctua NT-H1
Case:
SilverStone PM01
SilverStone RL05
SilverStone PS11
SilverStone PS13
Corsair SPEC-01
Corsair 750D
To test the airflow performance of these cases, we will be testing the temperature of both the CPU and GPU during idle and load phases. We will also be testing the cooling performance of the case with an Intel Core i7-3770K overclocked to 4.4Ghz at 1.24 volts. This will be a good way to test the airflow performance of these cases because we all know that Ivy Bridge runs hot once overclocked and it outputs lot of heat.
All of the testing is done with an ambient temperature of ~19C. RealTemp will be used to monitor the temperature of the CPU and Prime95 (Large FFTs) will be used to deliver the full load to the CPU for 20 minutes. We'll run FurMark for also 20 minutes to put as much load into the GPU as possible.
Idle temperatures will be measured after leaving the computer idle for 20 minutes. CPU-Z will be used to verify the CPU speed and the voltage being used in Windows 8.1 and GPU-Z will be used to monitor the temperature of the video card.
Results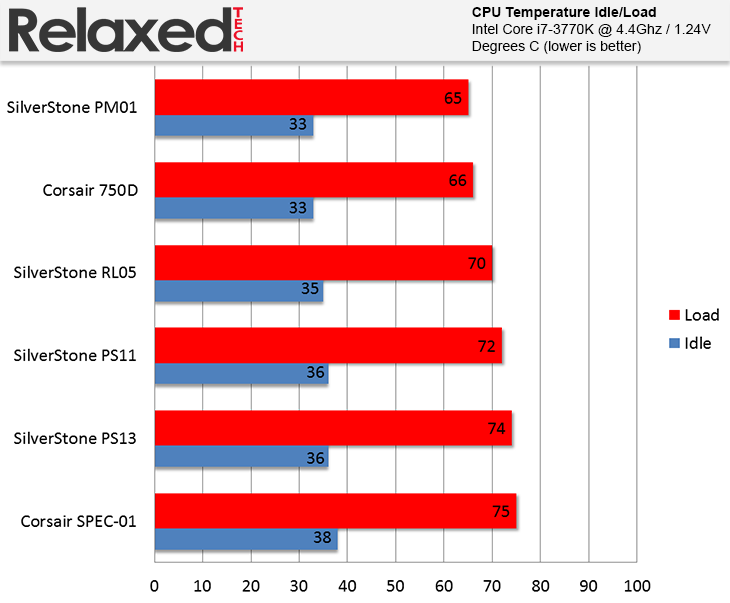 When measuring the temperature, you have to account for the margin of error which is 2-3 degree Celsius. In idle, both cases performed the same but the PM01 was about 1 Celsius cooler under load than the Corsair 750D. The PM01 does run a little bit cooler due to having three 140mm fans on the front compared to the 750D which only has two 140mm fans. Nevertheless, the cooling performance is excellent with both cases but the Primera PM01 cools slightly better.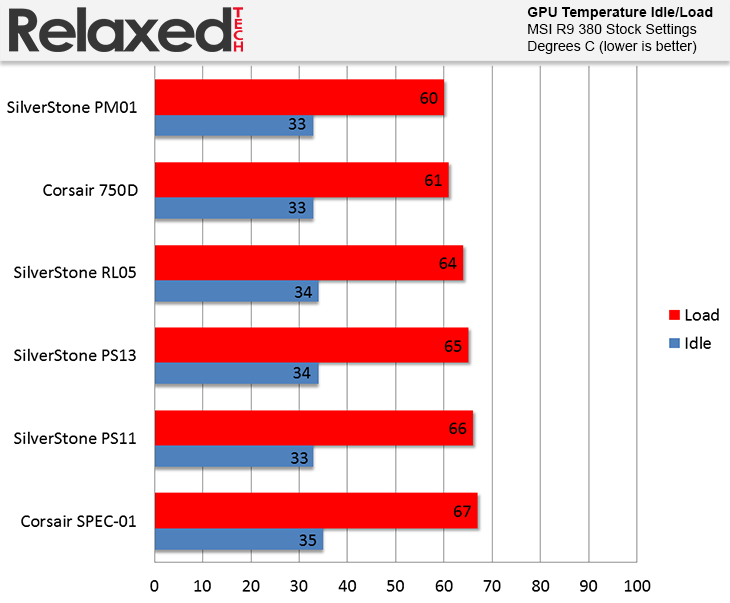 I recorded similar results when testing the GPU temperature. The Primera PM01 and the Corsair 750D cooled the same in idle but the PM01 was about 1 Celsius cooler under load. Overall, I'm impressed by the cooling performance of the PM01 and you have to keep in mind that it is $40 cheaper than the 750D.
Conclusion
The PM01 has everything you can ask for in an enthusiast case and then some. It's amazing how well this case performs with the included fans and not to mention the water cooling configurations that you can build inside this case. The number of fans included make the PM01 the best out of the box cooling performance case that I have tested. It offers excellent air or water cooling capabilities and the interior is optimized for fast and easy builds.
It has a clean and elegant interior that has ample room for high-performance components and it incorporates a number of features for a straightforward and trouble-free system. I am very impressed with the features and cooling performance of the PM01. The side window is big enough that allows you to see the entire case which is great. The PSU shroud can be used for cable management and transfer the heat from the PSU away from the system. The build quality and design is sturdy and elegant and it was easy to work inside case.
The four 140mm pre-installed LED fans do a good job moving the air. The PM01 supports up to six 140mm fans or seven 120mm fans total which can be configured for push/pull configuration for maximum airflow performance. The excellent airflow of the PM01 will have no problems keeping the temperature of the CPU and GPU low. Since the included fan control runs the fans at full speed, the PM01 was clearly more audible than the Corsair 750D.
When it comes to radiator support, you can install one 120/240/280/360mm on the front, one 120/240/280/360mm on top and one 120mm on the back. The PM01 retails for $109.99 on Amazon and as we saw on the previous page, the PM01 offers better cooling performance than the Corsair 750D that's $40 more expensive. You can install up to nine drives total, four 2.5" or 3.5" and five 2.5". I would have liked to see the tool-less drive cage to be movable or removable for better airflow potential like it is in the Corsair 750D.

Pros:
+ Excellent Cable Management
+ Four 140mm Pre-Installed LED Fans
+ Easy To Clean Removable Dust Filters
+ Great Water Cooling Support
+ Nice Big Window
+ PSU Shroud
+ Great Airflow
+ Aesthetic

Cons:
- Hard To Remove Front/Top Panel
- No Fan Control

SilverStone has done a fantastic job designing the PM01, it is by far the highest quality case we have reviewed thus far. Removing both the front and top panels isn't convenient as it requires unscrewing 4 pieces of screws which can be tiresome after a while. They have done a great job designing the PM01 and the two little things that I have listed above are what bothered me with the PM01. Overall, the SilverStone Primera PM01 easily deserves our gold award.
Final Score 9.2